It has been a while since I picked a random business for an SEO case study. I think it's time we get back to the game.
I am not going to get into UX or UI with this post. I've done this extensively on my orthodontist, dentist, hair transplant surgeons and plastic surgeon series.
We'll strictly look at SEO and what can be done to improve the visibility of a plumbing business which can use some digital marketing help.
For this post, we'll focus on a business in Dallas, Texas since that's where we'll be looking to expand in 2023.
For this article, I am going to help Cody & Sons Plumbing, Heating & Air.
Let's dive in.
Keyword research
This is the most exciting part of how I start my research process because it tells us the potential revenue we can generate by increasing visibility.
Our primary keywords
We'll start with our biggest keywords and drill down.
We have to look at the types of services Cody & Sons offers and go from there.

Looks like we'll be dealing with plumbing, heating, air conditioning and air filter products. Each service has eight sub-categories.
There is no f'ing way I am going to do a full audit with all of their categories. We'll just focus on plumbing for the sake of time and your sanity.
Here are some of the main keywords for the plumbing head category: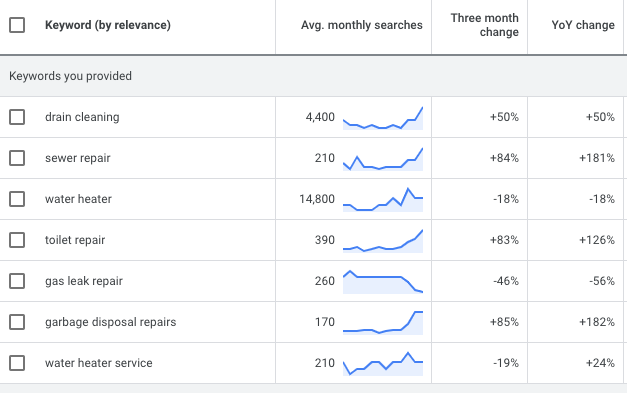 I always narrow my search down based on what I see in the global navigation.
I'll pick a page, research the hell out of it, and optimize this page to beat everyone else in Dallas plus surrounding areas.
Let's work with water heaters since it looks like it's the most searched key phrase in the area.
Water heater landing page research
Now that I know which page I want to optimize, let's look at all the keywords we can target for water heaters.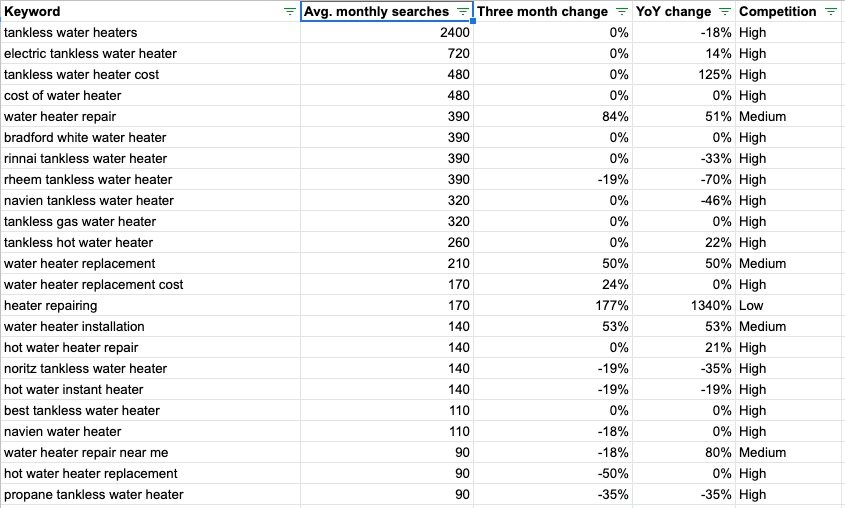 We've got hundreds of keywords we can target through landing pages and blog posts.
Although, we still want to focus on installation, replacement and repairs.
Any keyphrase like "eco smart tankless water heater" will likely turn into a blog post.
Take a look at the full list of keywords for the water heater page.
A few keywords I discovered while looking at Ahrefs:
Water heater repair dallas – 600 searches/month
Water heater installation dallas – 40 searches/month
Tankless water heater dallas – 60 searches/month
Water heater replacement dallas – 20 searches/month
These are local money keywords which we probably want to show up for. This can be done with a combination of good copy on landing pages, blog posts and backlinks.
Our Texas rankings
I am going to look at our rankings in Texas since I want to see how authoritative Google thinks Cody & Sons is.
It's not looking good.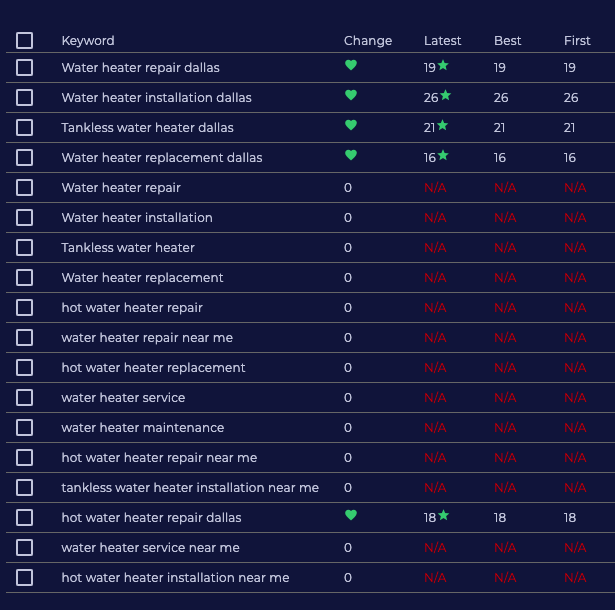 Let's check local rankings and not bash these guys.

It's not looking good. For the city of Dallas Cody & Sons does not show up for their primary keywords on the water heater landing page.
Competitor information
We now know where we stand with our rankings for our water heater page.
Let's find out who our competitors are.
For our biggest keyword, water heater repair Dallas our competitors are:
I've noticed tankless water heaters seem to be the next big thing. Who are we competing with within Dallas?
For water heater installation we're competing against:
Finally, let's look at our competitors for water heater replacement:
I think we can see a trend here with competitors who dominate. They are:
Baker Brothers
Yelp
Staggs Plumbing
Levy & Sons
Water Heaters Only
We have to study their landing pages, backlinks, and copy to see why they rank so well.
Competitor authority
We can now take a look at the authority and traffic estimate for each competitor to understand what we're dealing with.
I am going to start with Cody & Sons because we need to benchmark where they're at.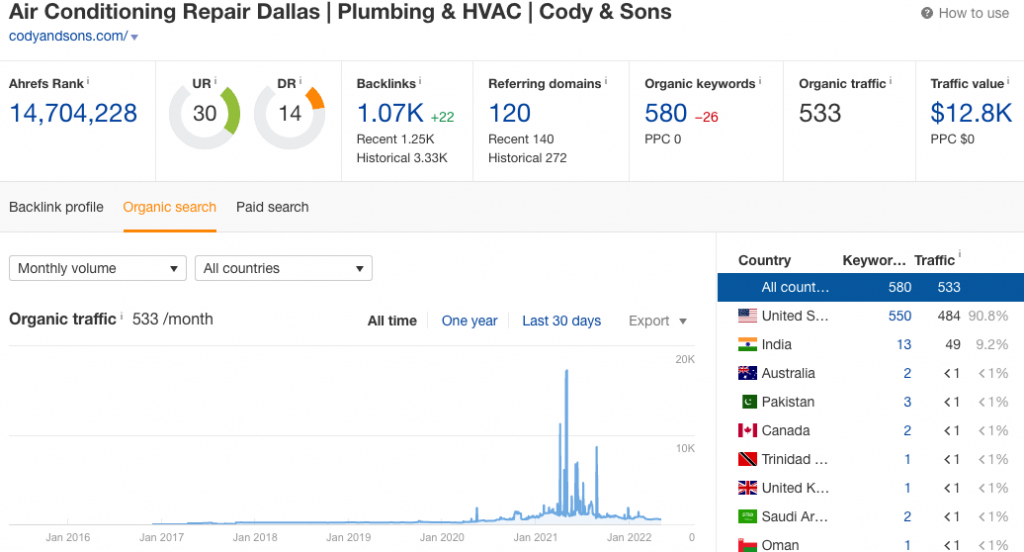 Interesting numbers. I would say that growth is stagnant apart from the random upswings in the chart.
Baker Brothers is a powerhouse as you can see below.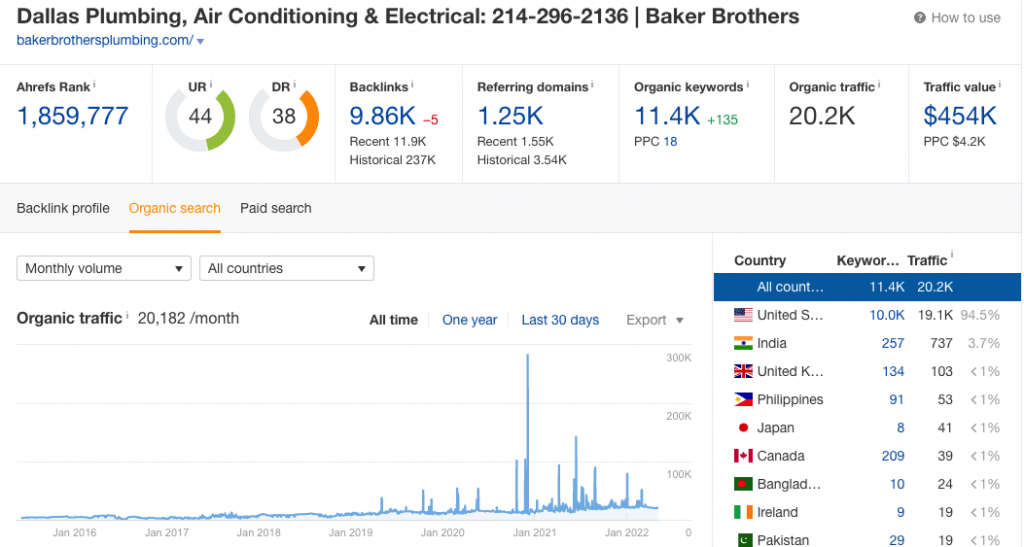 Looks like both Baker Brothers and Cody & Sons get random traffic spikes. Both are in winter. Might be because Texas has wild weather in the winter.
Staggs Plumbing is also doing very well and quickly too. They seem to have recently launched.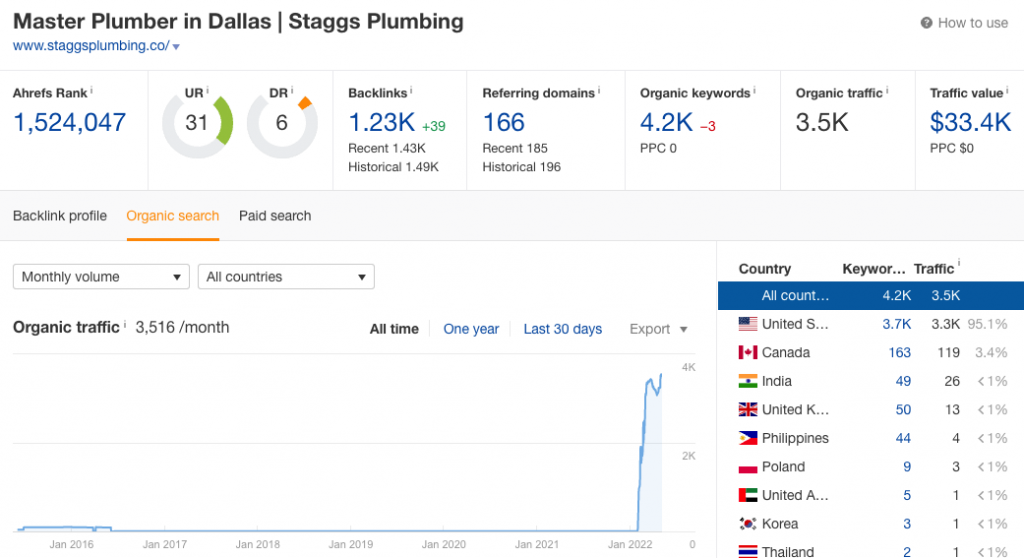 Levy & Son is doing pretty good.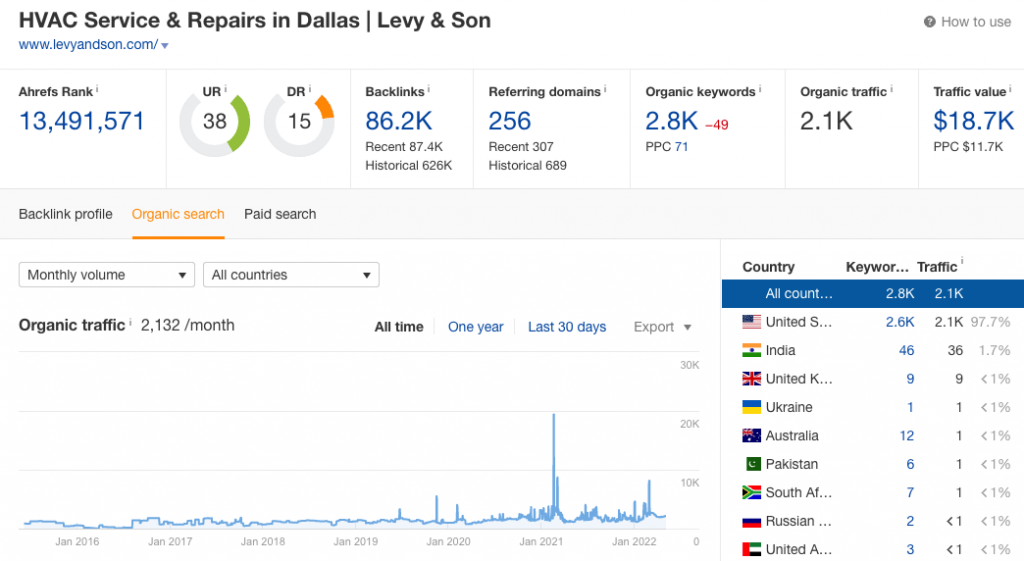 Finally, we've got Water Heaters Only, which is not really a competitor considering they don't have much authority.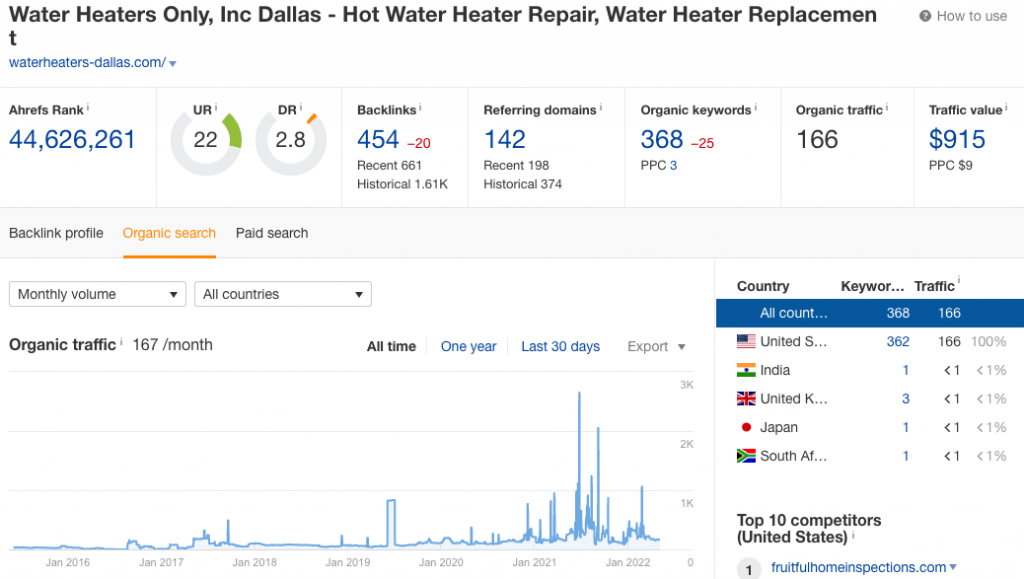 Other than Baker Brothers, I think we have a good chance of ranking our water heater page.
Backlink authority distribution
Before we begin our on/off-page SEO strategy, we need to determine the backlink authority distribution and gap analysis.

Cody & Sons is fourth on our list for authority but not far off from the third spot. I do believe they can be in the second spot within a year if they invest in link-building.
What about authority distribution? Let's find out where each competitor stands. 
Cody & Sons: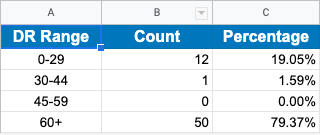 Staggs Plumbing: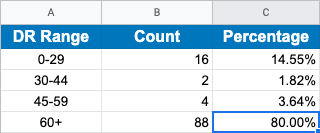 Levy & Son:
Baker Brothers:

Baker Brothers is the clear king of backlinks. I would share the backlinks of all the competitors in the past, but I think I'll leave that out this round.
Also, I am leaving Water Heaters Only out because they don't have any links. It's clear they are winning with their page because of their domain name.
Before I move on, let's look at the backlink velocity for each domain. 

Okay, we're in the clear. It looks like no one is building more links and we've got a flat chart.
Backlink strategy
Based on our authority distribution data between the three main competitors, we'll need to build:
35 * 60+ DA backlinks
10 * 30-44 DA backlinks
10 * 45-59 DA backlinks
I am recommending these numbers to completely phase out the top competitors other than Baker Brothers. Baker Bros have a solid link building game and it will take more time and budget to compete against in terms of links.
Given my experience with link-building, this will cost anywhere from $10,000-$15,000.
If Cody & Sons was a client, we would never stop building links but just slow down once we hit our target.
To help boost our link-building campaign, I would look at the gap analysis from SEMrush.

We'll probably pick up a few nuggets without spending a lot of money on building links.
Let me repeat, these are just suggestions based on what I've shared in this post and not a blueprint. We might end up overtaking everyone with half the link building budget. No one can really give you a 100% definitive answer.
On-Page SEO
It's time to go over how we're going to optimize our water heater section.
Based on what I perceive to be a homeowner's intent, it looks like cost/installation, maintenance/repairs and tankless water heaters are where we want to put our energy.
I might get called a radical or a renegade but I would split up these services into three different pages with the main category page being water heaters.
I want to split up this section of the website (if I looked at more sections on the website, I would probably do the same) because I want a dedicated page for each primary keyword.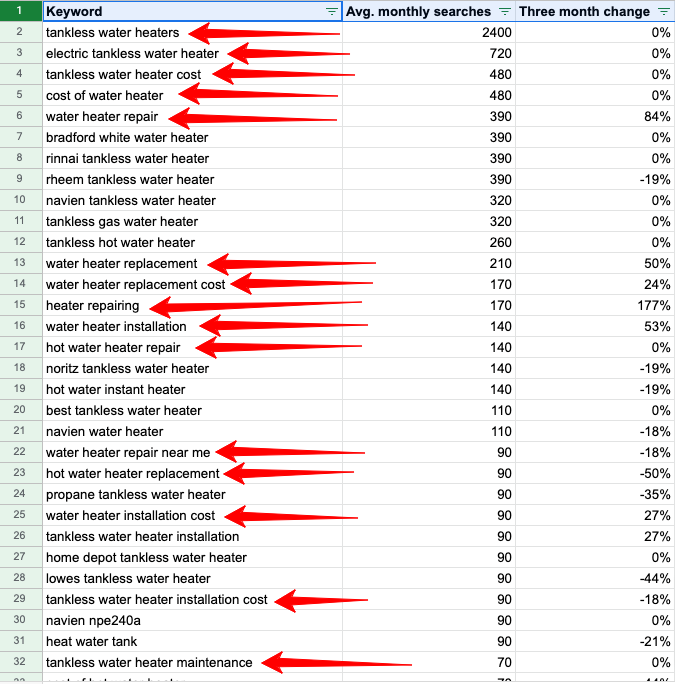 On the main water heater page, I am going to summarize what Cody & Sons can do for you with local links going out to:
Repairing and maintaining your water heaters
The cost of installing a water heater
Tankless water heaters
Wireframe & copy
Now that we know our strategy, it's time to get the copy and wireframes for our devs. If we have access to a designer, then I can get blow the compset out of the water.
Since we're going to have a central location for water heaters, I'll start by wireframing this page first.
I will also wireframe the tankless water heater page for good measure. I wonder if Cody & Sons will take advantage of the free advice. If not, and a competitor sees this, you better get on it and win.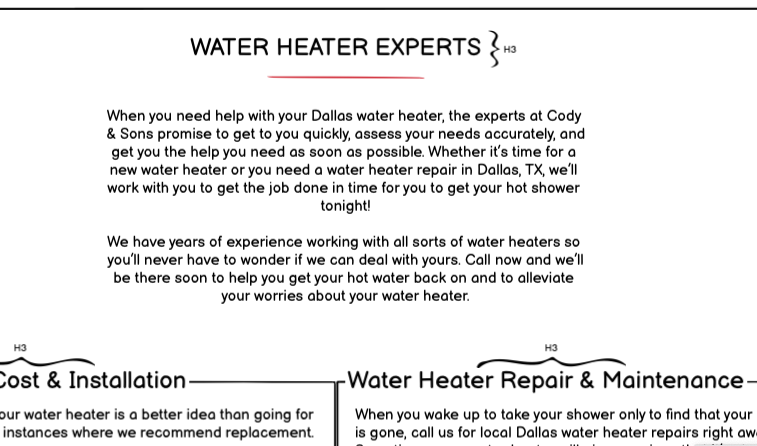 Download the entire wireframe here. I didn't change much from what Cody & Sons has on their water heater page.
I simply added buttons for visitors to learn more if they're interested in services X, Y or Z.
I've also moved the guarantees to the top of the fold. I feel like it makes sense to show what they guarantee right at the top.
Sub-category wireframe
As I said, I am going to wireframe one of the service pages so you can get a better idea of what I would plan out for Cody & Sons.
Please keep in mind that I haven't spoken to any of the staff from Cody & Sons, talked to their customers or listened to sales calls. Everything you're seeing on this post is a hypothesis of what I assume would work so take it with a grain of salt.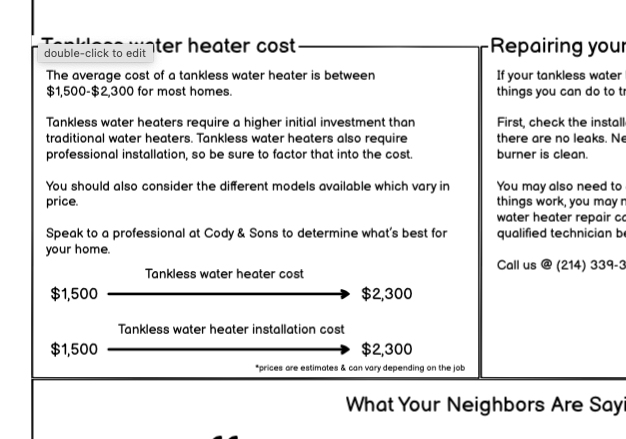 Download the tankless water heater wireframe here.
Now I could expand on this page if I had more information but I think this is a good start for you to understand the process.
Building links
You might ask why we're going to talk about link building again.
Well, it's not advisable to link to either of the service pages directly too many times.
How we solve this is by generating excellent content and building links to these new posts or articles.
Yes, it will be expensive but the client will generate millions by following this guideline.
First off, let's look at Answer The Public: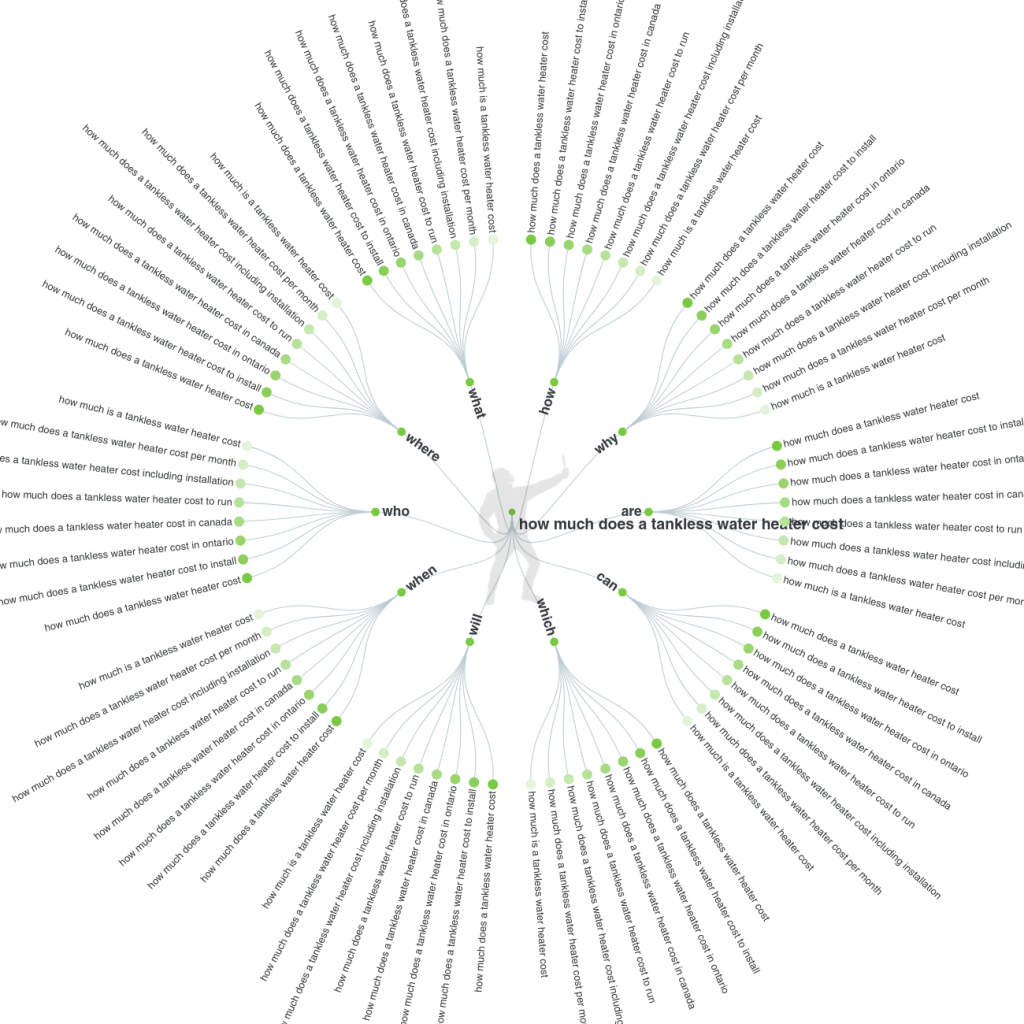 Not all of these will be useful but you're probably getting a clearer picture of where I am going with our content strategy.
We can dig deeper and deeper by answering these questions: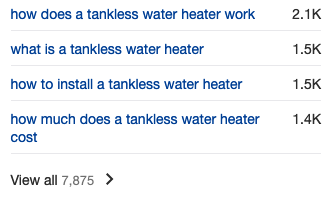 Once you have a few posts, I would get started on building links.
Remember, you're linking back to your service pages directly in these posts. Any external links pointing to your articles are technically a tiered link building campaign.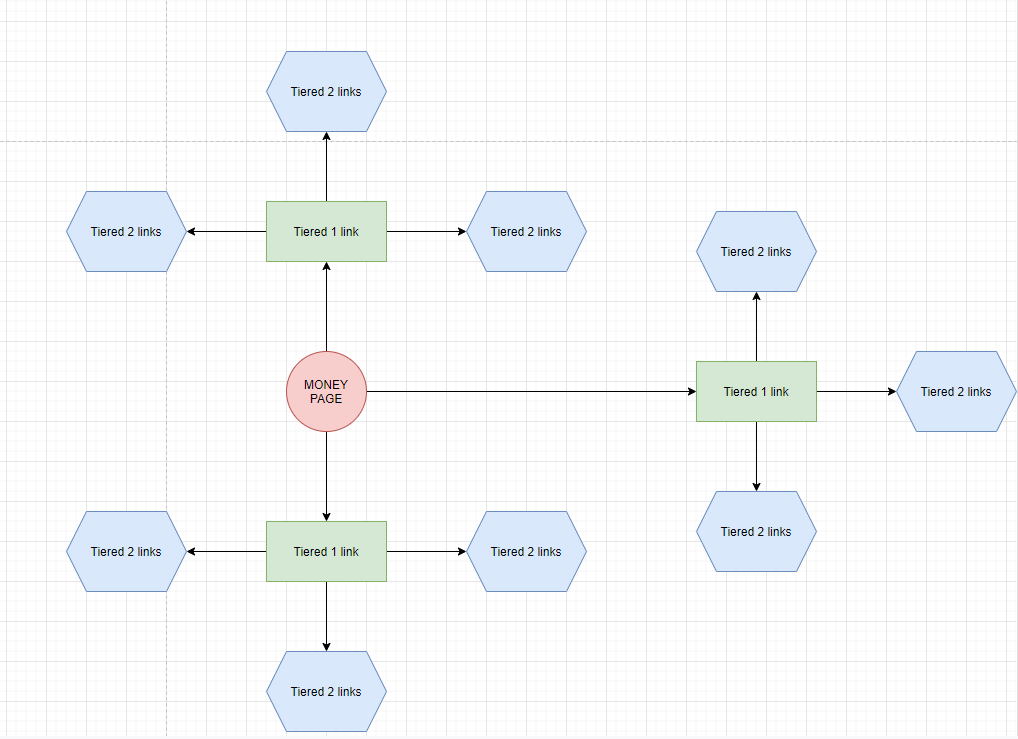 Within six to eight months, we should have the market cornered. That's if we have the right budget for the whole team to kill it. If not, we're looking at my original timeline of 12-16 months.
Final thoughts
I could have gone into much more detail but I like the process I've explained in this post.
With results, there might be a chance I propose we split up more services for better visibility. If we do this, Baker Brothers will be staring at Cody & Sons pretty quickly.
This project won't be cheap but the results will make the cost worth every penny.
That's all I have this month. Until next time, catch you all on my next post.