Like my dental marketing series, I am going to write a four-part introduction to how orthodontists can dominate their competitors with digital marketing and increase patient count.
I got braces myself when I was a teenager and I'll have some input for the website I pick to help out in this series of posts.
The structure of what we'll talk about will be detailed and fairly long. If you can go through it all and apply what you can, you'll be successful. I can guarantee it because this is what we do to succeed for all of our projects.
Here are the four parts:
Part 1 – In part one for our case study, we'll focus on researching our keywords, SEO, learning about the clinic we'll be working with, running surveys, and bench marking where our hypothetical client is before we start working on their project.
Part 2 – In part two, we'll go over competition and study every aspect of the top 4 ranked websites.
Part 3 – In part three for our case study, we'll focus on a content strategy/calendar, wireframe a service page and go over examples of links we will try to acquire.
Part 4 – In part four, we'll focus on Google my business, improving information architecture, and design.
Part 5 – Finally, we'll go over a CRM strategy to automate the experience of a patient, automating an email strategy, briefly talk about a pay per click campaign and how long our SEO efforts will take to show results.
For the purpose of this case study, we're going to pick Clear Advantage Orthodontics.
Keyword research
As always, we'll start with keyword research. This part of our research is always first because it helps our team understand what people are typing into Google before they've decided on an orthodontist.
Our primary keywords

Here are our primary keywords:
Invisalign near me
Invisalign cost (or price)
Invisalign Vancouver
teeth straightening
Orthodontic treatment
We'll study the secondary and related keywords later on but first, let's look at how Clear Advantage ranks in the surrounding area of their clinic: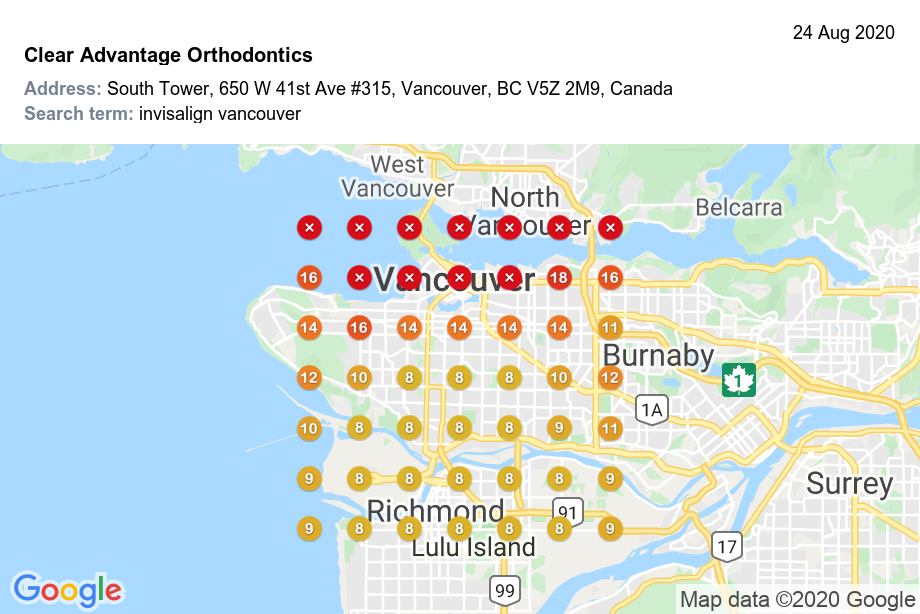 If one of our primary keywords is "Invisalign Vancouver", Clear Advantage needs a lot of help.
Let's check one more primary keyword before we move on: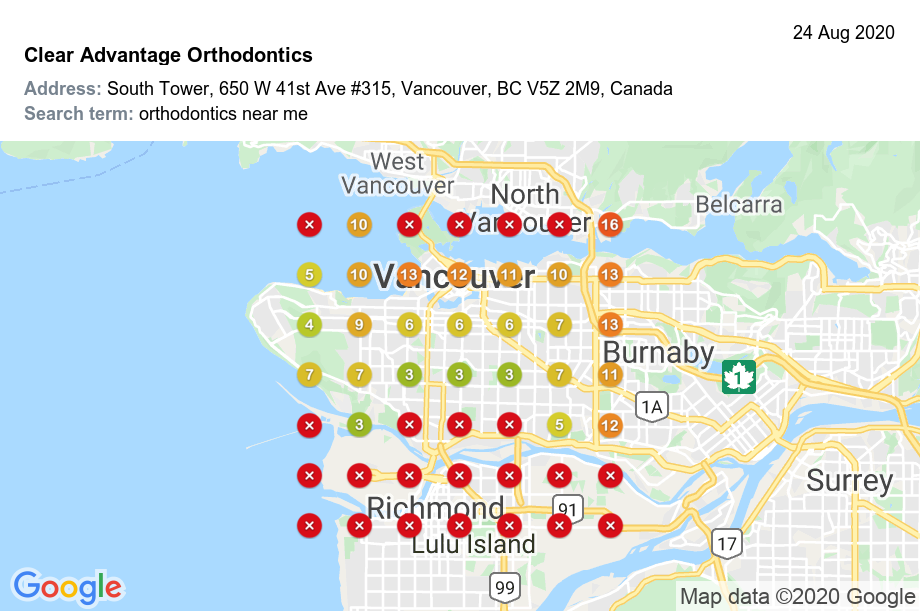 Looks like we're doing a little better for "orthodontics near me". We'll try to mix it up to improve rankings further away from the physical address.
Our rankings in Vancouver
With an actual client, we would be tracking hundreds of keywords. For the sake of time, we'll focus on keywords with more than 50 searches per month.
Let's look at the data: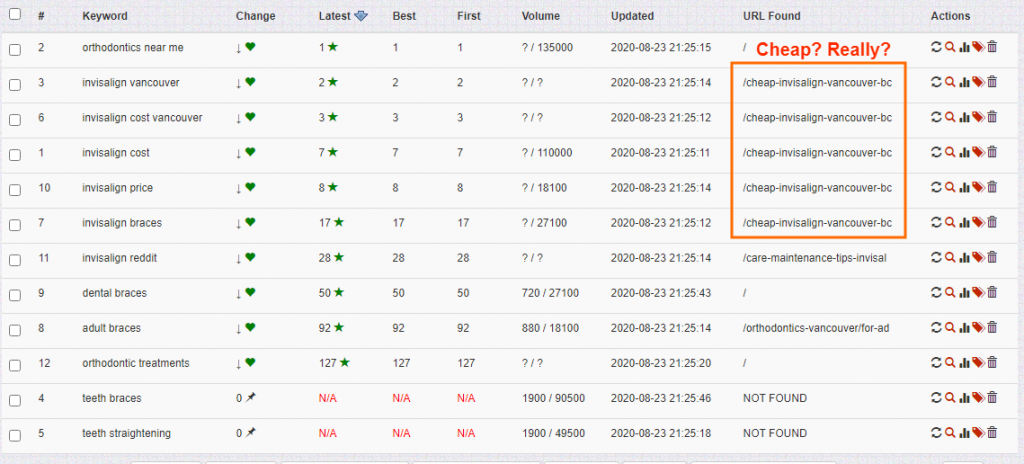 We have a few keywords that rank well and that's good. Not enough though.
We also notice the current SEO team spamming Google by stuffing "cheap" in the URL string for Clear Advantage. I am not sure Dr. Suzanne would approve of this if I sat down and explained why it's a bad move. It just isn't smart to optimize for search engines and forget about people. I have a feeling we'll run into keyword stuffing later on in our case study.
Understanding patient intent
One of the most underrated strategies in digital marketing is understanding user intent and addressing it on your website.
We'll help out Clear Advantage and do all the research for them.
Before we begin, I want to repeat that we'll only focus on one keyword for the sake of time. With an actual client, we will dig deep by researching every angle.
Our research will always start with either looking on SEMrush or Ahrefs. I like using both.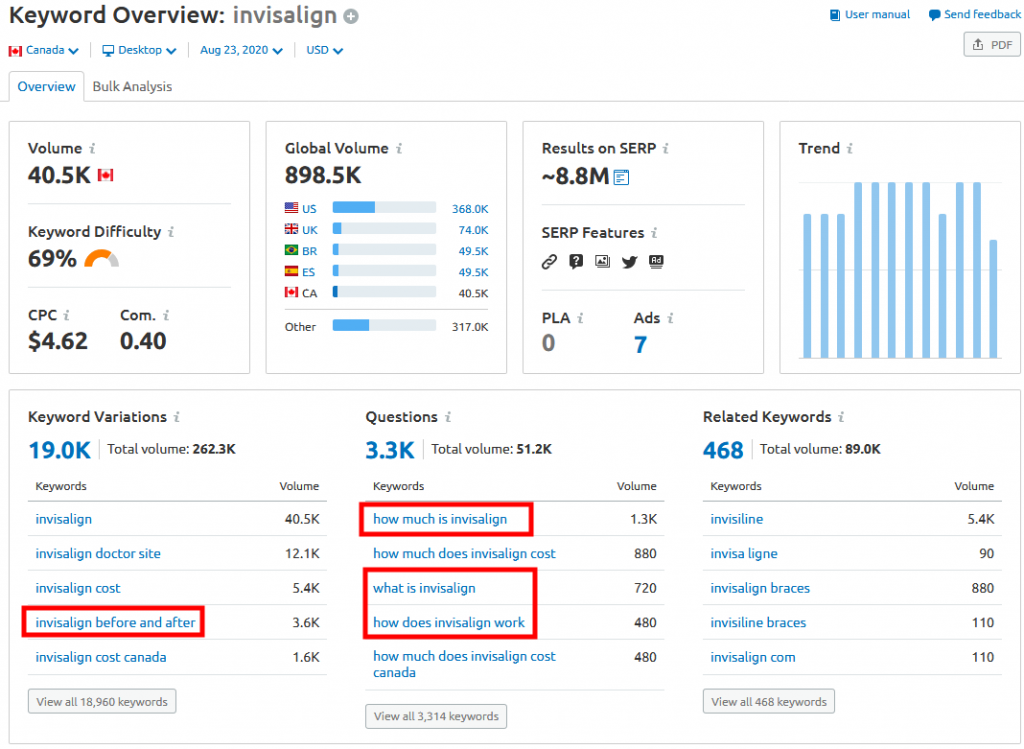 Here are a few questions we can address with our content: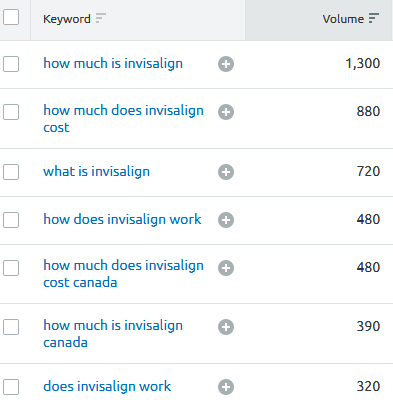 Download the full list of questions people ask about Invisalign.
We only work with serious clients who truly want to understand what their target demographics needs are. To do this, we'll have to repeat this process and research every single primary keyword. Once we have all of our data, it's presented to the client with a plan (which is dependent on budget).
Once we have our data, we don't stuff keywords into the content of a page for our clients. We move on to researching the competition, running user surveys and studying backlinks.
Search Engine optimization
SEO is complex and simple at the same time. You can have dozens of data points for larger websites. However, for smaller websites, we can get it right by following a few guidelines:
Make sure the on-site SEO for Clear Advantage is picture perfect
Make sure the Google My Business page is optimized
Ensure user intent is addressed in the eyes of Google
Build high authority links to your primary pages
It's seriously not rocket science and can be done for all local businesses.
I am going to dig deep and look at every issue that might be stopping Clear Advantage from ranking higher.
Meta title tags
We'll start with the meta title tags because it's the first element a person sees when they search on Google.

This shows up when you search "Clear Advantage Orthodontics". You only see the brand and the last part of the title tag is keyword-stuffed and cut off.
Taking the easy route with the meta tags for the primary pages is a pet-peeve of mine. It's just silly the way it's written right now. Here's how I would change it:
Title: Top-rated Orthodontics & Invisalign provider in Vancouver
Description: Clear Advantage Orthodontics has been the top 1% provider of Invisalign in Vancouver for 5+ years. Get it right with a certified Orthodontist & look your best.
It would look like this on Google:

Here are all the issues with the meta title tags on Clear Advantage Ortho: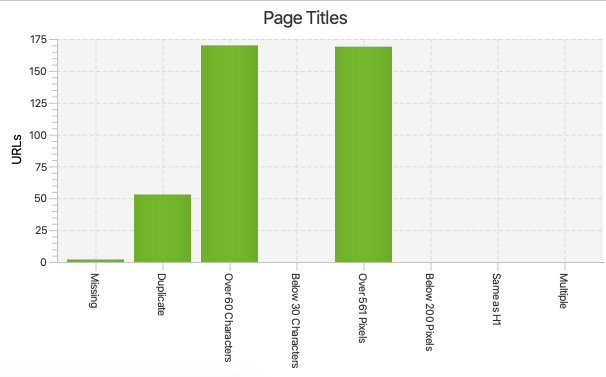 Download the meta title tags with issues here.
It looks like we have some cleaning up to do. There are a lot of longer than accepted title tags with some pages missing a tag.
Description tags
Getting the description tags right is just as important as the title tags.
Remember, our goal is to get that click on Google and convert visitors into patients. From what we can gather, neither the meta tags nor the content on any of the ranked pages help with this.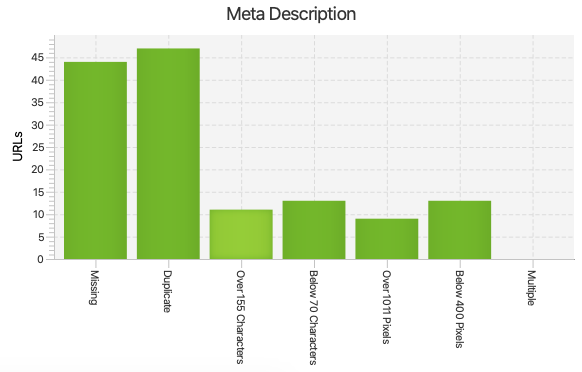 Download the full list of meta description tags with details here.
We have our keyword research done. This will help our writers come up with compelling description tags to improve clickthrough rates.
Here's what I recommended for the homepage:
Description: Clear Advantage Orthodontics has been the top 1% provider of Invisalign in Vancouver for 5+ years. Get it right with a certified Orthodontist & look your best.
I am sure it can be much better if I had our copywriter take a look and improve it.
Duplicate content issues
Duplicate content is definitely an SEO issue and should be addressed. You don't want Google to get confused on which page to present to searchers.
To solve this, you can either forward one of the URLs to the preferred URL or change it altogether.

Download the list of duplicate content pages here.
URL containing GET function
Using a form element with the method set to GET might create multiple URLs. This causes a large number of URLs you might not want to be indexed in Google.

Download all the URLs using the GET method.
A developer should be able to solve this issue easily.
Image issues
There are lots of issues that can come up with mismanaged photos on a website.
It's cleaner to have images smaller than 100 Kbs with an alt text tag.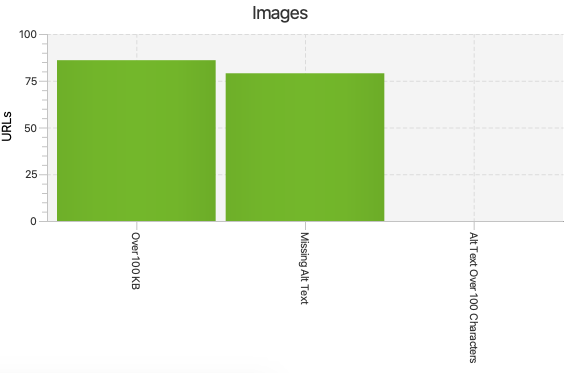 It looks like we don't have too many problems with images on Clear Advantage. This task will not take long.
H1 tags
The main heading on a page is labelled the H1 tag. Clear Advantage Orthodontics looks to have a lot of duplicate H1 tags: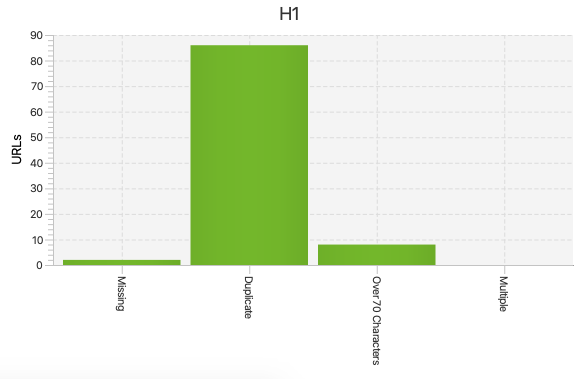 When investigated further, it looks like non-important pages have duplicate H1 tags. I wouldn't prioritize this task to the top of my list as it will not affect our SEO efforts too much.
Major security flaw
It looks like the loads page resources are using protocol-relative URLs.

This means that the URL in question loads in resources using protocol-relative URLs, which can be requested over HTTP and as such represent a security vulnerability.
Simply-put, we need to get our developer to create a system to automatically change any URL with HTTP to HTTPs.
Let's talk to the staff
I find it hard to believe that any marketing company would start writing about a topic without talking to the staff and asking them key questions, is going to be successful.
Our copywriter has a great process to get what he/she needs. We've managed to come up with brilliant questions with the help of our digital marketing community.
Here are some of our questions:
Tell me about a recent conversation you had with a prospect, what was the challenge they were trying to solve?
What was the last prospect that you had a really easy time closing? What was the problem that person was trying to solve for? Why do you think that person booked an appointment with you?
What alternative services have prospects compared you to?
Tell me about the competition… What do you think your competitive advantage is over the rest of the companies that you compete with?
Are there specific industries or types of customers that you've noticed are a great fit for the service?
Can you give me some examples of some of your best customers? Who are they and why do you feel like they're the best for you?
Can you tell me the most common use cases that people use your service for?
What are some of the top questions that you get asked on customer phone calls?
We then divert our attention to the main Orthodontist and ask these questions:
Tell me about your background. What's the story behind the company?
What led to the idea behind the company?
We don't want to take too much of the doctor's time. These two questions will give us enough to write unique copy.
If your marketing company is not proactive and asking questions, you're not working with a good team. It's essential to speak to everyone (including patients) to understand the industry they're working in.
This process might take a long time but the results will be exponentially better than if you skip it.
Running surveys internally and externally
Surveys are a great way to get answers to your questions. We run two types of surveys on a website:
A brief exit survey once every six months with these questions:

What was the purpose of your visit?
Were you able to complete the purpose of your visit today?
If the answer is no to question two, we ask:
What stopped you completing the purpose of your visit today?
Thank you survey
We don't bother visitors with too many questions. Especially if they haven't turned into a lead. Once they do turn into a lead, we like to send these questions:
Where exactly did you find out about us?
What persuaded you to book with us?
Which other options did you consider before choosing Clear Advantage?
What's the one thing that nearly stopped you buying from us?
What was the biggest challenge, frustrating or problem in finding the right Orthodontist?
If you could have us create something just for you, what would it be?
What other products or services should we offer?
We usually stop after 50 survey submissions. It's plenty to work off of.
Broad questions from the general public
With every client, we step outside our comfort zone and talk to the general public about how they feel about our clients industry.
This could be done in person or through Google Surveys. Here are my questions:
Do you struggle with uneven teeth?

Yes
No

Have you or your doctor talked about Invisalign?

We've talked about it but I am not ready
I've considered it on my own
It has never come up
I don't need Invisalign

What concerns you about getting Invisalign?

It's too expensive
I am too old
It's too much to manage
I am worried about how I'll look
The commitment is too long
Insurance doesn't cover Invisalign

What would change your mind about getting treated with Invisalign?

Monthly payments
If it was covered by insurance
Reduced commitment time
Nothing. I will get it.
Other
These are general questions but they'll give us a good idea of what the public think about Invisalign.
I'll do you guys one better. I actually ran the general survey on Google. See my survey results here.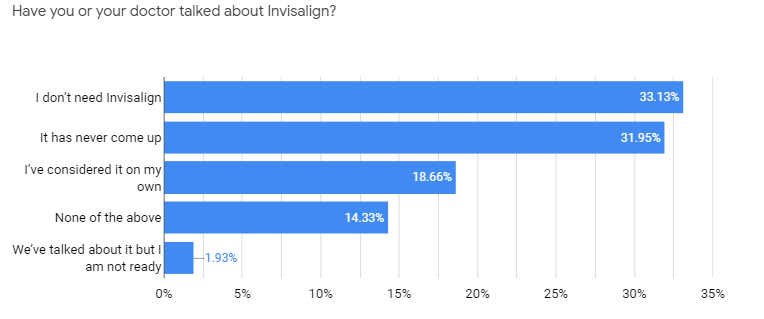 Final thoughts
I like that my posts are no longer more than 2000-2500 words. Splitting it all up gives breathing room to me and my audience.
We'll go over the top competitors in my next post. I'll essentially tell you exactly what they're doing and why it's working.
Until next time, see you all on my next post.