I didn't think I would need to split up my content. I've been getting great feedback from potential clients and even though they love how detailed my posts are, the length is challenging.
I am going to split my marketing strategies post for dentists into four parts. Here's the breakdown:
Part 1 – We're going to start off with keyword research, competitive analysis, search engine optimization, learning about the clinic we'll be working with, run surveys with current patients and finally run external surveys.
Part 2 – In part two we'll focus on the Google My Business page for the clinic we pick, how we're going to improve information architecture and user interface design. We'll also look at how long it would take to apply the SEO changes I recommend in part one.
Part 3 – In part three we'll try to tie it all together with our copy, content strategy plus calendar and wireframe a page. We will also discuss building the authority of the domain we're working with.
Part 4 – Finally, we're going to come up with a strategy based off of CRM data and automating our email strategy for the clinic we choose to help in this article. We'll also talk about a strategy for paid advertising.
Once you go over all four parts, you should have a good understanding of how to grow your business online.
Keyword research
For this case study, we're going to pick O2 Dental. They're on the second page for the primary keyword, "dentist near me" in Coal Harbour, which will be the main keyword we'll focus on. Dental clinics offer more than a dozen services. For the sake of time and accuracy of our findings, we will not be researching every service.
Our primary keywords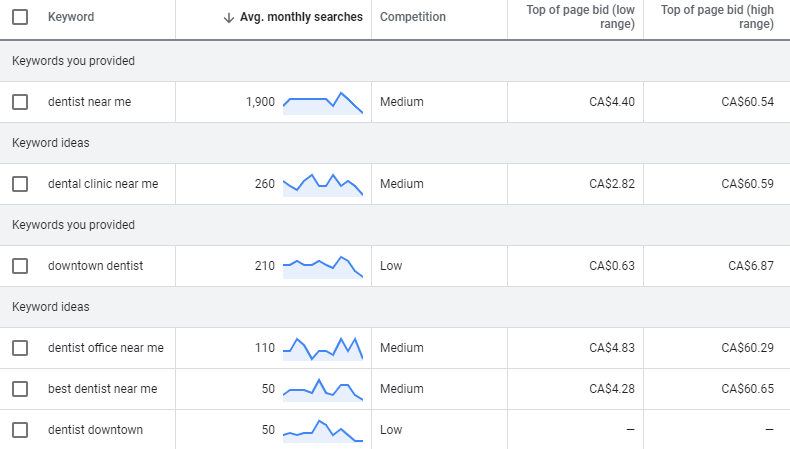 It looks like our primary keywords are going to be:
Dentist near me
Dental clinic near me
Downtown dentist
Dentist office near me
Best dentist near me
Dentist downtown – This one can be tied to #3 in our list
Of course, if we were working with a client we would be researching every possible keyword we can rank for.
Dentistry is a local business. Most people are not going to be driving to another city to get their teeth cleaned and because O2 Dental is located in Coal Harbour, Vancouver, we're going to check their rankings in accordance to their physical location.
Depending on where people are in and around Downtown Vancouver, it looks like O2 Dental is nowhere to be found in the vicinity of their physical location: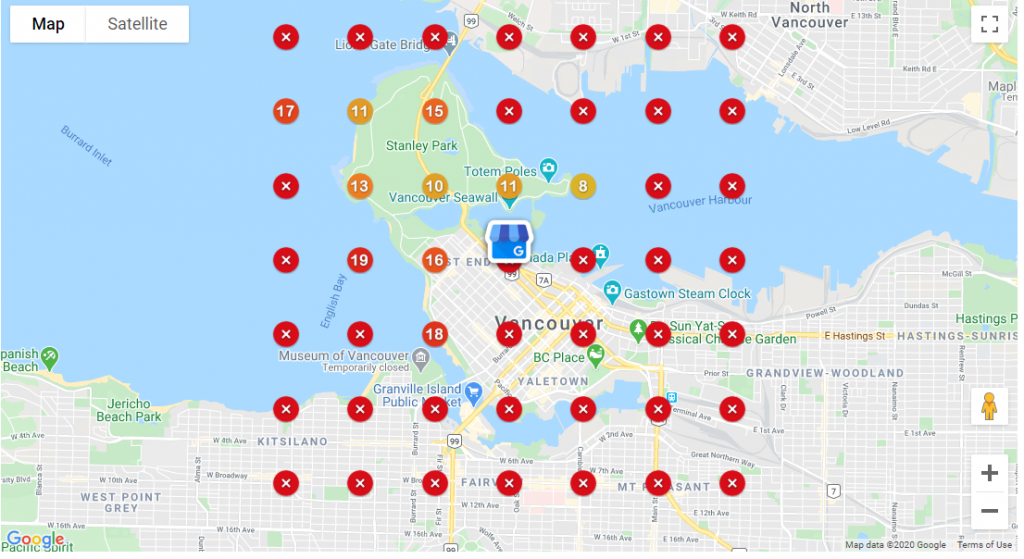 Map pack rankings
Now that we know O2 Dental does not show up for their primary keyword, "dental clinic near me" where they're located, let's look to see if they show up in the map pack section of Google search: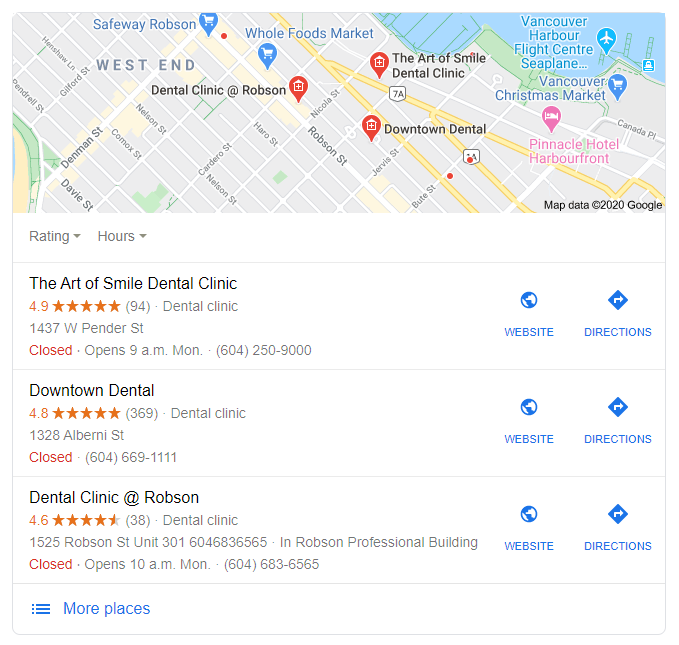 O2 Dental does not show up on search in the map pack section of Google when I search for "dental clinic near me".
What happens when I click on, "More places"?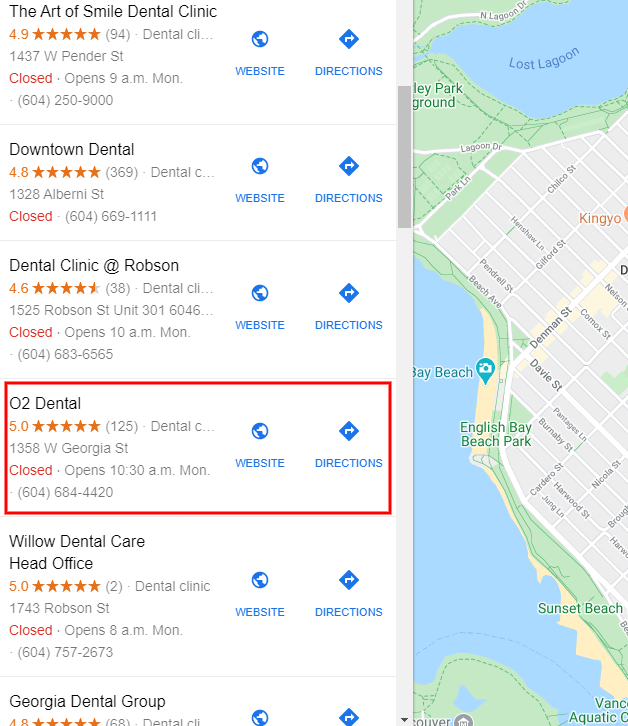 I am currently searching directly from Coal Harbour, which is very close to the physical location of O2 Dental. If I search on Google Maps, they show up in the fourth position. This isn't good enough.
We'll talk about how we can improve this in the second part of my dental marketing strategy case study. Right now, we're just going to understand what we need to work with.
Understand patient intent
Before going over dental marketing ideas, we have to understand what the visitor wants when they enter a website.
Understanding user intent is where most marketers and business owners drop the ball. They slap websites together without really understanding their potential patients. Growing your practice is more than just a website. It's about being there with relevant content when patients need you.
The beautiful part about patient intent is that you can do this for every service. We'll focus on one service and understand the process, which can be repeated across the whole website.
Cosmetic dentistry is searched 2,400 times in Canada. Of the 2,400 searches, 420 searches are questions people ask about cosmetic dentistry: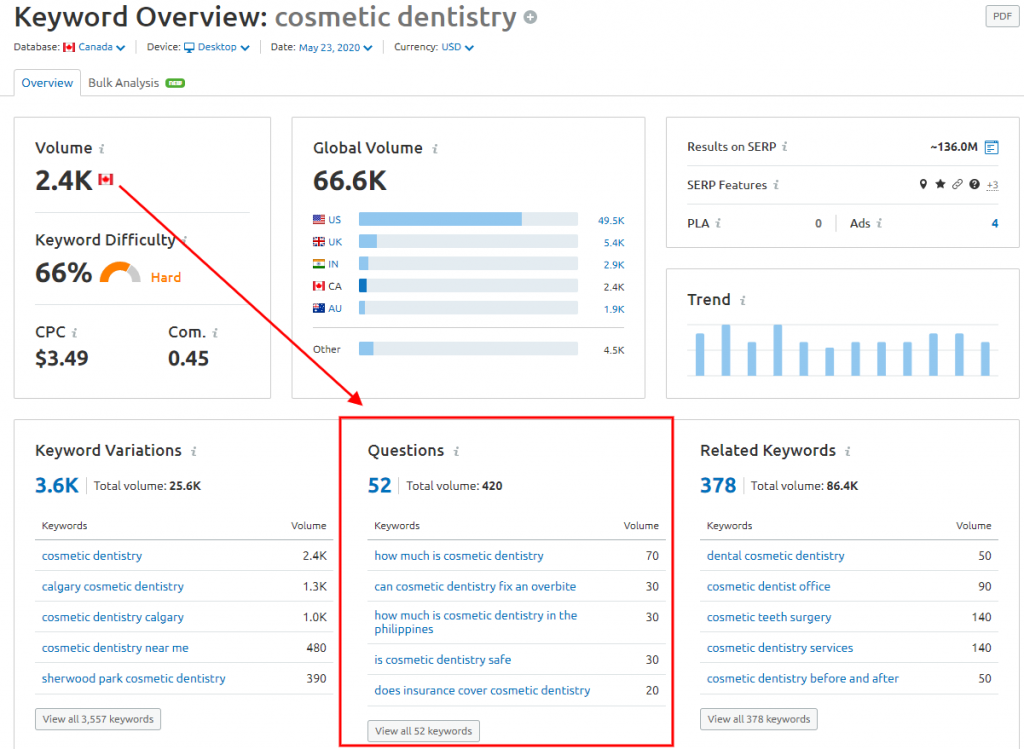 Here are just 4 of the 52 questions people ask: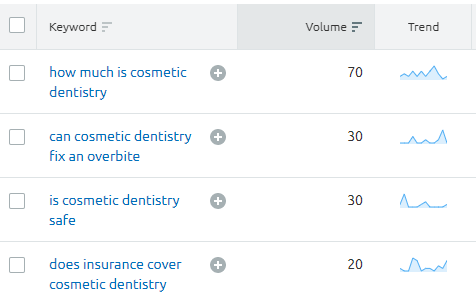 Download the full list of questions people ask about cosmetic surgery here. Some of the questions were related to people travelling to get cosmetic dentistry done. Dental tourism is a topic, which can be addressed if it has heavy search volume. Not in this case so we will ignore it when we start working on the copy and content strategy.
The main keyword, "cosmetic dentist" is searched 70 times in Vancouver and will remain our primary keyword on this page.

This research will be repeated for every single service page on https://o2dental.ca/. Remember, we're in business to help people, not just show up on Google. If you take a holistic approach to researching your keywords, you'll outperform your competitors for most of your services.
I'll explain how we will apply what we've learned so far in our research in the second part of our case study.
Competitive analysis
When we look at the competitors for our clients, we start by looking at a few data points:
What is the domain authority?
How many backlinks do they have and from what websites?
What kind of ads are they running?
How do they lay out the architecture of their websites?
What does their copy look like?
What's the domain age?
Here's a list of competitors ranking in the top five positions for the keyword, "dental clinic near me":
O2 Dental has a domain age of almost 8 years. We're not dealing with a brand new business and that's on our side.
Of course, your results will be different than mine since Google gives the most relevant websites for any given search term.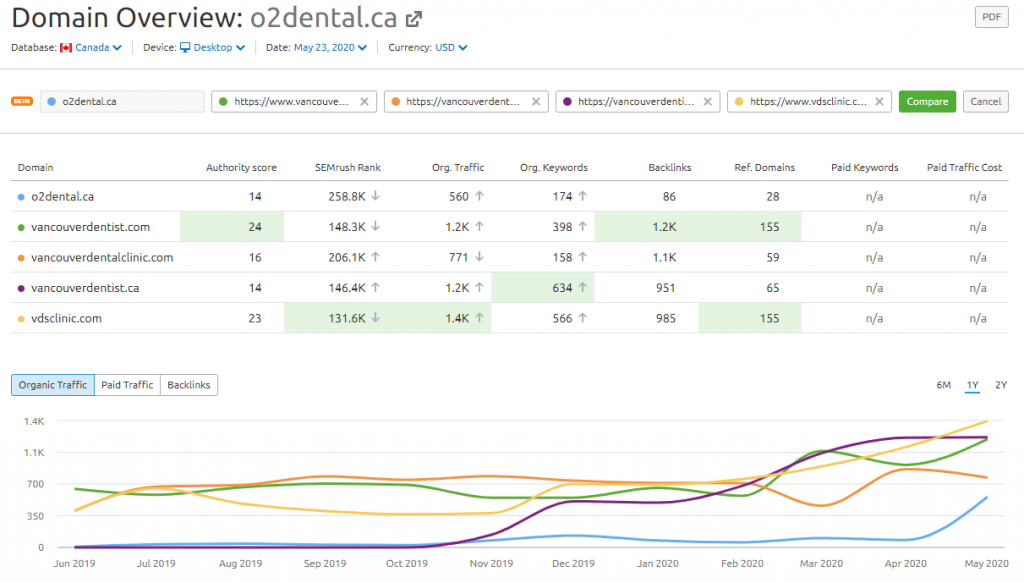 Our control for this case study (O2 Dental) matches the lowest domain authority score with https://www.vancouverdentist.com/, has the lowest amount of traffic and the least amount of referring domains.
The good news is that every website we're competing with has a low authority score (under 45). This is good news for O2 Dental because they don't need a large budget for a link building campaign.
Backlink profile for each competitor
Depending on the budget for our client, we analyze the backlink profile for opportunities within the first and second month of working with them.
It's crucial to understand and benchmark where we are and who we're competing against.
Vancouverdentist.com

Download the full list of backlinks for vancouverdentist.com.
Here's a quick backlink win from our list:
Vancouverdentalclinic.com

Download the full list of backlinks for vancouverdentalclinic.com.
Here's a quick backlink win from our list:
Vancouverdentist.ca

Download the full list of backlinks for vancouverdentist.ca.
Here's a quick backlink win from our list:
https://www.247emergencydentalclinic.com/ – This is an interesting link and worth studying. We don't just go and try to get on any website. Before we reach out, we ensure our client will not be harmed in way or form by a link we acquire.
Vdsclinic.com

Download the full list of backlinks for vdsclinic.com.
Surprisingly vdsclinic.com does not have any links worth hunting after. This is a common situation where we look at a competitor and can't find credible links to try and get for our clients.
Keyword GAP analysis
We're going to try and dig deeper to understand the keyword overlap of our primary competitors. The point of this research is to find out the most profitable keywords of our compset and try to match or beat them in terms of search positioning.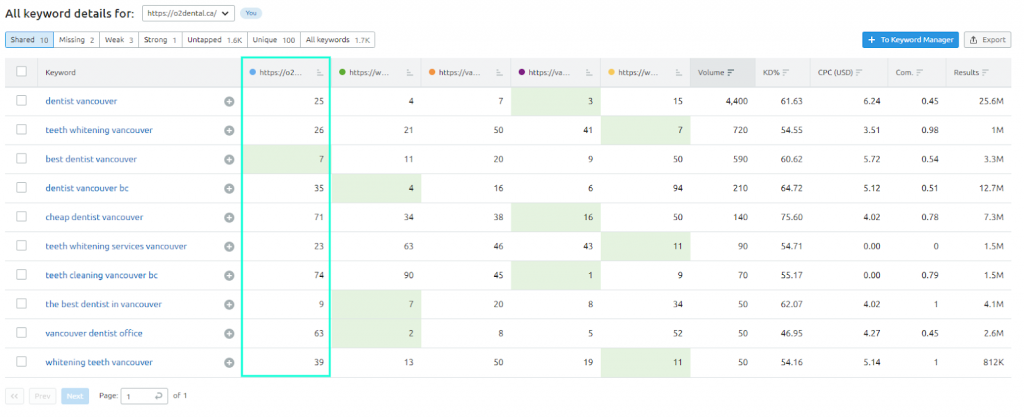 We can compare shared, missing, weak, strong, untapped and unique GAP analysis to technically spy in the area our client needs to dominate.
In this case, it looks like we must improve these keywords:
Dentist Vancouver
Teeth whitening Vancouver
Best dentist Vancouver
Dentist Vancouver BC
Here's the GAP analysis for shared keywords and their positions on Google between O2 Dental and their competitors.
In part 2 of our case study, we'll tie all the data together and come up with a cogent digital marketing strategy to take over the search results page on Google.
Quick copy analysis
Before I dive into the copy analysis for the homepages of each competitor, let's talk about why copy is the unwanted child for most small-medium sized businesses.
Since SEO started becoming a core focus for entrepreneurs, copy became the irrelevant step-child no one wanted to deal with. I've worked with clients who would say, "just get me ranked" or "how can I grow my revenue without copywriting?". My quick answer is, "you can't".
I am somewhat glad Google has taken a stand against bad SEO behaviour and put more of an emphasis on user experience.
How do you improve user experience:
Make sure your copy addresses the pain points of your patients
Make sure your website looks credible
Create some authority with great content
Ensure the information architecture of your websites follows basic guidelines
Be there when people ask questions with compelling content
Homepage copy for Downtown Dental
The homepage for Downtown Dental is not what I would consider well-written. It's clear an SEO worked on this website without consoling a copywriter, the staff and Dr. Taheri.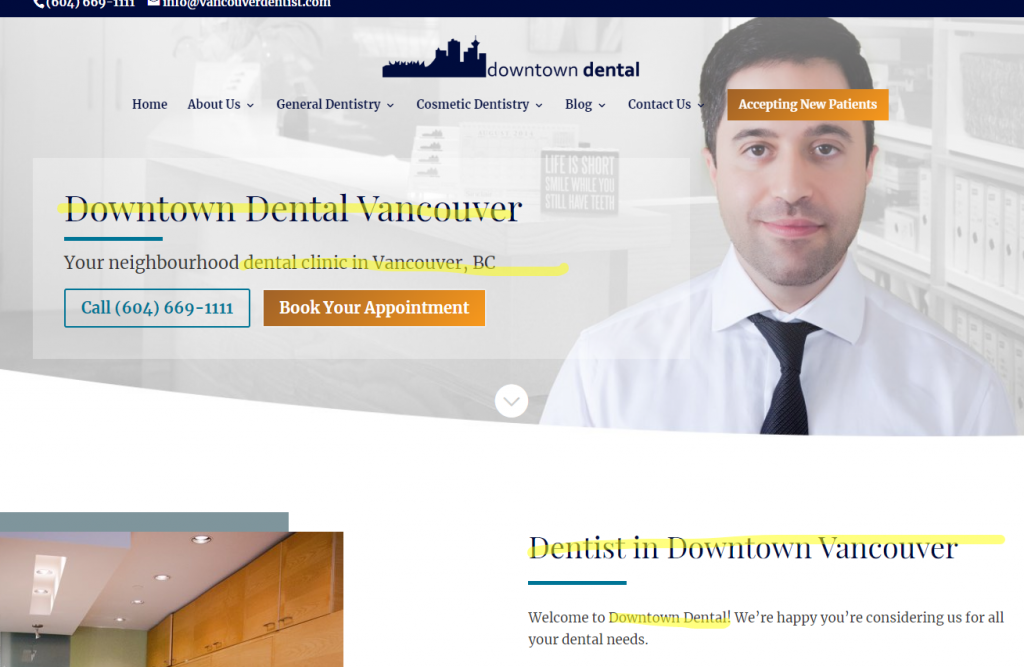 We have a keyword stuffing issue here. You can ask a five-year-old and they'll tell you that this page is not written for humans.
From what I can gather, Downtown Dental is not really a top-tier competitor. With the right copy, content and link-building strategy we can easily overtake what they've done within eight months. Although, it would be interesting to see how the age of their domain gets in our way.
Homepage copy for Vancouver Dental Clinic
I see a lot of exact-match domains where a keyword is used for the URL instead of the brand for the clinic. It's a power SEO move, which used to work very well in the past. It's going to work less and less in the near future.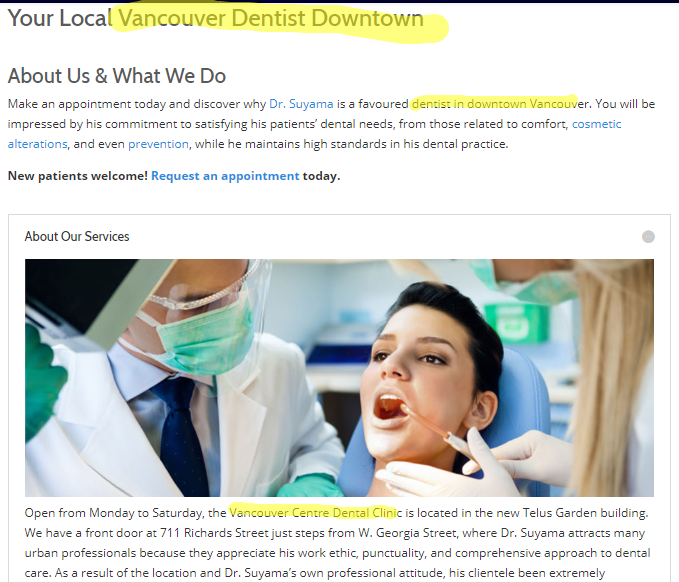 Vancouver City Centre Dental is slightly better than Downtown Dental but I wouldn't put too much into how much better.
The homepage is hard to scan with big blocks of text, there is no clear value proposition and there seems to be a lot of stock photography.
Homepage copy for Vancouver Dentist
The homepage for https://vancouverdentist.ca/ (another exact-match domain. We're noticing a trend here), in my opinion, is doing a decent job in addressing user intent. They have a clear value proposition:

They share pricing: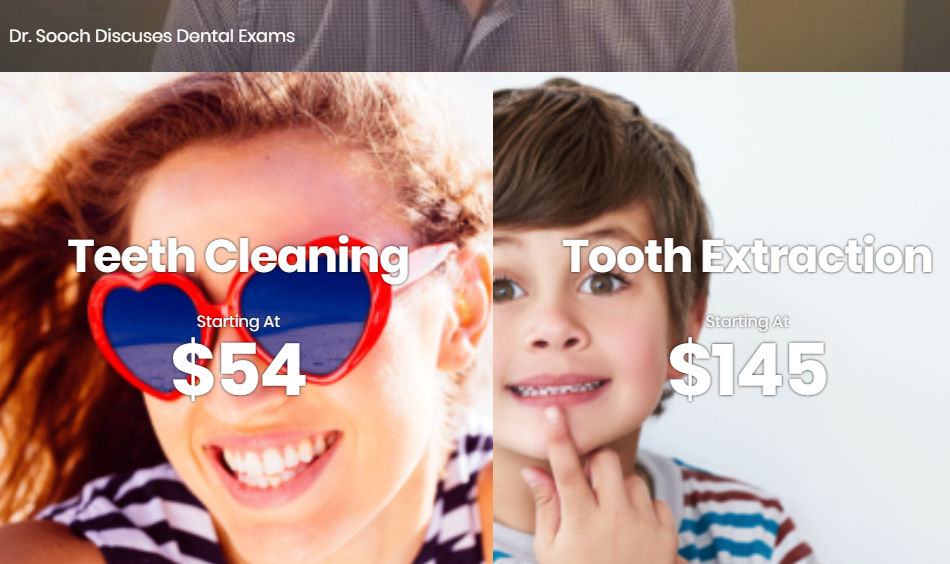 There is a video of Dr. Sooch to make the clinic more human: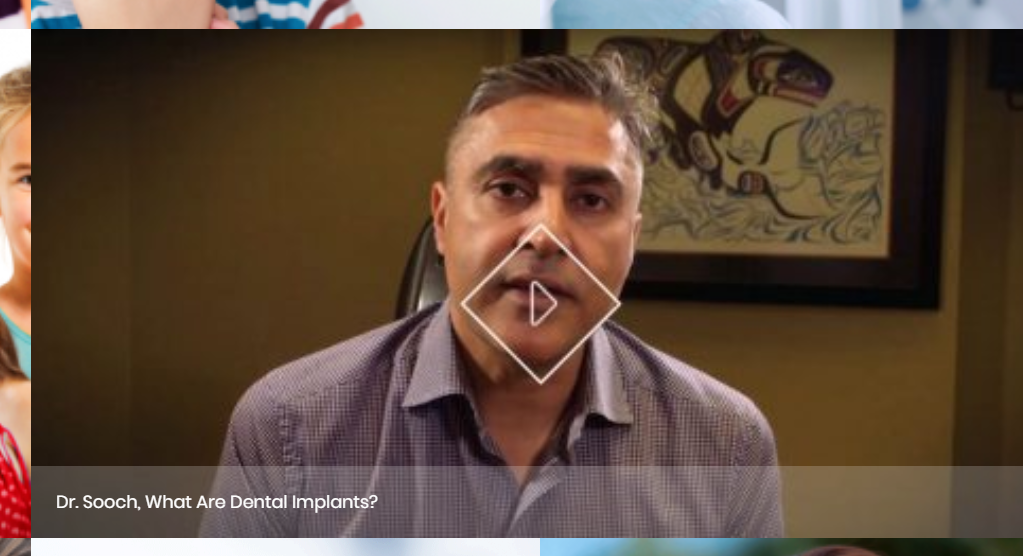 They would be a great example for us to compete against in terms of improving the user experience for 02 Dental. I am already getting great ideas here.
What I would improve for https://vancouverdentist.ca/ is how the content is structured throughout the homepage. It's difficult to scan since there is no visual hierarchy.
One other improvement for Dr. Sooch is increasing the word-count as it's thin right now.
Homepage copy for VDSC
VDSC has the right idea but they seem to want to repeat, "Vancouver Dental Specialty Clinic". Repeating your brand name is fine but not when it's borderline keyword-stuffed and this long. I would have it repeated once or twice and refer to the clinic as VDSC: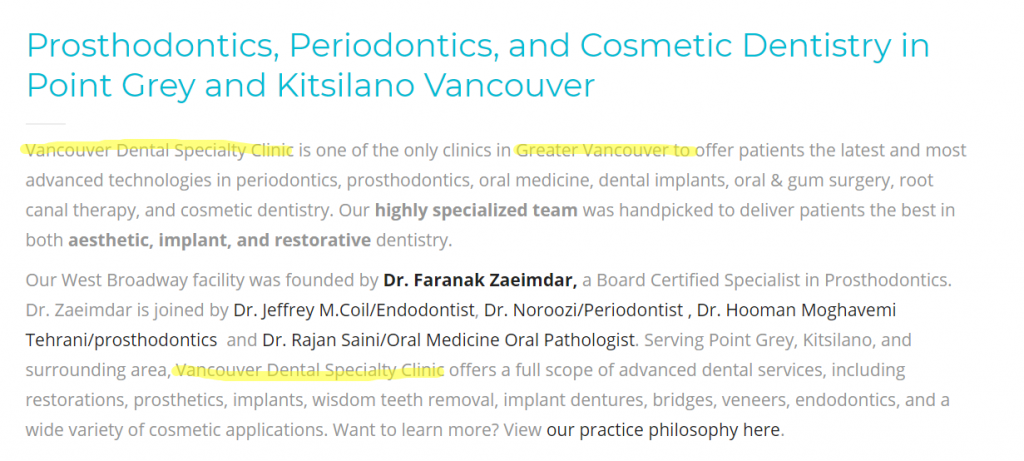 What I like about the VDSC homepage is that they too have a section for their services you can quickly scan: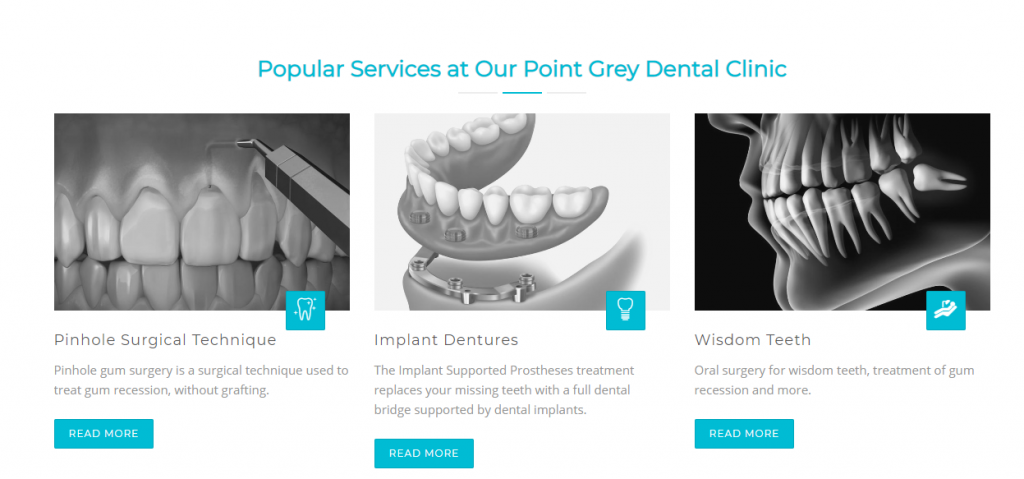 Of the 4 competitors, VDSC is the most serious. They've taken care of most of my suggestion for increased conversion. The website looks more credible than the other competitors on my list and they have a decent user interface design.
Let's look at a few credibility factors:
Our Specialists are capable of correcting a wide variety of so-called "permanent" problems, thanks to the application of today's most advanced dental equipment, materials, and procedures.
Clearly, they emphasize technology and how their clinic will overcome any permanent problems.

Other than the top of the homepage, you can easily scan through their content without trying too hard to get through the page.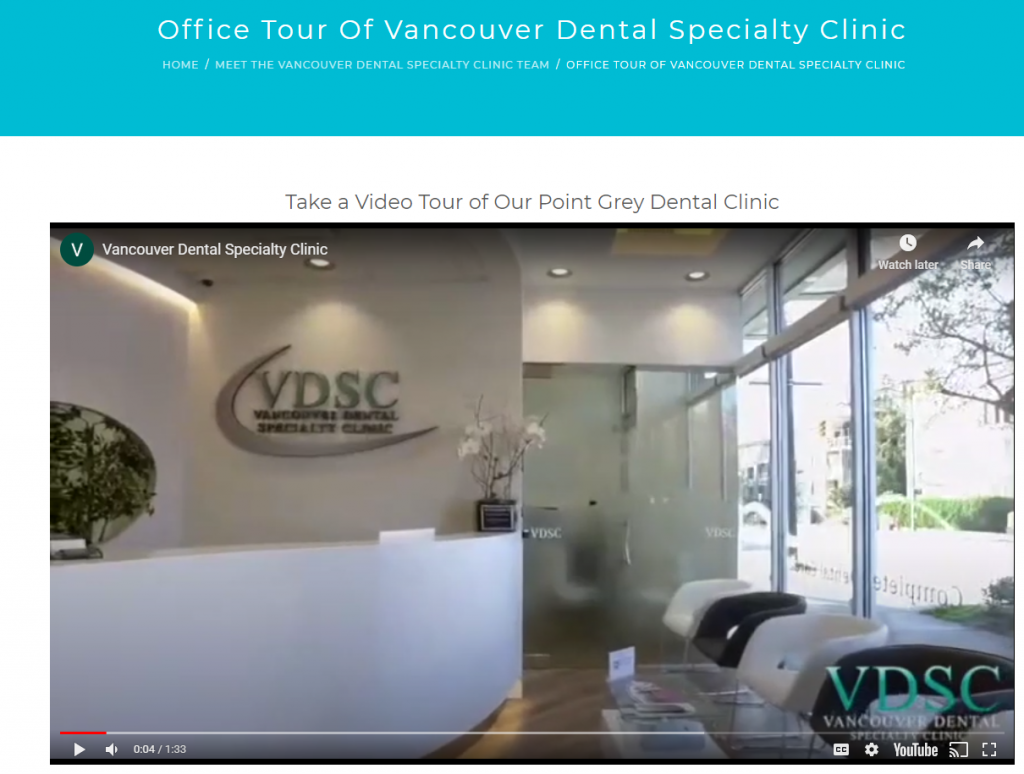 I find it odd that the main intro video would be hidden away and accessible through a link below the fold on the homepage. I would move it to the homepage and above the fold. Don't hide your content.
Search engine optimization
There are dozens of data points to go over in terms of SEO. Technical search engine optimization is not rocket science. At our agency, we tend to resolve all SEO issues within month one and two.
I use different tools to determine and assign tasks accordingly. Our whole team will be involved in improving code, copy, content, citations etc. I also go through the code and website page by page by hand to ensure our tools didn't miss any issues.
Let's go over three low hanging fruits for O2 Dental and help them out.
Meta title and description tags
I've gone over meta tags in previous posts and I will explain why writing compelling title and description tags are paramount to getting clicked from the search results page of Google.
Your title and description tags are windows to what people are going to find behind the curtain. You're creating scent and a display of how professional you are.
Writing compelling copy with the correct key phrases takes time. Our copywriters have spent countless hours perfecting this craft and have a solution for most industries.
From our studies, we understand that positive reviews and high costs are two of the main factors people consider before contacting a dental care clinic. This is a big takeaway when we want to write the title and description tag for the homepage.
Here's the current title and description tags for O2 Dental:

Title: Dentist Downtown Vancouver / Dentist Coal Harbour // O2 Dental
Description: O2 Dental. Find a Dentist Downtown Vancouver near me. O2 Dental is your local Coal Harbour dentist in Vancouver. Get an Appointment.
These are keyword stuffed meta tags without an ounce of consideration for the person looking for a dentist.
I feel horrible for Dr. Tehrani and Dr. Afrand. They've spent years studying to become an expert in their fields. Unfortunately, they've hired digital marketers who know very little about marketing in general.
Here's my personal recommendation for their meta tags:
Title: Downtown Vancouver dentist with 120+ 5-star reviews – O2 Dental
Description: O2 Dental is winning in every aspect to becoming the best dental clinic in downtown Vancouver. Book an appointment today for the smile you're meant to adore
I am not a copywriter but I am pretty sure I just addressed a whole new target audience with my primary keywords in my meta tags.
Robots.txt file
The robots.txt file is an instruction sheet for search engines. Get it wrong and critical parts of your website will not show up in search.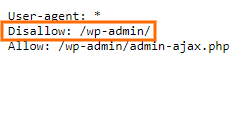 Disallowing /wp-admin/ may affect how search engines render page content. I would highly recommend removing this link altogether.
Here's what they should add:
Disallow: /wp-login.php
Duplicate content issues
Pages with similar content can greatly hurt your chances of ranking on Google. In some cases, Google might even penalize your website (not for O2 Dental from what I am seeing).
Let's take a look at these URLs:
O2 Coal Harbour
O2 West End
If you take ten seconds to look at all three URLs, you'll immediately notice that they have the exact same content as the homepage.
You can't market your dental practice with rookie mistakes like this. They're easy to resolve and shouldn't take more than two minutes to fix.
The three issues took five minutes for me to find. I am sure there are more issues we can find spending time doing a full audit.
Talk to the dental assistant and secretary
Frontline workers who interact with patients on a personal level are a core part of our research phase. A dentist might speak to a patient for a few minutes. The secretary and hygienist spend 30+ minutes with people and have real conversations with them.
Here are a few questions we might ask the secretary and hygienist:
Tell me about a recent conversation you had with a prospect, what was the challenge they were trying to solve?
What alternative clinics have prospects compared you to?
Can you give me some examples of some of your best patients? Who are they and why do you feel like they're the best for you?
What are some of the top questions that you get asked on customer phone calls?
Run surveys on the website
We typically run one exit-survey for most of our clients. Each situation and marketing campaign is different but for O2 Dental we would definitely run exit surveys to understand our target demographic.
These questions can be run for any business and give you a quick birds-eye view of what your visitors are thinking right before they leave:
What was the purpose of your visit?
Were you able to complete the purpose of your visit today?
If the answer is no to question 2, ask question 3:
What stopped you completing the purpose of your visit today?
Run surveys off the website
Finally, it's wise to ask questions from the general public to get a better understanding of how we can optimize our marketing strategy and get more new patients.
Here's how we'll test our hypothesis and ask our questions:
What's the most important factor when looking for a new dentist?
What's the number of visits you've made the dentist in the past year?
What was the reason for your visit?
What's the most frustrating aspect of going to the dentist?
To make your job easier, I ran this survey for California. Here is the link to the survey results.



Moving on
In part 2 of my case study, we're going to go over how we can optimize the Google My Business page, talk about user interface design and experience and how many links we need to build to increase our Google rankings.
Follow my guidelines and it's very likely that you'll improve the visibility and conversion numbers for your dental office.