You're all probably well aware that I get my hands dirty when it comes to content marketing. I've explained (in detail) how our agency ensures our own projects, as well as client projects, address pain points with our content marketing campaigns.
In my previous posts, I shared examples for how orthodontists, dentists, plastic surgeons and lawyers can research/come up with advanced content strategies for their target demographic.
In this post, I am going to put it all together with a general template of what you can do to dominate your industry, regardless of budget.
Audience Research
I use various tools to collect data. Without these tools and how our team puts information on a content calendar, we would never be where we are today.
However, having tools is not going to have you succeed. It's what you do with the information and how you plan your strategies.
We'll start by going over the tools and which parts I use to gather my data first. Then, we'll talk about how we'll put it together on a content calendar.
These tools cost money. There's simply no way you can do this for free, so keep this in mind before reading on.
Ahrefs
Ahrefs is one of the best tools out there. They help you determine where you stack up versus the competition, research keyword competitiveness, come up with keyword clusters and determine what it will take to rank for target keywords.
There are already a ton of resources out there that explain how to use Ahrefs better than I could ever chronicle in this article. Here are a few resources to get you started:
If you're more of a visual learner, here's a short clip on how to do keyword research with Ahrefs:
Here's how to do a quick competitor analysis, including a look at their top-ranked pages:
SEMrush
I don't care what people say, SEMrush stacks up very well against Ahrefs. I use it just as much, if not more, for research purposes. Specifically, I love the keyword research part of their tool and the on-page checker.
SEMrush already does a fantastic job of laying out how to use the tool. Here are some of their best resources:
Here's a quick video of their on-page checker. I use it religiously for most of my projects:


SurferSEO
SurferSEO allows you to find keywords, add them to a document, and optimize within the document itself. It's a complete game changer and a tool we use quite frequently. It can get a little overwhelming, but if you plan your campaign accordingly, your project will perform well.
Let me show you how I use SurferSEO for my copy/content strategy:


A combination of all the tools I've mentioned will help you address user intent semantically.
Just keep in mind that user experience matters. Don't just stuff your pages with the suggestions from these tools.
Target market surveys
You're probably aware that I like to ask all of my clients detailed questions about their business or buying journey. Without doing this, we'd be skipping a crucial step.
Larger clients with 100,000 or more visitors per month get customer experience testing, where we run split testing done on their most crucial pages.
I am going to share my treasure chest of questions you can ask customers, key staff members, and a target demographic who hasn't purchased from you yet.
Here's a question we ask visitors on specific pages:
What can we do to improve this page/website for you?
Here's what we ask customers who have purchased from our client:
Where exactly did you find out about us?
What persuaded you to purchase from us?
Which other options did you consider before choosing _________?
What's the one thing that nearly stopped you buying from us?
What was the biggest challenge, frustration, or problem in finding the right ______?
If you could have us create something just for you, what would it be?
What other products or services should we offer?
We ask the sales team questions such as:
Tell me about a recent conversation you had with a prospect- what was the challenge they were trying to solve?
What was the last prospect/company that you had a really easy time closing? What was the problem that person was trying to solve? Why do you think that person signed with you?
What alternative products/services have prospects compared you to?
Tell me about the competition… what do you think your competitive advantage over others in your market?
Are there specific industries or types of customers that you've noticed are a great fit for the product/service?
We ask the customer service team/support team questions such as:
Can you give me some examples of some of your best customers? Who are they and why do you feel like they're the best for you?
Can you tell me the most common customer use cases for your products/service?
What do you feel like your competitive advantage is compared to all of the other alternatives out there?
What are some of the top questions that you get asked on customer phone calls?
We ask the CEO or members of the founding team questions such as:
Tell me about your background. What's the story behind the company?
What led to the idea behind the company?
We ask the delivery side or product side of the business questions such as:
What feature set and/or part of the service do customers use most?
What are the most common use cases of the product/service?
Finally, run two surveys from people who have not purchased from you or your client.
One of these surveys will go on Google Surveys and the other in person. For Google, you should run at least 100 surveys. For your in-person surveys, you should get between 5-10 people to answer your questions.
I can't share examples because we're not targeting an industry like my previous posts but you can go to the first post (a 5-part series) for orthodontists and see an example of a Google survey.
Content strategy meeting with the team
Once you have all your data, get the team together for a content strategy meeting. In this meeting, you're going to go over:
Your budget and expectations
Media strategy
Funnel strategy
Pain point strategy
Tying everything back to revenue growth
The meeting should not go for more than two hours. The project manager must take notes and put your thoughts coherently on a presentation document to be sent to the client or decision-makers.
It's expensive when you take your content strategy seriously. Everyone has to be coordinated to create the best possible content piece they're working on.
Let me give you all an example:
A client came told us that one of their most popular machines is a John Deere 35G, so they wanted to create a repair guide.
Here's what we did for them:
We came up with three videos. One video was about swapping air filters, another on greasing your machine, and the third on avoiding equipment failures.
We also put a maintenance schedule in an article
The team didn't forget about relevant photos and animated gifs, where applicable
You can view the post here. The post successfully brings in new traffic each month. It also ties into our content cluster strategy, which I'll explain below.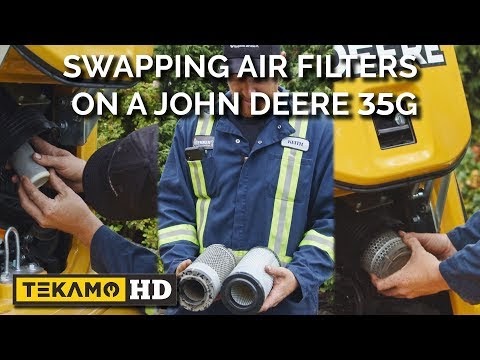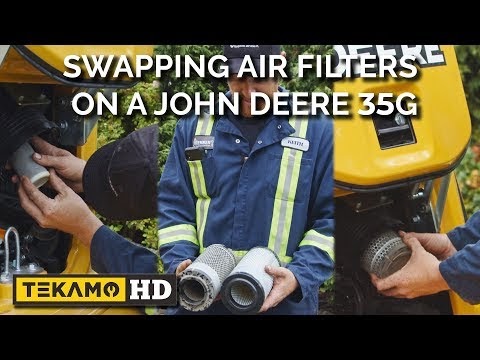 Content Clusters
A content cluster is when you create topics/posts/pages that are related and helpful to your main topic (or money page).
I know some of my peers have shit on this strategy, but I could care less (no offense). It has worked for us when we're moving visitors up and down a marketing funnel.
In the 3rd part of my dental marketing strategy, I went over a hypothetical content cluster strategy.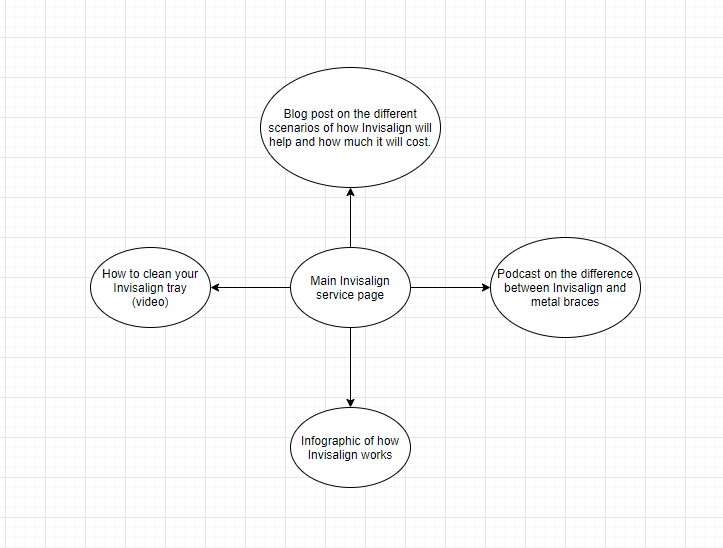 With a $6500/month marketing budget, we can get through the entire content cluster in 2-4 months, depending on the details of the strategy.
It's easy to come up with a content cluster to support your primary pages. Here's a video on how I use our tools to quickly come up with a campaign:
Content clusters are a gathering of customer pain points- and what you're trying to solve for them. Isn't that what marketing is all about?
Content promotion is a vital piece of a content strategy
Publishing content is half the battle, and it's most certainly not the end of your work. The next focus is getting your new pages to rank on Google. You don't want to rely solely on SEO. The right mix of distribution, SEO, and paid strategies makes sure your work gets in front of the right eyes.
Where other agencies fail is how the new content should be tied to revenue. I am not saying every single content piece should be directly bringing in revenue, but be somewhere along the journey of the visitor to eventually acquire the service/product you're offering.
Let me share an example:
A visitor might be interested in how Invisalign works. They're not ready to commit and book an appointment to see an orthodontist.
If they land on a blog post or a page about how Invisalign works, we want to chase them around on Facebook, Instagram, Twitter, and Google with a video ad on how Invisalign has greatly improved the lives of the patients we work with. We can test different ideas here to improve conversion numbers.
If they watch our video, we can retarget them with testimonial videos of the clinic we work with.
If they watch the testimonial video, we can test different ideas on how to get these people to book an appointment (i.e. share the potential cost and financing options).
Here's what a patient acquisition funnel looks like for an orthodontist:

Download the patient acquisition funnel here.
Organic visits through Google
Nothing beats free and organic visits from Google. Let's build out a hypothetical situation, where we want to rank for the keyword "Invisalign cost".
Here's how competitive it is to rank for the keyword we want to target:

We need to get at least eight authoritative links back to our article about the cost of Invisalign. On average, a link for an authoritative website will cost anywhere between $250-$350 USD.
Remember, we don't mess around with mediocre content. We'll have to address every pain point in this article with videos and interviews. That alone will take our whole team to ensure quality.
Once the article is up and we've gained backlinks, we sometimes build tier-2 links, which essentially means that we build links to the links we've paid for. I know, it gets confusing. Here's a diagram explaining what I mean: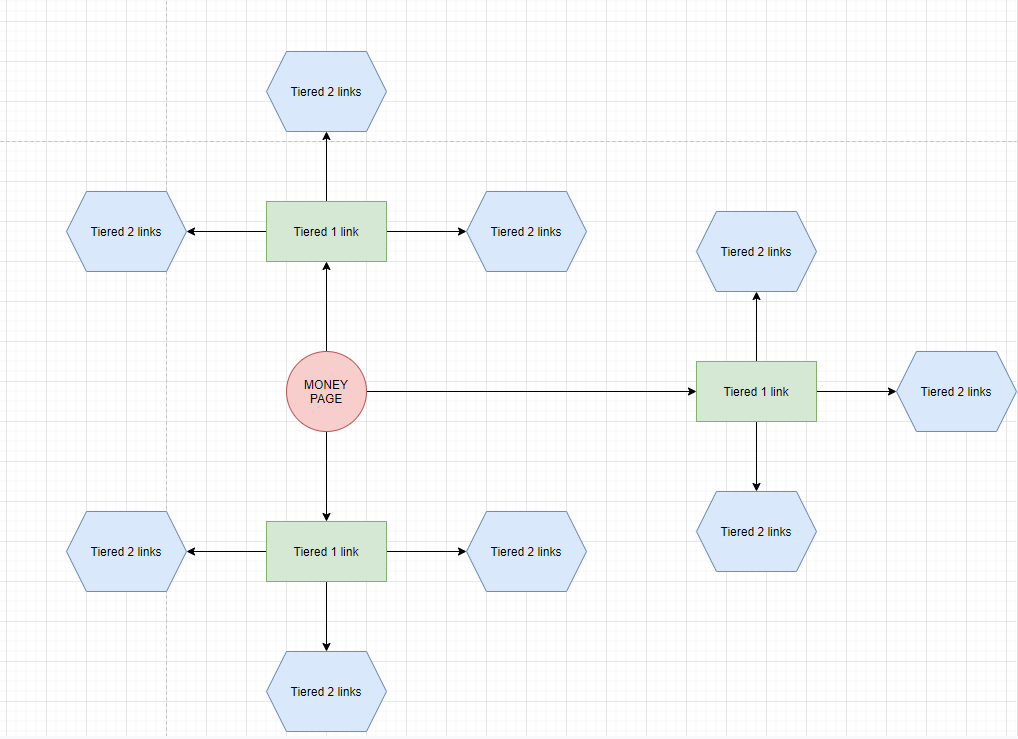 If you're a digital marketer, I encourage you to set expectations for your clients. What I've explained could take 3-6 months to rank and can get expensive. If your client isn't ready to commit and wait, this strategy might not make sense for them.
Final thoughts on content marketing strategy
There are hundreds of content strategy ideas. Each industry will be different and you'll have to be creative with your approach.
The construction industry will have a completely different content strategy than a website for a local dentist. An eCommerce website will have a completely different content strategy than an affiliate website. You catch my drift?
There is no set it and forget it template for content marketing, but this works for us.
Until next time, catch you all on my next post.