I've worked with a few lawyers in my career. They seem hyper-focused on their business to the point where they completely ignore every other aspect of their business.
When we sign a lawyer to a marketing agreement, the first topic I go over is having them get involved in the digital marketing campaigns we'll run for them. Without them, the credibility of work is a few levels lower. No one wants that.
In this post, I am going to focus on advanced marketing strategies you can apply to your practice area. This post is not generic like the others so strap on. There is a learning curve and because we work with serious clients, it's crucial to understand my digital marketing process. You don't have to understand everything perfectly but you need to know how the work is done.
I am going to use Harper Grey LLP as an example in this post.
Checking Google My Business account and local reputation
In most cases, lawyers are going to be local. We've never worked with national or international firms but if we did, we have specific strategies to make sure they show up locally in the cities they practice.
The first step is to add our new law firm to BrightLocal. On BrightLocal, we can check to see if the NAP (name, address and phone number) for our clients office is correct across all directories they've been listed on. You can also monitor reviews from multiple websites in one place.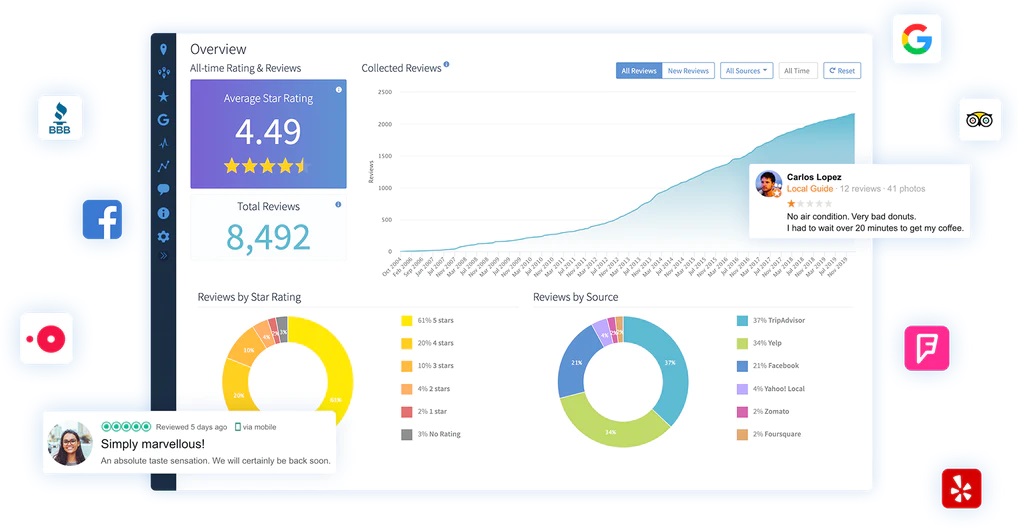 Your Google My Business page(s)
I've written a post (An underrated strategy for your clinic using Google My Business) on how a business can optimize their GMB page. It's geared toward medical clinics but the practice is the same across all industries.
Here's an overview just in case you don't want to go over the whole article:
Ensure you post weekly updates, deals, events etc. In your case, you probably have events (fun or work-related), updates on services or notices and news you can release directly on your GMB page.
Add photos of what you do weekly – This might seem strange but I would seriously consider having our media team visit once a week to take photos of people in action. An instant social boost across every channel on the web.
Make sure the info section is up-to-date and correct
Reply to all reviews (good or bad)
Google is getting smarter. Just having a blog post is no longer a "strategy". A big part of your digital footprint is your GMB page which is easily forgotten. I highly recommend you stay ahead of everyone else since most law firms don't even care about what's happening in terms of an online presence.
Law firm keyword research
I won't go over every service since there are dozens and dozens of topics. What I will do is pick a law firm close to my own city in Vancouver, BC and research the keywords they need to show up for plus where they stack up versus their competitors.
I've decided to research Harper Grey LLP. If we look at the expertise page, we can see that they have 24 services. However, they specialize in:
Business law
Corporate/commercial law
Insurance law
Administrative law
Medical defence and health law
I'll focus on what they specialize in because a full keyword strategy for 24 services would take too long.
Here's what I found:

You can download the full list of keywords here. Considering the pandemic, it looks like the top of page bids are lower than when the world was a little more liquid.
Now what we need to do next is to study individual keywords and volume numbers.
Here are all the keyword ideas and volume for administrative law:

Download the full list of keywords for administrative law here.
Let's look at business law and its search volume:

Seems like business and corporate law show up together. Interesting and we'll consider this in our copy strategy. Download the full list of keywords for business law here.
Here are all the keywords to try and rank for on Google for corporate law:

Download the full list of keywords related to corporate law here.
Here are all the keywords to try and rank for on Google for insurance law:

Here's the keyword list for insurance law.
Let's look at the full list of keywords for commercial law:

You can download the full list of keywords for commercial law here.
Finally, here all the keywords for medical and health law:

Download the full list of keywords for medical and health law here.
What does Harper Grey rank for organically on Google
We need to benchmark where Harper Grey ranks before we commit to improving search engine rankings for their primary and secondary keywords. Knowing the visibility of a client is usually at the top of my list before anything else. Knowing this information will help guide future online marketing campaigns.
So what does Harper Grey rank for:
For primary keywords, Harper Grey might not be doing well. However, it seems that they rank for a lot of other secondary keywords which brings lots of traffic to their website. Get the full list of keywords and their position on search here.
There is a lot of potential here. I see a few primary keywords but I don't see user questions being addressed and ranked for.
Nevertheless, this is a good start and we now know where Harper Grey is positioned organically on Google search.
Let's continue.
Let's find out about user intent
I've repeated this part of my research on all my posts. Finding out the ins and outs of what a potential client is thinking is paramount to a successful campaign.
In our experience and working with dozens of current and prospective clients, addressing user intent has always yielded better sales numbers in the long-run.
Let's try to find out what the user intent is for our primary keywords. We'll start with business law.

Download the full list of questions for business law here.
Let's look at questions people ask for corporate law:

Download the full list of questions for corporate law here.
Insurance law is interesting and I see a lot of great questions we can answer in our content. Here's an image overview:

Download the full list of questions asked about insurance law here.
Here's a quick overview image of questions asked for administrative law: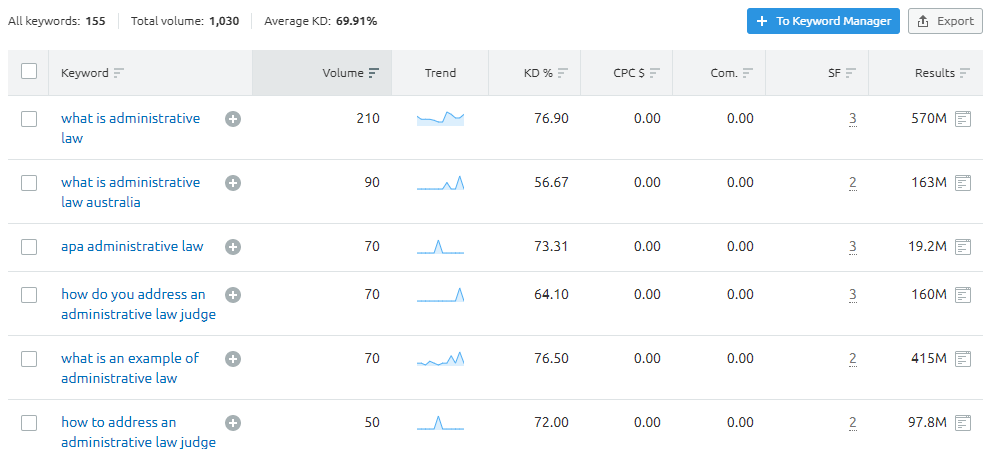 And of course, I am not going to leave out the full list of questions people ask about administrative law.
Finally, let's look at an overview of the questions people ask about health law:

Download the full list of questions people ask about health law here.
I am not going to leave you high and dry with a bunch of keywords. We'll go over what and how you'll use these keywords on your posts/pages later in this post.
Backlink profile for Harper Grey
The backlink profile of a website is very important to use when we start a project. There might be a lot of spammy links we don't want Google to pass page rank to.
In the case of Harper Grey, a quick crawl yielded a few hundred spammy links we'll need to study. Take a look at this Google sheet to judge for yourself.
We don't want to go to Google and give them the whole list. Never trust a tool to be as smart as a human sifting through all these links. At least not yet.
Here's our process:
Open the link and make sure the page is still up and not a 404?
Is there an image or text linked back to Harper Grey?
Does the website look legit with an about page, phone number, contact page, or looks natural?
If the link is not natural, it gets put into a list to submit to Google to be disavowed. We're very careful with the disavow tool on Google. If we don't see a ranking drop or are sure the website is not stagnant, we tend to not disavow anything.
While spending a few minutes going through the backlinks for Harper Grey I found something interesting. What in the world is this:

Here's the link for you to see: http://hgci.signalsinteractive.com/
I think it's an old website that hasn't been taken off the web. If I found it, maybe Google also found it.
A quick look shows that the link has eight pages indexed in Google's index. I recommend getting rid of it right away. This website might be causing duplicate content issues.

That's just me spending a few minutes sifting through the list I shared with you. Imagine finding spammy links the Harper team knows nothing about.
We're now going to get a little advanced and try to look at the bones of https://www.harpergrey.com/.
From what I can see, I get a sense that they're working with a digital marketing agency or have an in-house marketing team (maybe individual). I find it that most legal marketers are narrow with their marketing strategies and only focus on simplistic campaigns.
We use Screaming Frog to crawl for all of our technical needs. You can check thin pages, duplicated content, missing tags and much more. A full SEO audit has a couple of hundred touch-points for us to go over. I'll share a couple of easy ones for you to see our process.
Meta title tags
With page titles, you want to check:
Missing tags
Over 60 characters
Under 200 pixels
Same is H1 (the main heading tag)
Multiple tags
Technical issues with your title tags are fine and can be fixed quickly. Where you need talent is writing these tags. Remember, you're competing with dozens of other websites on the result page for any given keyphrase. Having the title tag, "Business Law | Expertise | Vancouver" for the URL https://www.harpergrey.com/expertise/business-law/ is just weak.
I would try:
Title tag: Small to enterprise-level business law – Harper Grey LLP
I am not and will never stuff our title tags with just keywords. You have to be strategic and smart about your meta tags. It's lazy to simply enter keywords in your title tags.
Meta description tags
Like your title tags, your description tags hook the person searching to click on the organic search result on Google.
Let's look at the description tags for Harper Grey LLP:
Missing tags – That's a lot of missing description tags. Someone forgot their homework
Duplicate
Getting your meta tags done right is 101. The person/team working on these tags has no excuses. You can't have a large law practice without meta description tags. That's another red flag in my book.
Other tasks technical SEO tasks to check
In a full SEO audit, we check a website from top to bottom. Depending on the budget, a full audit for a website like Harper Grey would take anywhere between a week to a month.
Here are some other issues we check for:
Thin pages with less than 300 words
Content duplicated on other pages – I found an instance of this by checking the backlink profile for Harper Grey
Pages with missing/multiple H1 tags
Wrong implementation of the nofollow tag
Non-200 pages in sitemap
Blocked pages in sitemap
Orphaned pages
Canonicalization issues
HTTP pages
Pages with too many links
Daisy-chain URLs
Broken URLs on pages and posts
Structured data
Large images
Missing image tags
And much more.
Applying keywords to your copy
We've done our initial keyword research. For the sake of time, I stuck with the main services Harper Grey offers.
Let's work with the keyword business law firm in Canada. Assume that we want to rank for this keyword across Canada.
Here's what I am looking at:
Who are we competing against in Canada
How do we optimize the business law page
What do we need to do in terms of building links
How do we address intent on the business and article pages
Our competitors for business law firms
Here's the list of our top five competitors for the keyphrase business law firms:
It looks like we have a few heavyweights here but doesn't mean we can't beat them. Let's look at search volume, cost per click data and difficulty.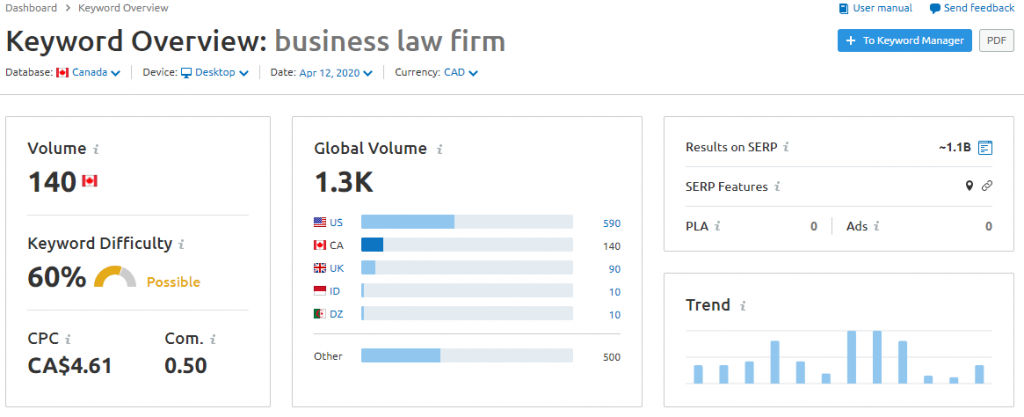 A 140 searches per month is substantial when the average client might be worth thousands of dollars.
Optimizing our business law page
We use third party tools to help us identify what the top competitors are doing to rank on top. We then compile a list of strategies to compete or beat them at their own game.
Compared to our competitors we need to improve the true density of a few keywords.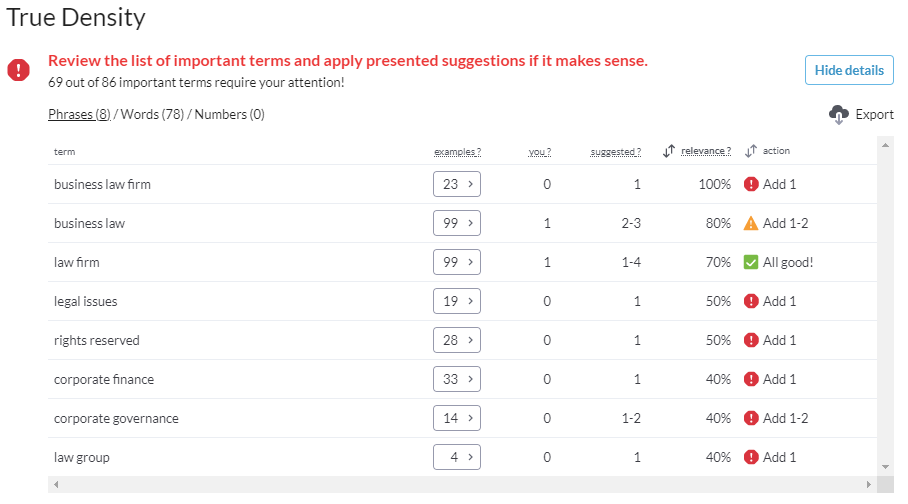 I am going to share a document which will tell Harper Grey exactly what to add to their business law page. Download the true density document here. Not everything on this list is applicable. However, there are some keywords they have to use more often.
On average, the top five listings have anywhere between 761-1757 words for their business law page. Harper Grey LLP only has 176 words. That needs to change right away.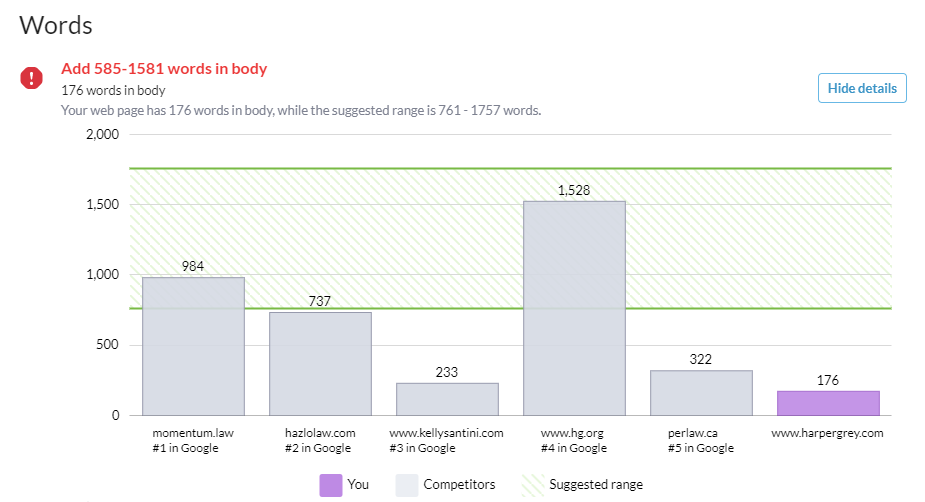 I am not saying stuff the page with content. The copywriter has their own research process before they write a word. For example, we'll need to run a survey to understand the pain points of business owners when they need legal services. We'll also interview Harper Grey's staff to understand business law.
Not sure why but the primary keyword is not being used in the main H1 heading. All the top five ranked websites do this.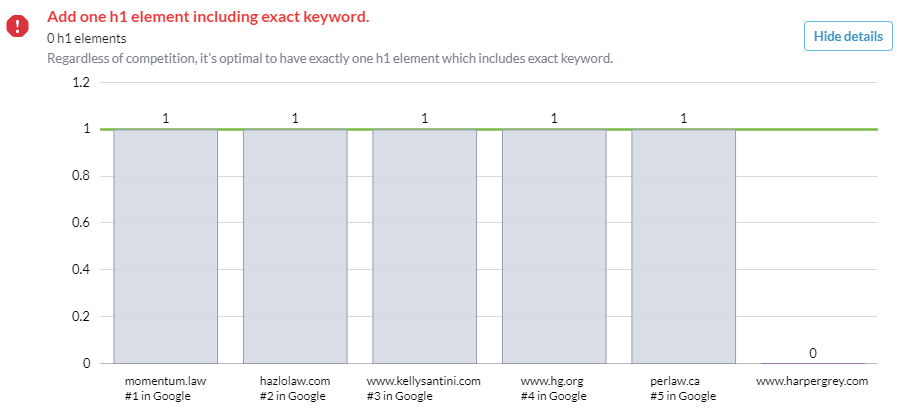 Common backlinks
Here's the list of common backlinks the top competitors have. Harper Grey's marketing team needs to go through this list and find easy backlinks they can try and acquire.
The common backlinks document is just one way to get other websites to link back to https://www.harpergrey.com/expertise/business-law/. We'll need to find other opportunities on the web to increase the authority of each page for Harper Grey.
Here's a perfect example:
https://www.lawtimesnews.com/news/general/accounting-firm-enters-business-law-market/262068
If I was working with Harper Grey, I would be all over the contacts on https://www.lawtimesnews.com/contact-us.
Addressing user intent for business law
We've spoken about user intent in the keyword section of this document. The total volume for all these keywords is 50,000+.
There are people looking for answers out there. Why not show up with relevant content?
What has worked for us in the past is adding an FAQ section on each service page. What needs to be done is take the top ten frequently asked questions and answer them directly on the business law page.
User behaviour and research
I am going to go over the exact process of how our agency determines the copy and content strategy for any given client.
We need to run several studies to better understand what we'll be working with. Here's an overview:
Run exit surveys for people who visit the website and leave
Run thank you surveys with current clients
Record live users on the website
Run heatmaps
Run a generic survey on Google surveys or Survey Monkey
Exit surveys
Exit surveys give us insight into what the visitor is thinking when they're ready to leave a website. We keep it short and sweet.
Here are the questions that we ask when a person is ready to leave:
What was the purpose of your visit?
Were you able to complete the purpose of your visit today?
If the answer to question #2 is no, then ask the following question:
What stopped you from completing the purpose of your visit today?
The last question is my all-time favourite survey question. The answer will give us the reason and bottleneck of why a person did not convert into a lead.
Thank you survey questions
When a client is happy, we want to know why. We can also ask questions which would not come up in regular meetings.
Here are our questions:
Where exactly did you find out about us?
What persuaded you to become a client?
Which other options did you consider before choosing _________?
What's the one thing that nearly stopped you from becoming a client?
What was the biggest challenge, frustrating or problem in finding the right ______?
If you could have us create something just for you, what would it be?
What other products or services should we offer?
User recordings
An amazing way to understand what people are thinking is watching them when they don't know you're watching them. It sounds creepy but it's completely private and you can only follow what they're seeing and clicking on within your website.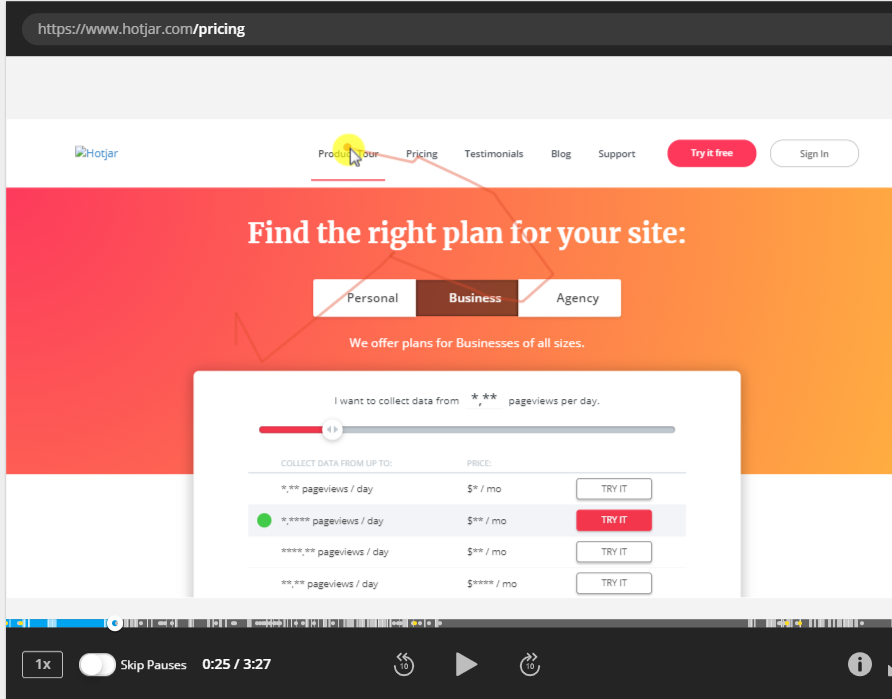 Here's an example recording of a user.
Our project manager will watch between 10-20 videos and take notes. These notes will then be shared with our team for future marketing efforts.
Heat mapping user behaviour
Visualizing the behaviour of a cohort is beautiful because you can see how your pages are performing.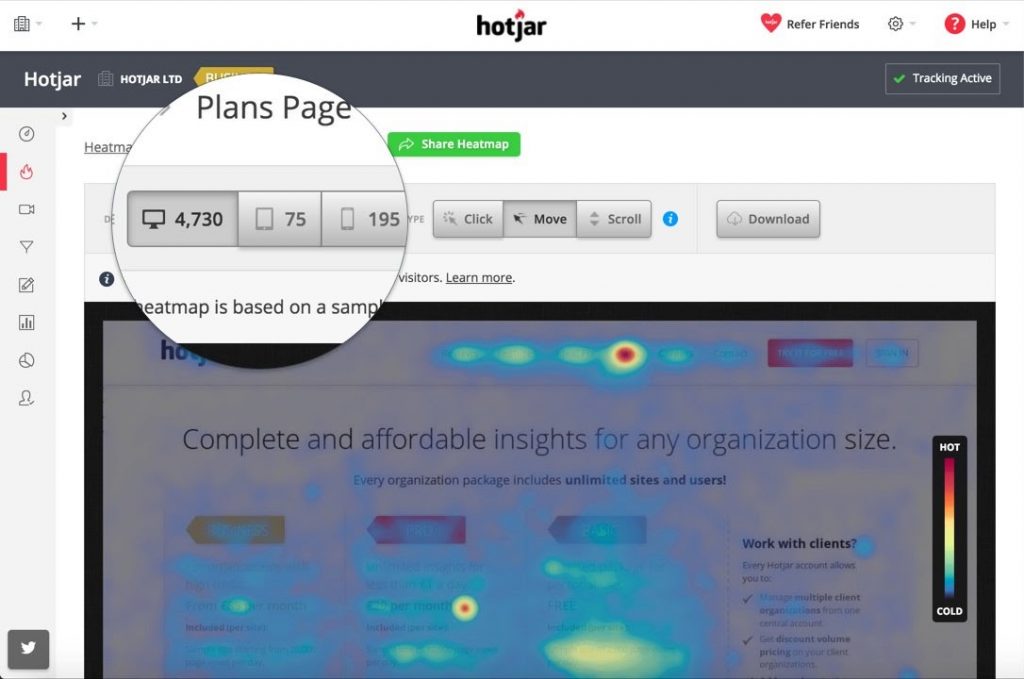 We can study this data for desktop, mobile and tablet visits. We track clicks, mouse movement and scrolling habits.
Running a generic survey
One of my favourite ways to get unbiased answers is running surveys on Google Surveys and Survey Monkey.
To show you all that I am serious and that you're not just reading generic content, I'll run my own survey to help everyone out.
Here are my questions:
What industry are you in?
Have you ever hired a lawyer for any of the following services?
If you do hire for legal advice, what do you value most?

Responsiveness
Adds value to my organization
Helps me think through business issues
Gives me practical advice
Flexibility
Other

What is the biggest legal challenge you're facing today:

Real estate law
Business law
Criminal law
Insurance law
Insolvency & restructuring
Personal injury
Other
Here are the answers to my questions.
A digital marketing campaign isn't about ranking and lead generating. It's about understanding the users who buy from you. A good agency will make sure you show up. A great agency will help and work with you to understand your target market alongside having you increase your digital visibility.
Credibility and authority
I've just started podcasting myself. It took a lot in me to get out of my comfort-zone. I realize that it's the only way that I can provide value alongside writing in-depth studies like this one.
Getting my voice/video out on the web is speeding up my authority and credibility without actually meeting anyone. How else would you know that I know how to help with your business.
There are no videos of anyone from Harper Grey, no audio podcasts addressing any issues people are facing and the blog is on an unsecure subdomain. Another huge SEO issue:
Here's how to destroy the competitors of Harper Grey:
Consistently record podcasts. There are thousands of legal topics we can podcast about. Our media team has been setting up podcast rooms for our larger clients and they're killing it
Overview video(s) of what Harper Grey LLP is all about (we'll use this video later with a remarketing campaign)
Testimonial videos – Another social proof way to blow past anyone having second thoughts of hiring Harper Grey LLP
Start a Facebook page or group to communicate with people who might ask legal questions. It's very likely that you'll find possible clients directly from Facebook
If you keep at it and stay consistent, here's what you can expect (one example of a local client in Vancouver):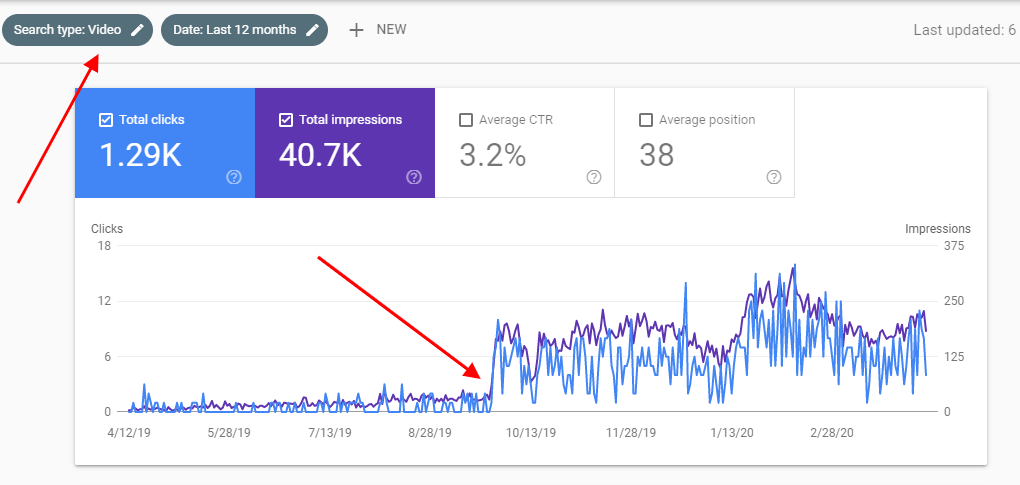 Client automation process flow
Our agency shines at automating marketing funnels. We've done this for our own businesses successfully and are starting to roll it out for our clients.
I've proven that this post is not another generic post with meaningless advice. I am going to create a client automation process flow for the business page of Harper Grey.
But first, let me explain how this will work:
A visitor lands on https://www.harpergrey.com/expertise/business-law/. The visitor is then put into an audience list for Facebook, LinkedIn, Twitter and Google.
Our media team will come up with an overview video of what Harper Grey is all about. We will use this video to chase the visitor on their social media accounts.
If the visitor watches a certain percentage of the video, we'll put them in another audience list to view a testimonial video about how Harper Grey helped a client with their business.
If they watch a certain percentage of the testimonial video, we'll serve the visitor a landing page to capture their contact information.
If applicable, we'll automate our email marketing campaigns. This is usually done for ecommerce websites but we've applied it for informational websites as well.
Can you see how this marketing plan for business law is there from when the visitor was looking, interested, intrigued and ready to convert into a lead? No more generic pay per click advertising campaigns. These are highly targeted ad campaigns that work.
Here's what the process flow looks like: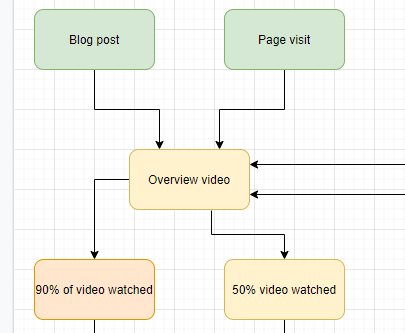 Download the marketing automation flow pdf here.
Building authority by getting cited across the web
Building links is time consuming and expensive. You'll rarely find an agency that can do everything. The link building service on its own can have ten employees working on sourcing, contacting and writing the content to be approved on any given website.
To make our jobs even harder, legal and health clients demand high quality content marketing which is even more time consuming. Because of this, we whitelabel and outsource our link building service to agencies who specialize in building links on scale.
In the case of Harper Grey, the domain authority is below 50 and that leaves a lot of room for improvement.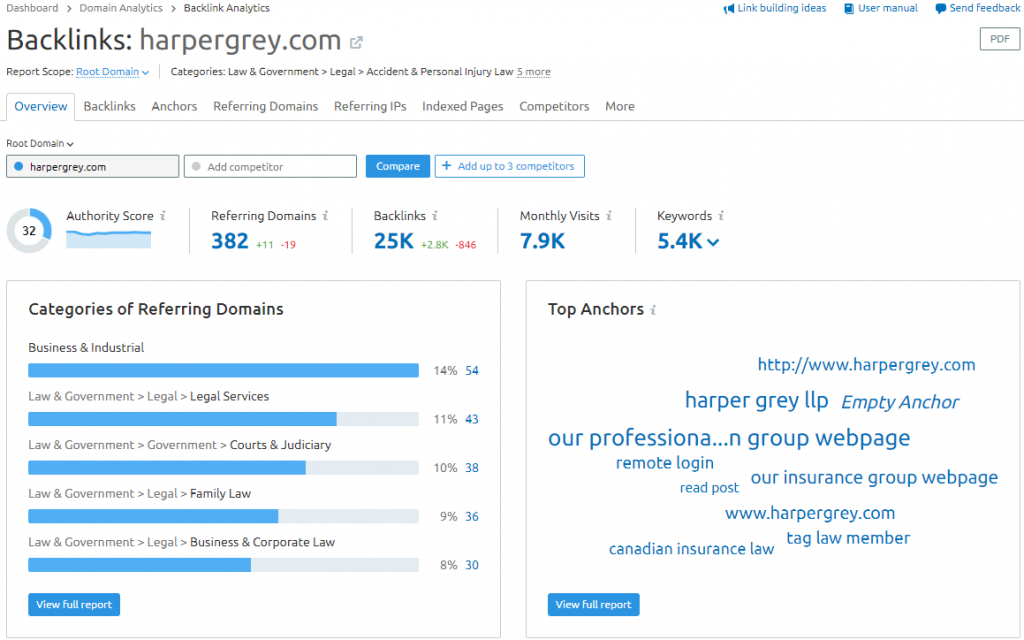 From what I can gather versus the competition, we'll need between 500-700 domains linking back to https://www.harpergrey.com/ to completely dominate organic rankings. Of course, you have to link back to good content.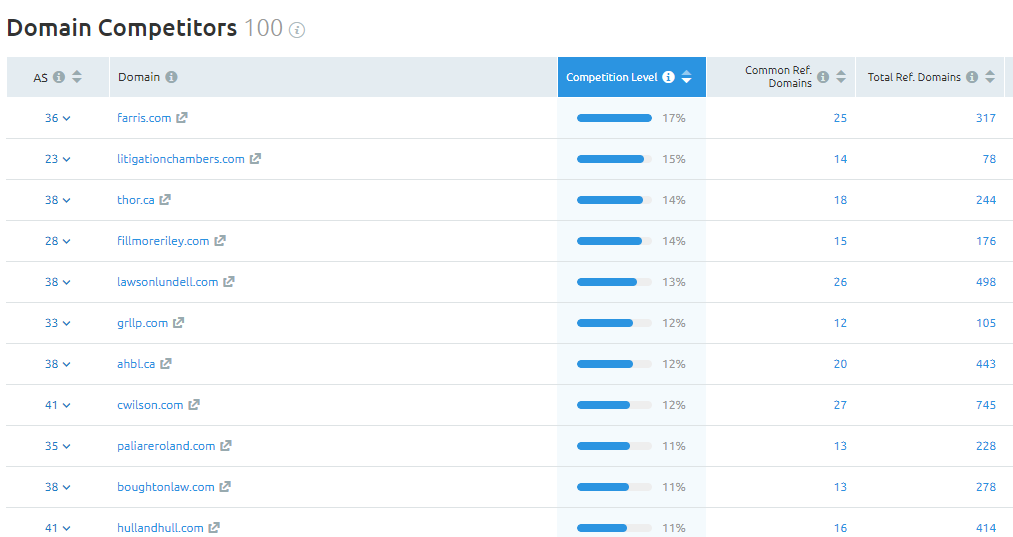 Harper Grey has 382 domains linking back to them so if we build 20 links/month, we'll reach 622 links in one year.
The average link will cost anywhere between $200-$400 USD, which will come to $48K-$96K. It seems like a lot doesn't it? Not when we get 10 leads a day in 1-2 years of working together. This is why we only work with serious clients who are willing to invest in their business.
Link building campaigns shouldn't just stop because it looks unnatural. Once all the links are built we'll slowly wind down within a 6-8 month period.
Tracking marketing results
Our monthly reports and meetings are going to be intense. Depending on the budget, we'll meet clients bi-weekly and monthly. Sometimes, we meet clients weekly.
Our meetings will include:
Call data
Form submission numbers + details
Conversion numbers – Based on goals and benchmarks before marketing campaigns start
User research results
Paid advertising results
CRM results – We'll set one up if client does not have a CRM system
Our call report will look a little like this:

All (only leads) calls are recorded and listened to by the project manager. Listening to calls gives us a birds eye view of the process taken to sign new clients/customers.
Here's an example of what we report back to clients in terms of search visibility and click share:
Final thoughts
Every part of what I've written about can be done within a 6-12 month timeline. Our marketing campaigns will be adjusted and refined dozens of times throughout the whole time we work with a client. There is however a proven process, which has worked for our own businesses and clients alike.
There is a lot to talk about. I was going to include habit forming ideas to hook visitors on a website. I feel like I can do that on another post.
If you've made it this far, you're a superstar.
Let me know if I've missed anything or if there is anything you would like to discuss.