Part 1, Part 2, Part 3 (you're here), Part 4, Part 5
We're now in part 3 of our five-part series for Orthodontists. My goal is to democratize marketing so that you can see exactly what a successful campaign will look like from bottom up.
In this post, we'll talk about a content strategy/calendar, go over examples of links we can acquire and wireframe our Invisalign service page.
Let's get started.
Content strategy
Your content strategy is combination of:
Talking to the staff
Talking to the doctor
Talking to the patients
Running a survey on the website
Running a survey for the general public
At this point in our campaign, we would have collected enough data for our copy and content strategy.
There is one issue. I haven't really interviewed the staff and the doctor. Even with incomplete data, I am confident enough to say that the Invisalign page I recommend for Clear Advantage Ortho will be leaps and bounds better than all other competitors. This includes their own Invisalign page.
Where do we start?
Take a look at my survey results from the general public here. We have clear results of pain points we can immediately address on our blog/money page.
Here's what we know:
27% of our respondents struggle with uneven teeth
About 22% of the respondents have considered getting Invisalign
Primary pain points:

It's too expensive
Patient being too old
It's too much to manage
Insurance
We have a great start. Let's research our keywords and find out how we can address these pain points.
Building a strategy and calendar
We'll focus on one topic and build a content cluster around a primary topic. We'll then link our content back to our money page (Invisalign service page) as much as we can.
We can clearly see a healthy demand for the cost of Invisalign. It's very important we dig deep and find out more.
Download the full list of questions people are asking here.
Now we have our topics we can target with our content.
I always jump over to https://www.wordclouds.com/ and paste all my keywords into the tool. It quickly spits out a word cloud of the most used words when people are looking at the cost of Invisalign.
This will be handy for our whole team. We can break up the content based on the different variations of keywords used.
Bottom up approach
Everyone likes to build a content strategy from top to bottom. I am a gorilla and a contrarian. What I like to do is build content from when people are ready to buy and then move my way towards content when people are starting to get interested in what we're selling.
Think about it for a second. Do you know how long it would take research, write, generate media and promote content from when people are interested all the way down to when people are ready to buy?
I want to generate revenue for our clients right away. I am not going to waste time by starting with top of the funnel content.
To put everything into context, take a look at this content cluster from a bottom up approach (backwards from your traditional marketing proposals):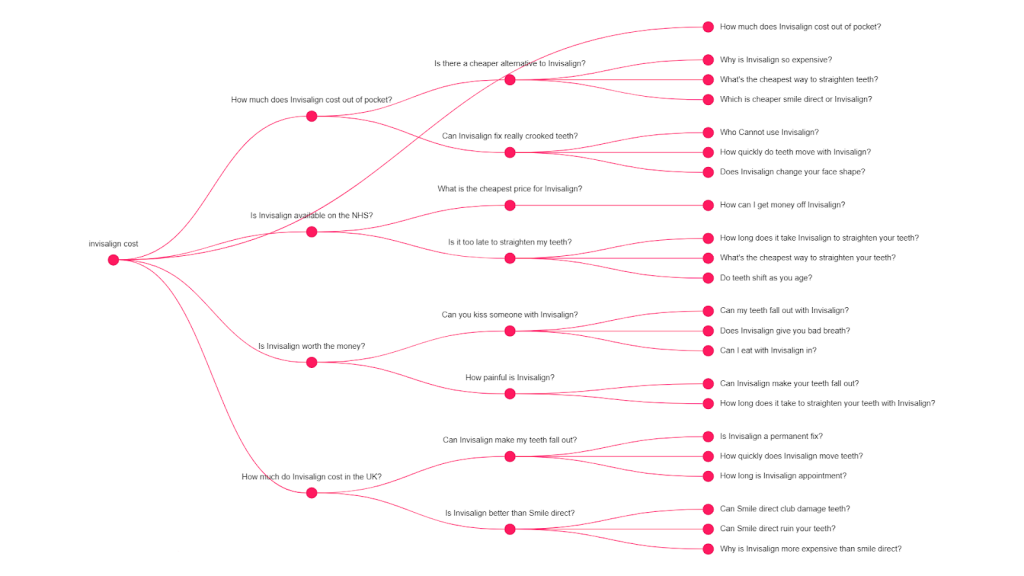 Our proposal for the topic cluster, "Invisalign cost"
We have everything to get started.
Here's my recommendation for our content cluster:
Start breaking down the cost of Invisalign based on the most common situations.
Explain why Invisalign is worth the money.
Go over why cheaper options don't make any sense?
Why insurance doesn't cover Invisalign?

If they do, how much do they cover?
Who offers orthodontic work in their policy?

How do monthly payments work?
The cost breakdown should be written and be presented with a graphic of some sort.
Every other section we'll write about should be on video and directly from the doctor we work with. Our media team at Drip is excellent with this type of work.
From here we can transition to the middle of the funnel and top of the funnel content.
See how this works? Bottoms up! Work with your most profitable keywords first.
Content calendar
Let's assume our client is paying us at least $6,500/month (our base rate). Here's the estimated amount of time we'll need to create the exceptional content I've proposed:
Research – It usually takes 8-12 hours to get all the facts recorded. The information we collect will not be anywhere else on the web.
Plan, record, edit the media – Our media team, on average, spends anywhere between 15-20 hours getting all the media recorded and edited.
Preparation – Our content team then puts all the content together for publishing. This usually takes anywhere from 3-5 hours.
Promotion – Once the content is published, our marketing team gets to work on promoting the new content and benchmarking rankings. This task usually takes 3-5 hours. It could be more if we work with email marketing.
Build links – Finally, we spend 5-10 hours building relevant high quality links to our newly published post.
At an agency rate of $150/hour. Our client is looking at $5000+ for this post. It might seem a lot. You have to understand that quality content takes time and a team.
Others will be scrambling to imitate our work. People who land on this post will instantly trust the clinic we work with. Why would they pay someone else who doesn't even take their content seriously.
Our goal is to do one of these posts a month. Serious clients will request 2-3 well researched posts/month.
Building links to our post
We use Ahrefs to determine the competition for every keyword we're targeting.
In this case, Ahrefs is recommending we get at least eleven links to rank on the first page for "invisalign cost" within Canada.

We're not going to stop there. I am going to look at the quality of the links for the top 3 competitors and determine a link building plan. I am not leaving anything for you to guess.
Here are the top competitors and their links:
winchesterdental.ca/invisalign/invisalign-cost-ontario/ – They have one backlink on http://bestpageviews.com/. This is a dead link so we're going to ignore this website.
https://www.olympiabenefits.com/blog/what-are-invisalign-costs-in-canada – They have a few links but most are no-follow (won't pass authority to page):
www.mapledentalhealth.com/blog/invisalign-101-guide/ – Maple Dental Health has a few good links.
Link building recommendation
For Clear Advantage Ortho and our new post/page about the cost of Invisalign, I recommend getting:
Four links from related websites with a domain rating of 60.
Three links on websites with a DR of 45-50.

Build a few tiered links.

Two links from websites with a DR of 30-40.
All of our links will be natural on real websites. We're going to do an outreach campaign and get the best possible backlinks for our client.
The goal is to ensure the longevity and integrity of the page we're trying to rank. No funny business with blackhat SEO.
Using data to perfect our service page
We're now going to turn our attention to our service page and the keyword, "invisalign Vancouver", which is searched 390 times/month.
We're first going to look at the most successful websites and the keywords they use. We'll then compare this data with Clear Advantage Ortho.

Download the full true density report here.
Based on the list I've shared with you all, our copywriter will have to consider the keywords I am sharing with him. The data doesn't lie.
Next, we'll look at the most common links our competitors have. This is a great list to go over. We can grab as many links as we can from this list. Download the list of competitor links here.
In our full report, we go over the list of partial keywords we'll need to use, web page speed, paragraph/image use, ALT tags on images, keyword usage in titles and many more on-page signals to improve the visibility of our page.
Invisalign page wireframe
Finally, we're going to wireframe the information architecture for our Invisalign page.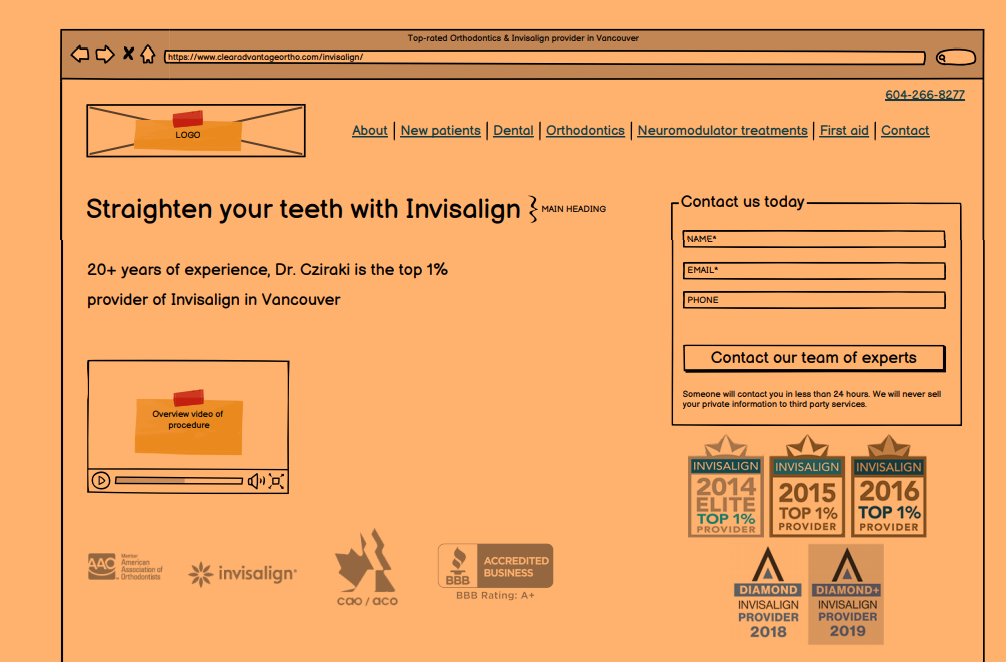 Download the Invisalign wireframe here.
I've decided to leave the payment section to our copywriter. This section of our Invisalign page is beyond me.
Now compare what I've done with https://www.clearadvantageortho.com/cheap-invisalign-vancouver-bc/. I think we agree that I, alone, have done a better job than their marketing team. If I get our whole team working on this page, it will be better than the Invisalign website.
It's worth noting that we will constantly try to improve this page by going back to patients and asking their opinions. We will also try to get Dr. Cziraki in our podcast studio to record her while she is answering patient questions.
Final words
I hope I've helped you understand how we strategize copy, content and visualize information on a webpage.
You can take what I've done and apply it to your clinic. I will guarantee a better conversion number. If not, I will personally meet you remotely and help out.
Contact me if you have any questions or if you think I've missed anything. If not, I'll catch you all on my next post.