Read part 1, part 2, part 3, part 4.
My final post for orthodontists is how they can use their CRM to automate their marketing campaigns.
We'll also look at a quick paid ads strategy and how long it should take to increase the visibility of Clear Advantage Orthodontics. A paid marketing campaign must work in conjunction with a CRM strategy. Otherwise, we'll just run pay per click campaigns.
CRM strategy for orthodontists
A CRM isn't just to store the information of patients. A CRM system can now integrate with:
Facebook ads
Google ads
Call tracking systems
Email marketing platforms
We'll go through each platform and how we can use our CRM to automate our marketing campaigns.
Let's map out our user journey first:
What happens when a visitor lands on the website but doesn't call or turn into a lead?
How about when a lead does turn into a patient? What is our messaging?
Patients need to visit the orthodontist's office once every few weeks. Do we need a campaign for that on Facebook/Instagram/Google?
When a patient finishes their 8-12 month treatment, can we have a thank you video play for them on Facebook/Instagram/Google with a link to leave us a Google review?
What happens if a bad review is left?
What happens if a good review is left?
Can we advertise our by-yearly dental checkup to patients who hire our client for Invisalign?
Send a survey for patients who have completed their Invisalign treatment.
How do we get patients to send in friends and family? Referrals are valuable so let's make sure people are rewarded accordingly.
We're going to have to visualize the user journey to make sure our client understands how we're going to control messaging.

Download the patient acquisition funnel here.
We'll go through all the steps and what I envision for our client.
When visitors leave our website without becoming a lead
When a visitor lands on any of our service pages, we want to have a re-marketing campaign to have them come back and give us a try.
We've done successful re-marketing campaigns for different industries and have a good understanding of what needs to be done to get a good number of the people who left without becoming a lead to come back to our website.
In this case, we'll advertise our overview video of Clear Advantage Orthodontics on Facebook, Youtube and Instagram. If a certain percentage of the video is watched and this person doesn't turn into a lead, we'll share our testimonial videos. We'll continue this campaign for 40-60 days and push the limits of how many times we can chase the person we're interested in. Here's an example of an ad we're running for a large client: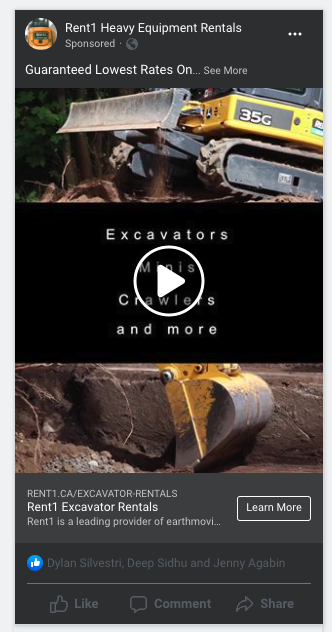 Let's break it down:
A visitor comes to our client's website but does not turn into a patient.
The visitor will be shown an overview video of why our client is the best choice on all platforms.
If a certain percentage of the video is watched and this person doesn't turn into a lead, share our testimonial videos.
If a certain percentage of the testimonial is watched and the person is still not turning into a lead, show our service page.
At this point, we can test out different ideas (i.e. lead capture form on Facebook).
This process is tested on Facebook, Instagram and Google until we have a good understanding of what it takes to turn a person into a lead.
Our goal is to get these people to call or submit a form. This process helps us push them over the edge.
What happens when a booking takes place?
Here's where it gets interesting. Just because a person comes in for a consultation, doesn't mean they're going to turn into a patient. We need to plan for this.
Here's the breakdown?
A booking happens through whatever channel.
The person comes in and turns into a patient. A booking is made for their first treatment.
The person comes in and does not turn into a lead.

When a person does not turn into a lead, start advertising our testimonial videos to bring them back and turn them into a patient.
Send them a reminder email as to why Clear Advantage Orthodontics is the best choice for what they need.
If this person doesn't turn into a patient, start offering incentives.
Here's a wireframe of one of these email: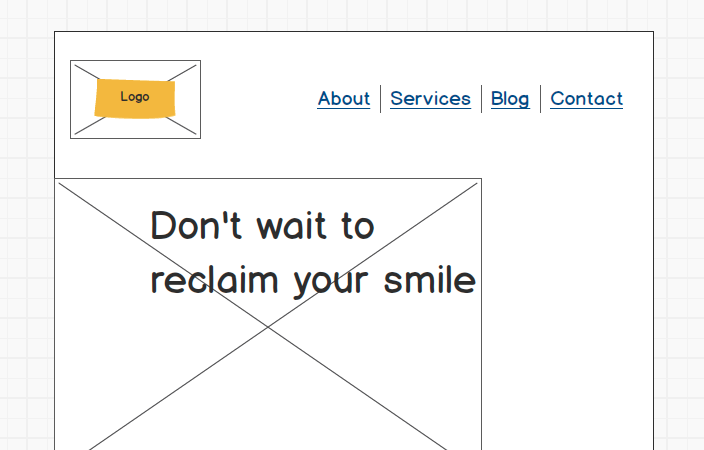 Download the PDF version of the comeback email here.
Booking turns into a patient
Once a person becomes a patient we need to make sure they feel welcomed.
Studies have shown customer service starts to diminish as soon as someone becomes a patron. What we need to do is ensure this doesn't happen.
How we do this can be debated. What has worked for us and our clients is a simple thank you video advertised to them on all major ad platforms. We appreciate their business. Let's make sure they see that.
Depending on the patient and category of service acquired, we might change up the thank you videos.
A campaign I would love to test is appointment reminders. Depending on the client and how they manage missed appointments, it would be interesting to see if we can improve these numbers with a targeted campaign to ensure missed appointments are kept to a minimum.
A bad review is left
With our agency, the standard reply to a bad review is not enough.
Our team has a whole process for exactly what internal staff need to do to manage negative reviews on major websites like Google or Yelp.
When a review is left, call the patient right away. Try your best to get a hold of them. There is no need to reply at this point.
If the patient answers or calls back, try to negotiate a way out of the bad review.
If the patient is unreceptive, give them a discount or partial refund (everything has to be reasonable, of course).
If all else fails, reply to the review with your side of the story.
Can we cross-sell other services
We don't want to be pushy when a patient hires our client to get Invisalign. What we want to do is send out tasteful emails and highlight other services our client offers.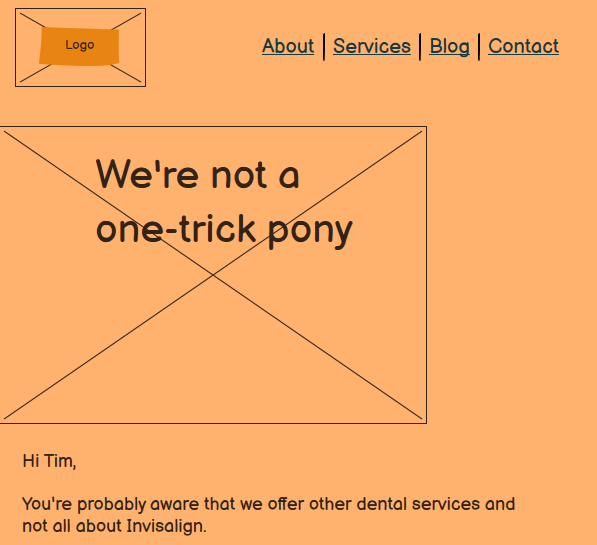 Download the PDF version of the cross-sell email here.
Satisfaction survey
It's extremely important to understand if our patients are happy or have suggestions. Asking them directly will not yield good results.
What we need to do is give them the opportunity to give us their feedback in an environment where they're comfortable.
I've gone ahead and wireframed the survey email for you to copy below: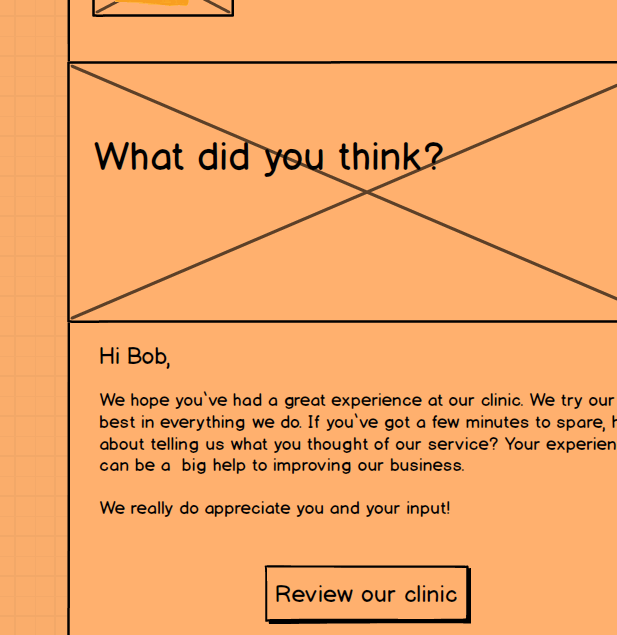 Download the survey email template here.
Here are my questions for our survey:
How many visits have you made to our clinic this year?
Was it easy to book an appointment?
The front desk secretary was polite and helpful – – Yes/No (why?)
I received a reminder right before the appointment – Yes/No
Were you seen on time?
Did you have trouble parking your car?
It was easy to pass my insurance information to the secretary
My treatment was clearly explained – Yes/No (why?)
I was pleased with the quality of care – – Yes/No (why?)
The fees were explained in an easy to understand manner
The fees for the service was fair – Yes/No (why?)
I plan to remain a patient at this clinic – Yes/No (why?)
What did you like best about our office?
What did you like least about our office?
Refer a friend
New leads are great but there is nothing like referral leads. These are earned leads through trust. They take a lot of time to get and are very valuable.
What throws me off is stingy business owners who give a $20 Starbucks card. Do they understand a referral could be worth $1000s? What if they have loved ones they bring with them?
Don't be stingy and make it worth while to refer a patient. I would give the person who refers someone who turns into a booking a $100 gift card to Costco. Maybe even more. It's worth it.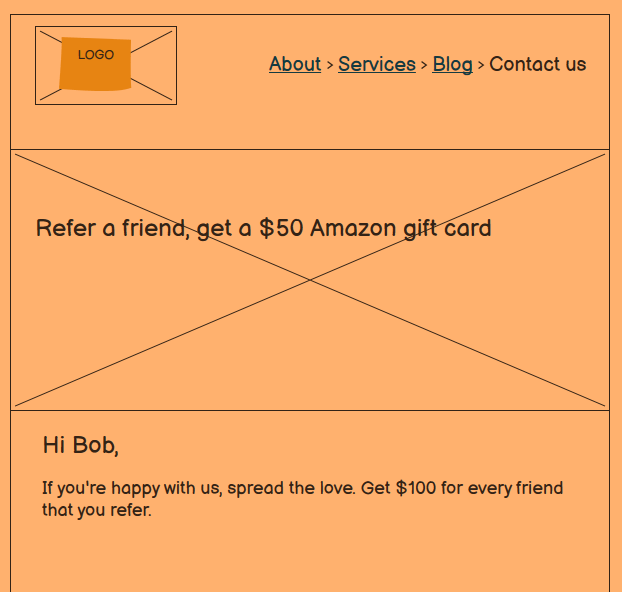 Download the wireframe of the referral email here.
SEO results
Typically, a local client takes anywhere between six months to a year to see positive rankings results.
We're not just about rankings. We take an all-around approach to marketing. This means that patient acquisition and revenue growth is the top priority for us.
Based on what we've spoken about in part 1, 2, 3, 4 and this post, it's likely we'll see a healthy growth in revenue within six months if our budget is $6,500+. Larger budgets will get more of our team's attention, of course.
Our agency isn't overly expensive but is out of range for smaller companies. Having a stacked team definitely helps us succeed.
Marketing timeline
Assuming our budget is $6,500/month, our marketing timeline is going to look something like this (all situations are different, of course):
Month 1:
Month one is going to be spent auditing the website, asking high-level questions from the doctor/staff/patients, and running surveys on/off the website. It's the time we get the whole team to learn about our new client.
Month 2-3:
Month two/three is going to be spent fixing SEO issues, planning our content/media strategy and researching all possible keywords we want to target. At this point, the team is getting ready or have already started working on content/copy.
Month 3-5:
Come back to SEO problems and start working on lower priority tasks missed in month 1-3, start building backlinks, start working on automation and a social media campaign.
Month 5-8:
In month five-eight we're going to start improving user interface design and experience, study user behaviour with recordings, and wireframe a new information architecture.
Month 8+
After month eight, we're going to be reforming our campaigns, trying new ideas and generating content. We're also going to focus on habit forming campaigns to keep patients coming back (in an ethical way).
Final thoughts
Alright, we finally finished our five part series to help out Clear Advantage Orthodontics. I might reach out to them and share everything with their team.
If you take a human approach to marketing, you'll get what I've proposed. What Clear Advantage Ortho has now isn't what I consider credible at the moment. Their business, however, is probably run very well. I just wish they hired us to reflect the work they do.
I hope I've given you a few ideas for your own marketing campaigns. Let me know if you have any questions.
Until next time. See you all on my next post.