In part 1 of our case study, we went over keyword research, competitive analysis, benchmarked our control example, went over some SEO tactics, and user research.
In part 2 of our case study, we're going to create a strategy for:
Optimizing the Google My Business page for O2 Dental
The website architecture and user interface design strategy
Finding out how long it would take to apply the SEO changes
Studying how many high authority links are required to achieve our goals (with examples)
I will leave nothing for anyone to ponder over. All the information we'll go over in this post will cover how our dental office (O2 Dental) will be among the top-ranked clinics in Coal Harbour (possible Vancouver).
Google My Business
I've written an extensive post on how to take your GMB page to a new level. For the purpose of this post, we'll try to go along with our theme and optimize O2 Dental.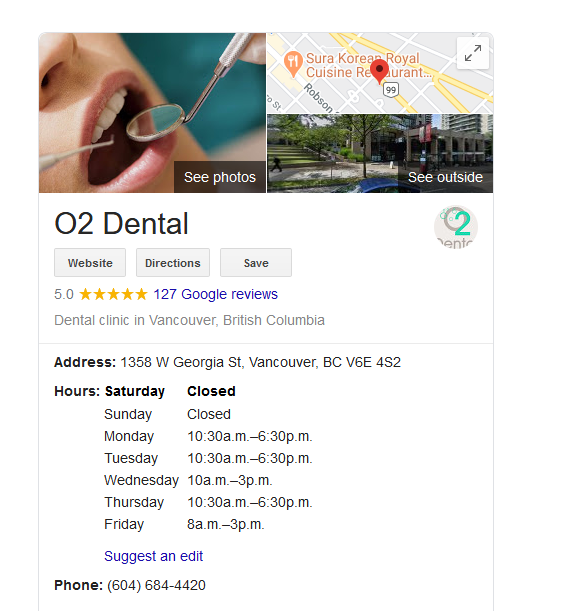 Let's start with changing the stock photo as the first image, which shows up when someone searches, O2 Dental on Google.
They have 127 5-star reviews and that's amazing. Some of them seem fake but we won't go there for now. The problem is that no one is replying to these reviews. Just because your patients are happy with you, doesn't mean you shouldn't thank them. This includes their yelp account (https://www.yelp.ca/biz/o2-dental-vancouver).
Next, you want to use a tracked number for each website you show up on. We like using https://www.callrail.com/ for our clients to track every single call and where they came from.
Posting updates, events and offers
It might just sound like another menial task you don't want to commit time to but if posting updates, events and offers means you'll get more eyeballs/clicks directly from the search results page, I am not sure you can justify skipping it.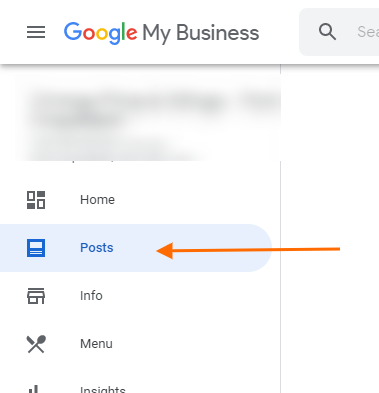 I would assign this task to the front desk clerk. They can handle all the news, events and offers for your clinic. Just remember, they need to be on top of this task on a daily basis so it doesn't fall between the backburner.

Photos
The photos for O2 Dental on their Google My Business page is good but it needs improvement.
Google is getting smarter and smarter to the point where their artificial intelligence system can tell the difference between different objects, faces or animals.
We can take advantage of this by posting unique photos of the interior, business cards, exterior, team, doctors and even posts.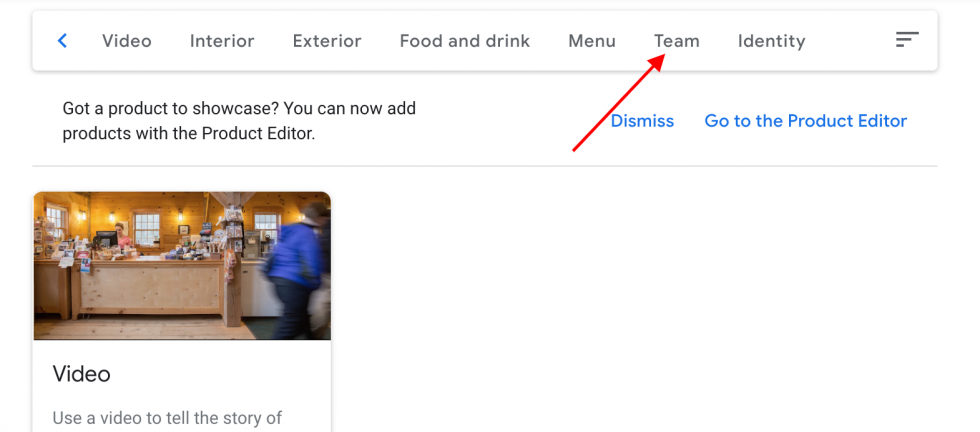 Studies have shown that when businesses take a more robust approach to the images on their Google My Business page, they acquire more clicks and customers.
What do you have to lose? 5-10 minutes each day?
Bonus: Your images are geotagged so try to take images directly from the location of the clinic. This will tell Google that your images are all in the vicinity of your business.
Google My Business page description
Here's the business information section of the GMB page is fair.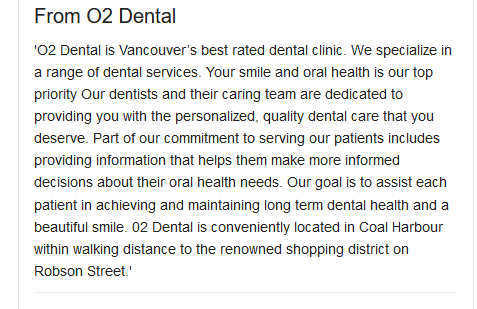 An aspect missing from the description is the services offered by O2 Dental. I would include every single service to help out Google's artificial intelligence system with what your business is all about.
Example:
Here are all the services we offer at our clinic:
Cosmetic dentistry
Teeth whitening
Invisalign
Website Architecture
Providing Google and your users an easy way to navigate across your website is essential to your business. Ignore it and you might get snubbed by both Google and potential patrons.
Sitemap
Here's a visualization of the crawl map of what Google's crawlers will see: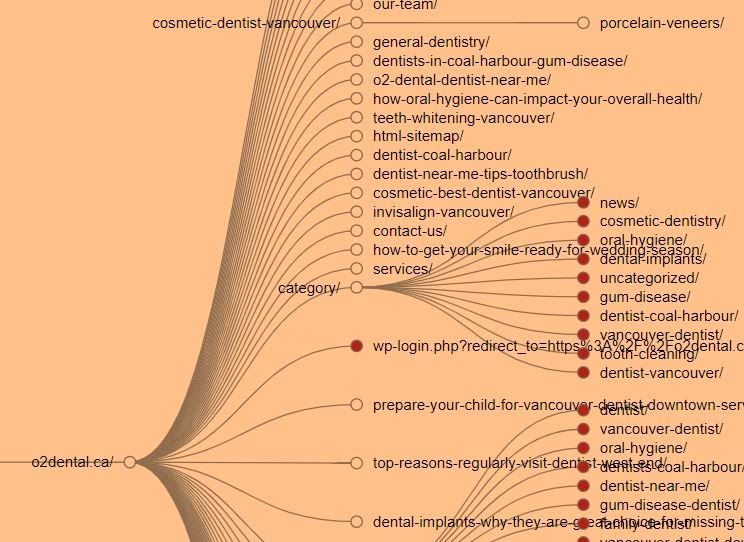 Download the full site-map here
I am not a fan of how the sitemap is laid out for a small website like this. There are keyword stuffed URLs, unorganized treemaps and irrelevant links in the global navigation.
Here's a proposed cleaner sitemap: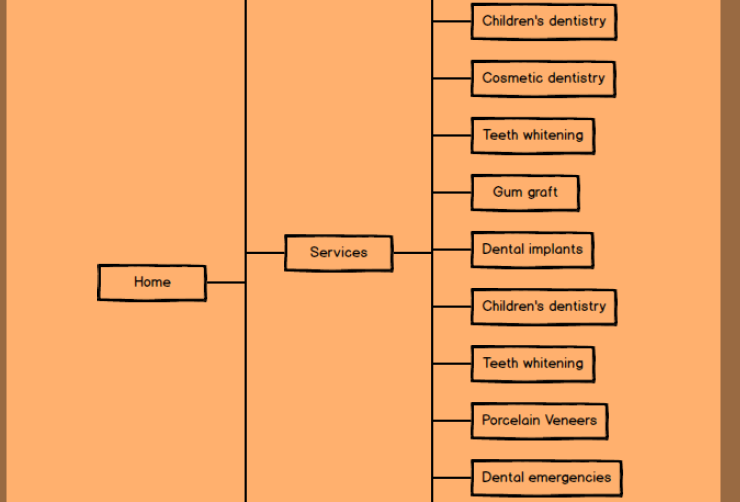 Download the full sitemap here
User interface design
Great design is another credibility factor we can't forget. A calculated approach for what your audience sees will improve the first impression a person has about your business.
Imagine taking your family to the dentist. You're going to pay a lot of money to get what you need to be done. However, your dentist spent less than $2000 on their website. How serious are they taking their business if they don't even care what their website looks like?
In the case of our case study and O2 Dental, we're dealing with a template. The people they paid for the website used the Enfold theme from Themeforest. It's a $60 theme stuffed with mediocre content.
UI issues to fix right away
The line-spacing between words is off: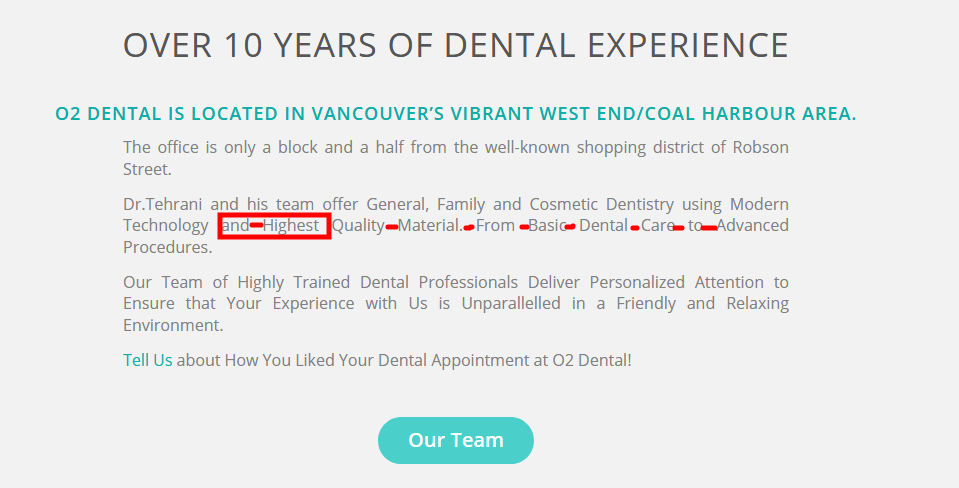 Remove stock photo and replace with a photo of the staff/dentist (change value proposition):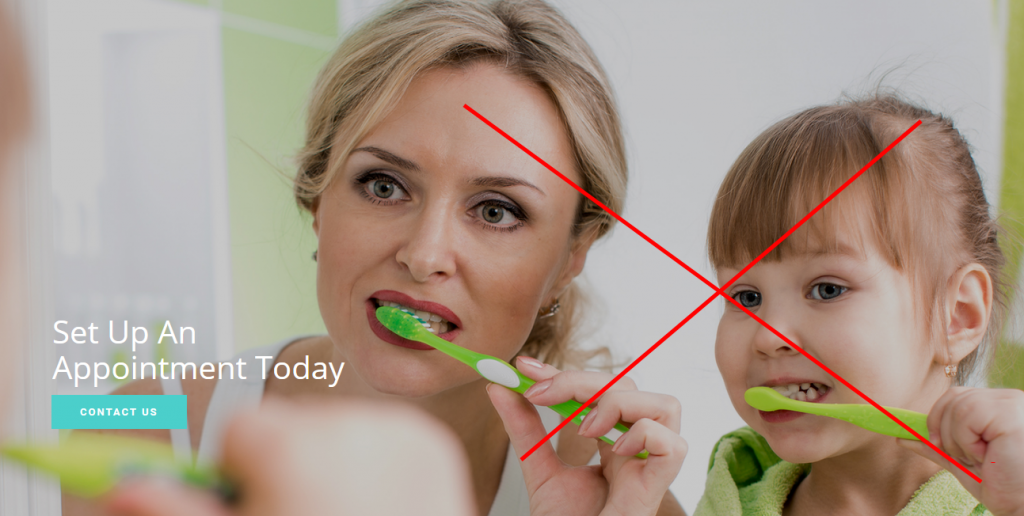 Improve design for services section and remove the stock photo: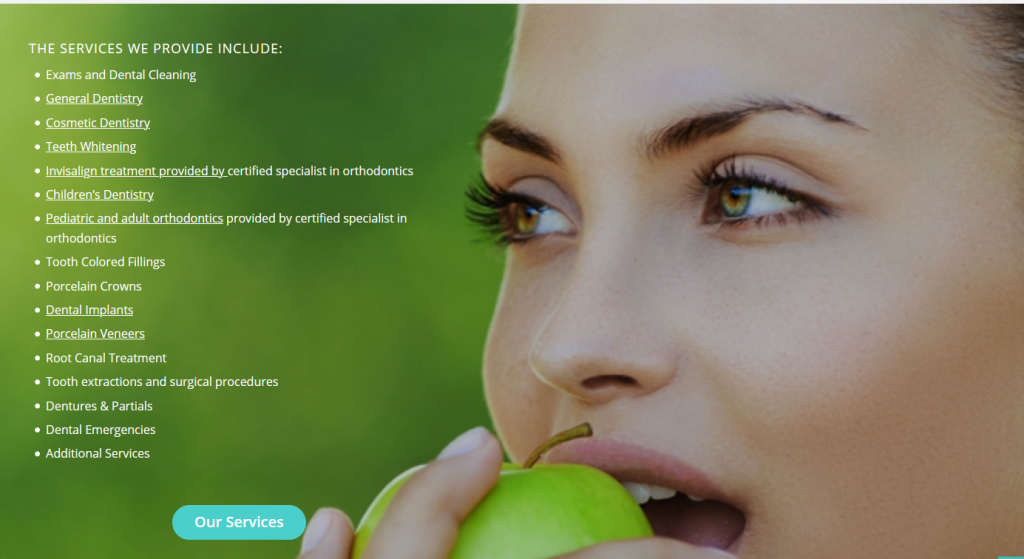 Key UI takeaways for O2 Dental
There are no credibility factors incorporated into the design.
I see no photos of the staff or the clinic.
There is no video of the doctor explaining why he/she is better than the other clinics nearby.
There are no testimonial videos of real patients.
No one thought to put a few of the 5-star reviews from Google.
SEO timeline
We're not dealing with a large eCommerce website so the timeline for O2 Dental is not going to take longer than two months.
Here's what we're dealing with through my quick audit:
Dealing with bad meta tags
Fixing and organizing the new sitemap
Removing duplicate heading tags
Fixing server error issues
Applying structured data where possible
Increasing/reducing word-count on key pages
Move hosting services to a CDN (content delivery network)
One of the biggest improvements we've specifically focussed on is website speed. Lone behold, the O2 Dental website needs a little help: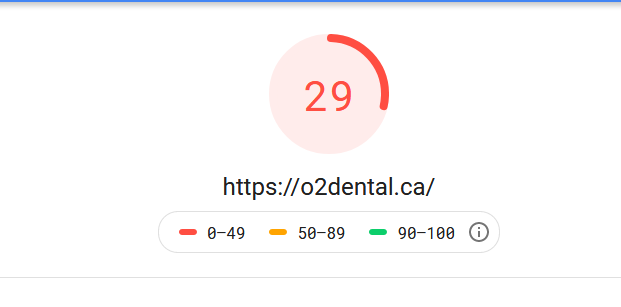 Google also just released new ranking factors, which our agency will take full advantage of since we've been optimizing for these updates for years:
Improving the speed for the largest content piece to load faster
Time for when a user first interacts with a page
Making sure the layout shift measures in the 75th percentile (do UI elements move around)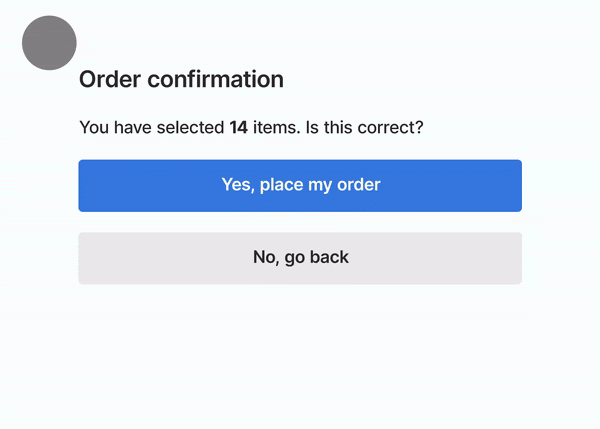 We're getting technical here but I need our clients to understand why our team is thorough when optimizing a website. If we miss a key element, our clients will lose out on revenue.
How many citations do we need
In order to increase our authority, we'll need to be cited on websites related to the dental industry.
The purpose of this part of the case study is to find out how many links we'll need to build in order to beat all of our competitors.
Backlink GAP analysis
We're going to find out and measure the link gap between O2 Dental and their competitors.

View the full backlink GAP analysis here
Our agency ignores any website with an authority score of 30 or lower. Our competitor, https://www.vdsclinic.com/, has the highest count and best citations linking back to it.

It also looks like https://www.vancouverdentist.com/ is losing citations fast with VDS Clinic taking the crown with the most referring domains.
Considering O2 Dental with 28 links and VDS Clinic with 203 links, we can safely assume that O2 Dental will need to build at least 175-180 links to compete for the top spot within Google search.
Link Velocity
Now that we have an estimate of building 175-180 links, we'll need to find out how many links we need to build per month.
When we look back at our chart we can see that VDS Clinic started with 90 links 12 months ago. They built 113 links in a year. That's 9-10 links per month.
Link building plan conclusion
We'll need to build between 10-15 links per month for 12 months. We'll slow down from month 13-17 and build between 8-12 links per month. We will finally wind down to 4-6 links per month from month 18+.
Link building alongside content/copy/media will have O2 Dental dominate rankings for every keyword they're trying to target.
| | |
| --- | --- |
| Month 1-12 | 10-15 links per month |
| Month 13-17 | 8-12 links per month |
| 17+ | 4-6 links per month |
Link distribution
The types of backlinks we build are just as important as link velocity. Here's the breakdown of what type of links we'll be looking to build.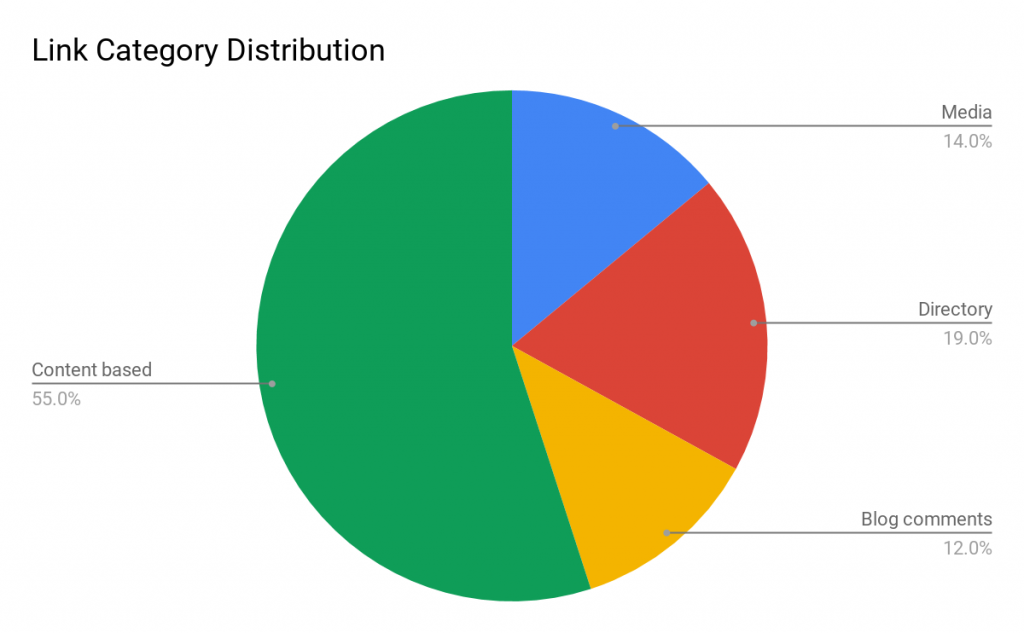 Cost of link building
The most expensive part of link building is with content on other websites. On average each link will cost between $300-$500 USD/link.
Since we're building 175-180 links, we're looking at 55% of these links being content-based. That's $28,000+.
Directories, media and blog comments are the cheaper forms of links since we're not spending a lot of time curating, contacting, writing, editing and communicating with other editors from other websites.
Creating media is the next most expensive item in our list since we'll need the use of our in-house media team.
In a perfect world, we would be looking at 12-24 podcasts per year, 3-5 testimonials, 1 clinic overview video, 5 videos of the head-dentist explaining different services and smaller videos to use in our advertising campaigns. Depending on the budget all of this would be included in our monthly retainer.
Let's sum it up
The reason I study each industry as I have in this post is that I give our team and client the opportunity to beat anyone who stands in our way.
Given the opportunity, we are calculated and cunning in the most ethical way.
I hope I've explained the second part of my case study in a manner where you understand the beginning stages of our digital marketing process. If you have any questions, please don't hesitate to contact me.
In part 3 of our case study, we'll go over our content, copy and wireframe a service page for O2 Dental.