It has been a while since I've posted an article. I've been in the middle of a move and frankly needed some time off. I am back though and will continue posting at least one article a month.
In this post, I am going to write about what works for me. Others have talked about this subject to death and I've ignored most advice on the web. Not because I don't respect these individuals but because they miss so much of the process, it becomes a joke.
What I will share will have similarities to other successful affiliate marketers with a different touch.
One of the main differences is that I manage real web assets doing real business.
Another is that we generate millions of dollars with actual businesses. My affiliate projects are test subjects. If I validate an idea, I quickly move it on to what we do with our own businesses.
In this article, I'll go over how my affiliate marketing process works, step by step, including:
My research process for picking a business to work with.
Keyword research.
Outsourcing the work.
Putting the sitemap together.
Determining where to put my affiliate links.
Using product pages.
Wireframing my hypothesis.
How do I pick a company to work with
Contrary to what everyone believes, I don't just work on popular affiliate networks like Shareasale. Yes, they're important but there are so many options out there for serious digital entrepreneurs.
Option 1 – You can work with Amazon, Shareasale or CJ (I used to work with CJ as a child. Those were the days).
I rarely ever work with networks. It's just not as easy as the next two options.
Option 2 – The next most popular option is working with websites that offer their own affiliate program. There are positives and negatives to taking this route.
The positives are that you get access to websites that are not on big networks (fewer competitors to deal with) and you'll be a VIP to these businesses if you have great site traffic.
The negatives are that they follow their own rules. They can deny commission because a customer returned an item or delayed payment for whatever reason. This has been a nightmare for me on one project and there was not much I could do.
Option 3 – The final option is to work directly with a local business and either sell them the leads or rent out affiliate space on your website. I've done this successfully on several projects with minimal investment. This method is a blessing and a curse at the same time.
There are no rules when working with a local business.
I've had amazing experiences working with businesses in our city and I've also had nightmare scenarios where the business owner shuts down overnight.
I always pick options 2 and 3. It gives me way more control and a direct communication line on improvements they can make on their websites.
I always work with high-ticket items. I never work with any product or service less than $700 per sale. The ROI just isn't that high otherwise.
My keyword research process
Most of you already know how to do keyword research but what I am going to share here is a little different.
Some of the advanced digital and SEO specialists out there have been talking about focusing on keywords with 0-10 search volume. That's what we'll talk about here.
Almost every keyword I go after has a search volume of less than 100 but my payouts for each sale is $80+ for most of my affiliate websites.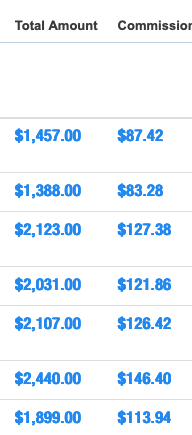 I run the exact same strategy for local businesses. I don't deal with anyone with payouts less than $80 per sale. Again, it's just not worth the time investment.
My keyword research process explained
Head on over to Ahrefs and click on keyword explorer.
We're all used to this section of Ahrefs. It's probably the first place affiliate marketers look when starting a new project.

Next, you'll want to click on "View All" within the Terms match column.

Now follow my filters on this page:

Are you ready to see some magic happen here?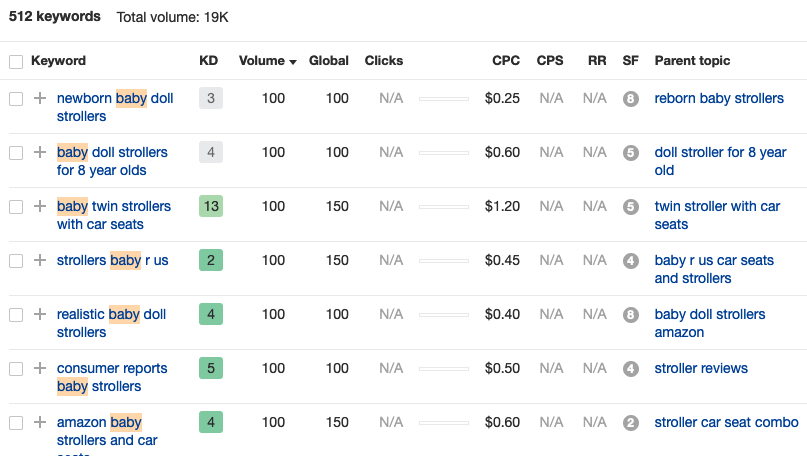 I found 512 keyword ideas with very low keyword difficulty (KD). If you bump up the volume, I am sure you'll find 100s, if not, 1000s more.
This is for just one primary keyword- "strollers". If you play around you'll find way more ideas to go after.
The point I am trying to convey here is that you don't need to go after high-volume, high-traffic keywords to succeed at this game. I would actually advise against it.
Keep low-key and you'll be surprised at the results.
Outsourcing the work
If you think you're going to do all the content, web copy, content planning, and affiliate relationship developing you're never going to succeed.
Yes, you can start off by doing everything yourself if you're new to the game but, eventually you'll need to pass off the work if you want to scale to multiple projects at once.
How many projects am I leading right now? Probably around thirty. Some generate 2+ million per year.
Here are the places I go to outsource my work:
UpWork – UpWork is still my go-to for finding advanced web developers and designers. I've also hired people who are great at gathering data and putting it all together on an excel sheet for our web developers.
Note: You're going to go through a lot of garbage devs if you take the cheap route. I recommend between $15-$25 an hour for a decent developer. Pakistan has been surprising me lately with the number of skilled developers available.
WritersAccess – WritersAccess is just as good as UpWork but only for writers. I use WA for my blogs and copy work. But if you want to hire a really amazing copywriter, you're looking at least $100/hr and these individuals will not be on WA.
NoBS.link – I've spent thousands on backlinks. I've also spent massive amounts of cold hard cash trying to find the best link builders. They all suck so bad, it's embarrassing. I don't want to name names but you all know them.
I am not saying NoBS is great. I am just saying they're better than everyone else I've tried.
(If you want to know how I pick my links: Our link building strategy- An eCommerce digital strategy.)
Here are some tools I use to get thoughts and ideas to my writers, designers, developers and engineers:
Balsamiq – A wireframing tool
Ahrefs – We all know Ahrefs. Enough said
Teamwork – Project management
Advanced Web Ranking – Rank checking tool (the best in the business)
Surfer SEO – Content optimization
Content King App – Real-time SEO audit
Don't get carried away with tools. The tools I mentioned are all I need to get the job done.
Putting a sitemap together
In general, the simplest system works the best, and that certainly applies to building out a sitemap.
This is the process my team has used over the last ten years, and though we update where necessary, it's steadfast as our simplest and best process.
Just remember, your website is not going to be like Amazon where you would need a complex sitemap or hierarchy.
Most small-medium sized businesses can rely on a flat navigation where your primary categories are right in the global navigation.
I rarely ever put our categories in a "services" or "products" tab. I also never have more than seven items in our navigation.
Here's an example of working on a website selling strollers…
Based on my keyword research, I would work with this sitemap: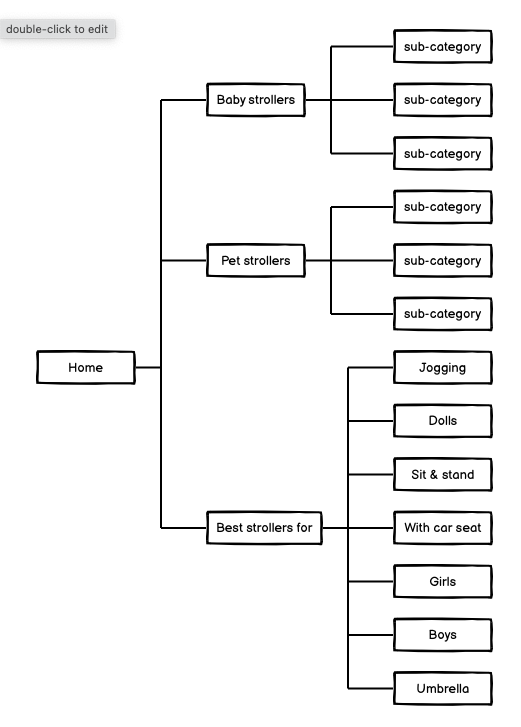 It took less than five minutes for me to come up with this sitemap. You can take and customize it to your own websites.
Every category here is accessible within two clicks. Anything more than that is excessive and will put off a customer.
I've also worked on websites where the primary category and all its products are within reach with one click. These are smaller websites which do very well for us.
Don't complicate your sitemaps with complex hierarchies. Keep it simple and you'll do very well.
Where to place your affiliate links
Most affiliate marketers put all of their affiliate links on their blog posts. In fact, most affiliate websites are just blogs. There are no landing pages. I call them "rolodex websites".
Here's a little secret I've been dying to share. I get zero sales from my blog posts.
Every single sale I make happens on product pages. I put up a product page like any other eCommerce website. Mind you, I manage multiple actual eCommerce websites so this comes a little easier.
If you've never started an eCommerce website, there will be a learning curve. It's not too difficult. Just pay attention to your favourite websites and you'll see how they work.
Want more information on how to operate an Ecommerce website? Here are some of our top articles:
Wireframing & preparing your data
I like contracting out most of my work, since it allows me to scale to multiple websites. The one task I haven't been able to outsource is wireframing my thought process.
Generally, I like wireframing the homepage, category page(s), and product pages.
Every other web page will have an example link where the developer can simply copy the design.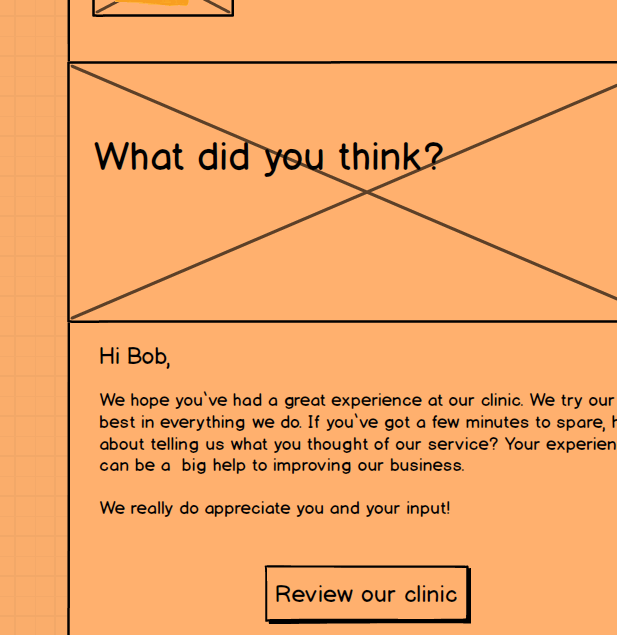 If you want to be data-backed, read the posts on https://baymard.com/blog and you'll get plenty of ideas on how to kill it with all of your projects.
Read my winning product and category page wireframe post with examples of what I am talking about.
Gathering the data
Typically speaking, you'll have at least 2+ categories of products. Each category will have its own filters and products.
What you never want to do is rely on your developer to gather all the information. For starters, it's going to cost you more. Instead, hire someone for data entry (very easy to find on UpWork).
For example, if you're working with strollers and baby bedding, your filters are going to be completely different.
Create a sheet for your data entry hire, record a Loom video of what you want filled in and have them put it together during your website development process.
Final thoughts
Once you have your website sitemap, keyword research, content, product data, and wireframe ready, you're pretty much ready to start adding in the appropriate affiliate links.
You'll make mistakes like the rest of us. Don't be discouraged.
I recommend starting with less than 30 products. Validate your thesis by studying your rankings. If you see healthy weekly growth, add more products.
The whole process for a new website should not take longer than a month. It's okay if it does but this is the golden standard for me.
Hope you've enjoyed my latest post. Until next time, catch you all on my next piece.