I am going to share a thought I've had for two months. I call it, the layover strategy.
You can use this strategy for your businesses or affiliate websites. I don't think it matters.
Most of us are well aware of posting blog posts or case studies. Some of us link back to key money pages from these landing pages. The more advanced SEOs build links to these landing pages.
I've been thinking out loud on Twitter and met the team recently to talk about a new strategy. I would like to build a whole new area on our website showcasing real customers with video testimonials, including answers to pain points and our process.
On these layover pages:
we'll include a video testimonial
a video of what was done
what services/products were utilized
why did we recommend what we did
show before and after photos
Instead of a basic testimonial, we'll turn these pages into interview-style content with rich media.
Of course, we'll also link back to key money pages on our new layover pages.
Why do we publish layover pages? Three reasons:
We build credibility with higher calibre clients
You show up for bottom-funnel keywords
You create valuable pages you can be proud to build links to
Recording a customer or client
This could be one of your harder tasks.
Most people don't want to get on camera but every now and then, you'll find an individual who would be happy to endorse your company and talk about your services.
This might sound like a testimonial video but it's not. This video is an explanation of how you solved a customer's pain points in detail.
Think of how you've seen interviews done. It's as if a journalist is following your customer around.
In the video, you can explain what was purchased, how the service/product is used, why you recommended what you did and show the results of your work.
Our media team storyboards videos like this. It's not too difficult. As long as you create a template, the recording should not take longer than an hour.
Editing is what takes the most amount of time. I used to do this myself and I am no media expert so anyone can do this.
The process usually starts with repeat customers. Once the same happy customer calls back, our business dev will take the order and explain what we want to do.
We book a time and send the media team when the customer agrees.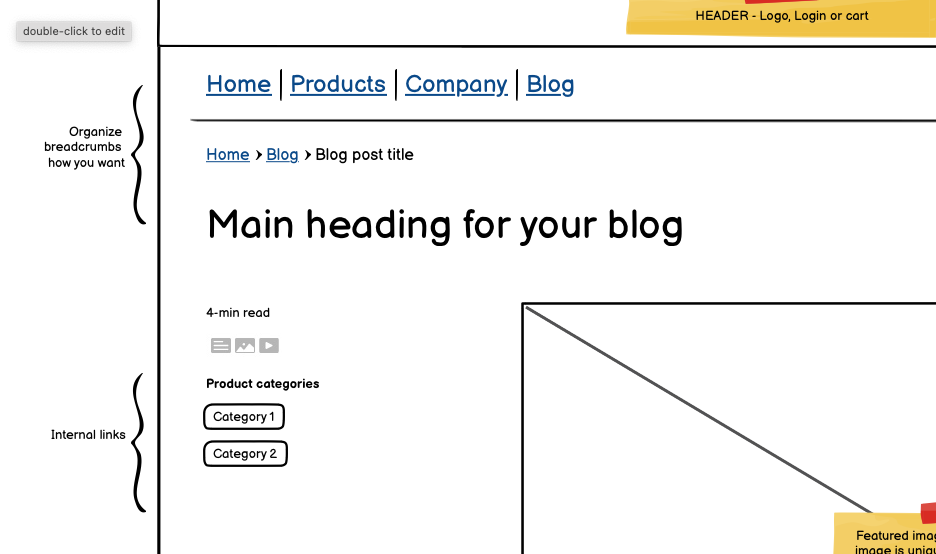 Information architecture of your layover page
We do something very different when it's time to transcribe the video.
We don't just ask a writer to go over the video, transcribe, correct and publish the content.
Not us!
We break up the content into bit-size pieces and paraphrase what the video is all about.
We then show examples through images and gifs.
In one instance, our layover pages have completely taken over the traffic intake from Google on one of our web assets.

Let me explain an example of what this could look like.
You're recording a video of a mother who is buying her second stroller because she is happy with your company.
She agrees to do your video.
Here is what the media team might storyboard:
Introduction of who the mother is
Show her playing with her child with b-roll, going to shop or running
What was the process like when looking for a stroller
Why did she choose you to buy from
Did she interact with anyone from your company before buying a stroller
Why would she recommend you to other mothers
How you get the writer to do this is easy. Get them to watch the video, of course.
They have to break up the six headlines and explain what she is talking about in the video.
If the mother is talking about storage, show images and gifs of what she is talking about.
If she looked up a certain category on your website, display the top products/services in that category directly on the layover page.
What product did she buy? You want to display this product and similar products.
Building links to your layover page(s)
I've spoken extensively about building links on:
Others have also publicly explained how they build links so I am not going to regurgitate the same content.
Although, we're playing it a lot safer than 5+ years ago. I no longer build links to money pages like I used to.
Money pages get 5%-10% of our links. Our blogs, case studies and layover pages get most of the backlinks.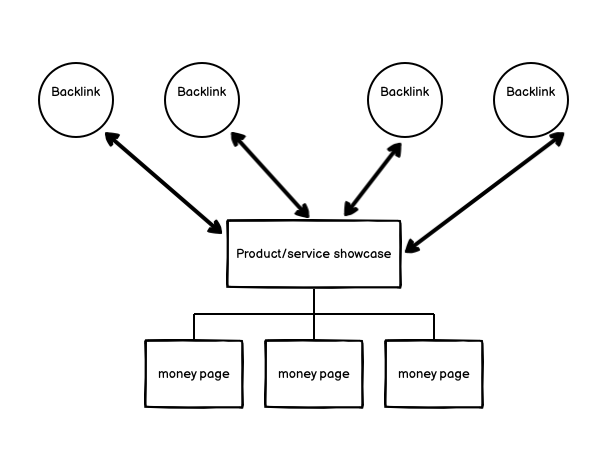 Once I started building links to my blog instead of my money pages on an affiliate project, my results started improving drastically.

Building internal links
Build links to your internal pages within your layover pages whenever you can.
You can control the anchor text and they can be keyword rich.
In the wireframe I share with all of you, I highlight interlinks to:
Primary category pages
Product/service pages
Link to your YouTube video (most likely embedded in your post) – Yes, building links to your YouTube video will increase its authority. Make sure you link back to your layover page in the description section.

The wireframe
I usually share the PDF version of my wireframes.
I'll play it a little differently this round. I'll share the Balsamiq file as well as the PDF.
With the Balsamiq file, you can take what I've done and edit it to your liking.
Final thoughts
I am not a revolutionary. As much as I would love to be, I am not.
I am, however, a person who tests different ideas. This allows me to exceed when others follow.
Through this post, I wanted to (again) ask you to step outside of your comfort zone and do something differently.
If you can take the budget of ten shitty (or basic) articles and turn them into content you're proud of, you'll succeed.
That's all I have for this month. Until next time, catch you all on my next post.