When I wrote my first gold and royalty marketing post, I didn't know I would update it with new stats and notes.
I have a few reasons as to why I want to write this post:
I met with Dave Awram and went over my first post. It was an absolute pleasure meeting him because I truly like Sandstorm Gold. He was humble and inspired me to learn more about the industry. I honestly wish more co-founders were like him and Nolan.
When I wrote my first post, we started having issues with our paid ads accounts. I assume gold and royalty companies had the same problem.
I want to know where the industry is now in terms of general interest.
I am not a geologist or an economist. However, I would call myself an expert when it comes to researching a topic, finding revenue opportunities and coming up with a plan to digitally dominate any industry I work in.
This post is not going to be long so let's get right into it.
Google trends
Here's the interest over time data for "gold royalty companies" in my first post: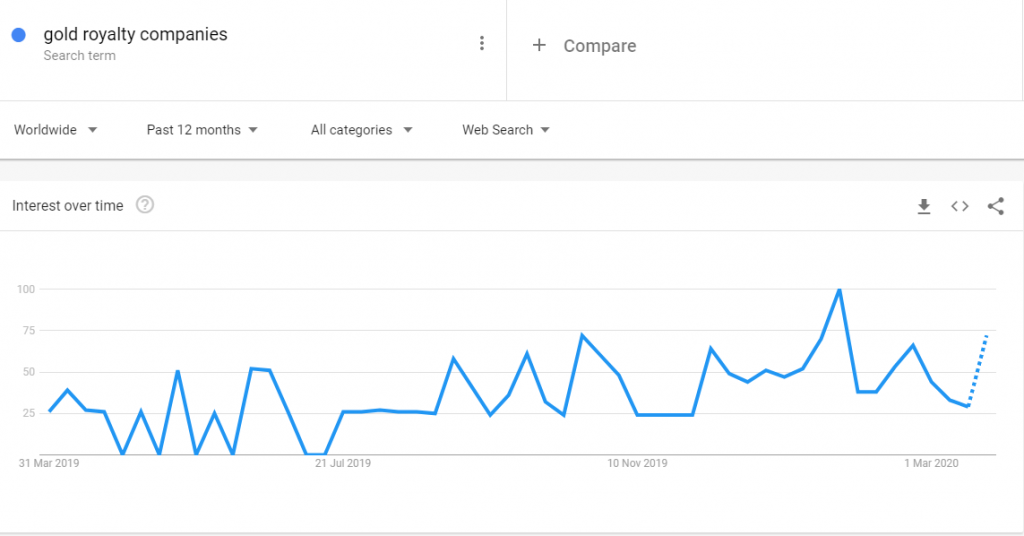 Let's see what's happening now in July: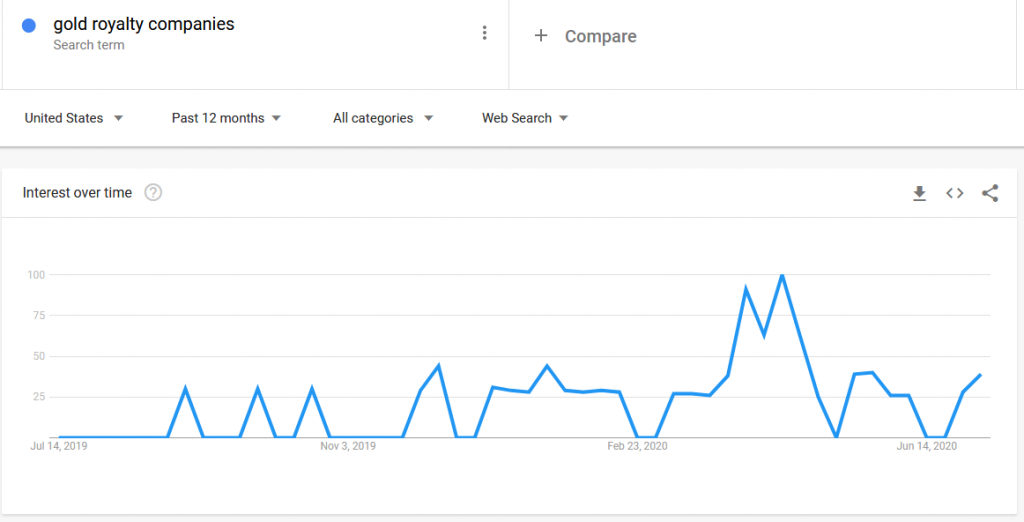 These are pretty muted interest numbers considering the price of gold:

It's clear from what we can see here. The term "gold royalty companies" is not a widely used term for the retail investor.
What about the keywords "gold stocks"?
Here's our interest numbers for April 6th: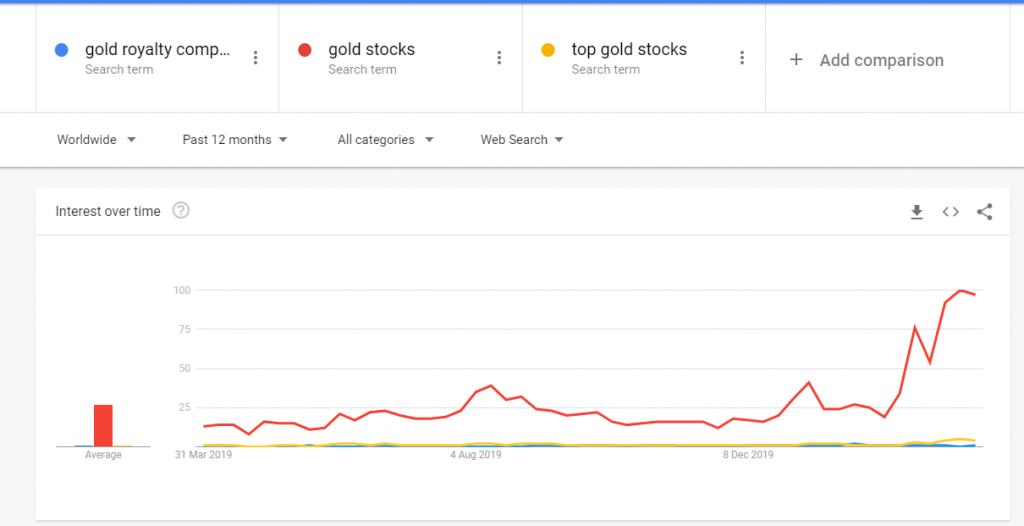 Here are our updated numbers: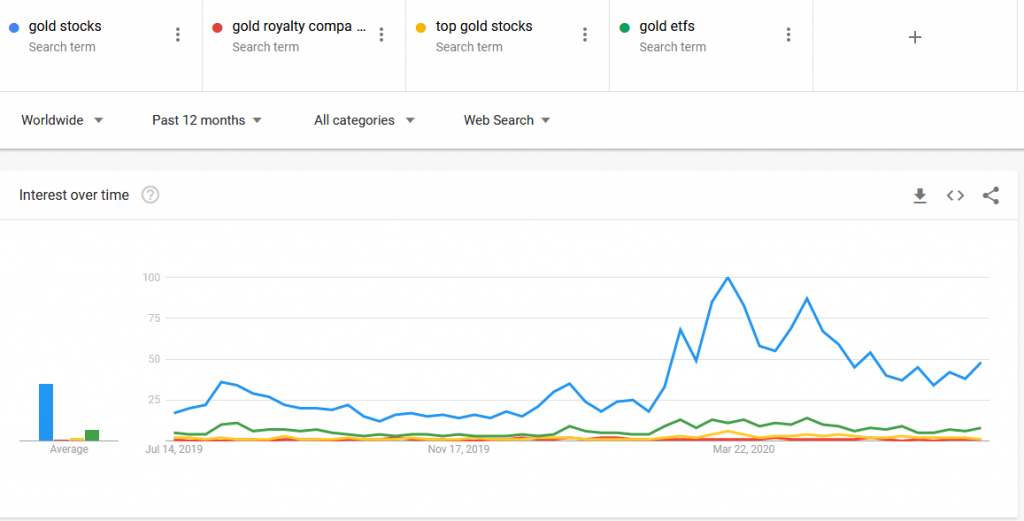 We're clearly seeing a drop in interest. However, there is a slight uptick in July which might change to a downwards trajectory depending on market sentiment. No one knows.
Trend conclusion
It looks like interest in gold has died down a bit. I would call this an opportunity to load up before the next run.
We're still not seeing the keyphrase "gold royalty companies" grow in popularity.
Interest in gold has temporarily dropped even though the price hasn't. I think this will change very soon with governments printing trillions to sustain their population.
It's a perfect time to create content and educate retail investors of gold streaming and royalty companies before they start investing ETFs.
Keyword research
Here's our keyword data for the term "gold royalty companies" in April:
Here are my updated numbers:

We're seeing an uptick and that's a good sign. However, 3300 searches a month is not something I would brag about. This number should be at least 20,000 right now.
Key takeaways:
We've only increased monthly searches by 1400. Again, this shows that there is a lot of work to be done in terms of educating the public about royalty and streaming companies.
The keyword has gotten harder to rank for.
The bids for the keyword have increased from April.
The trend is up but not where we want it to be.
Let's look at "gold companies"
Here are our numbers in April:

What do our numbers look like in July?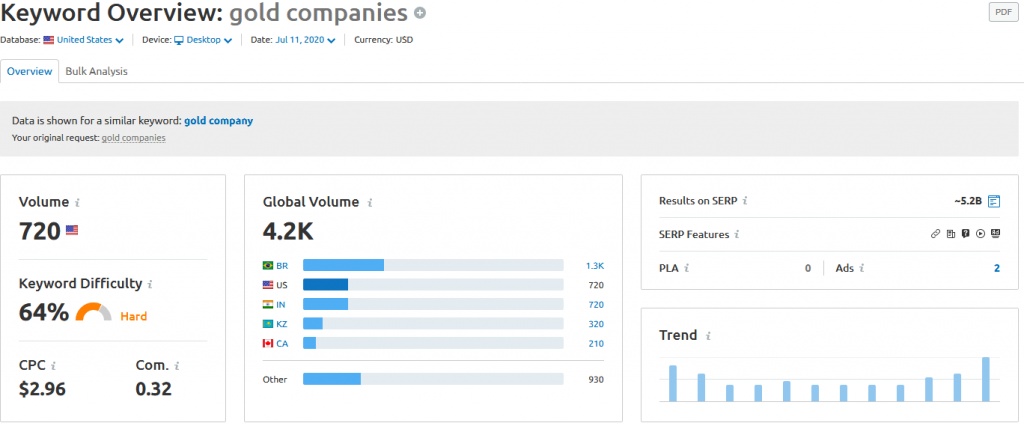 Key takeaways:
Most people know and understand the terms "gold" and "companies". It's understandable to see a jump from 460 to 4200 in global volume.
It has gotten easier to rank for.
The cost per click has slightly increased.
What about precious metal companies?
Our numbers for April:

And our numbers for July:

Key takeaways:
Volume hasn't changed much.
It's just as hard to rank for.
The cost per click price has dropped signalling lower competition.
And finally, "gold stocks"
What was our numbers in April:

How about in July: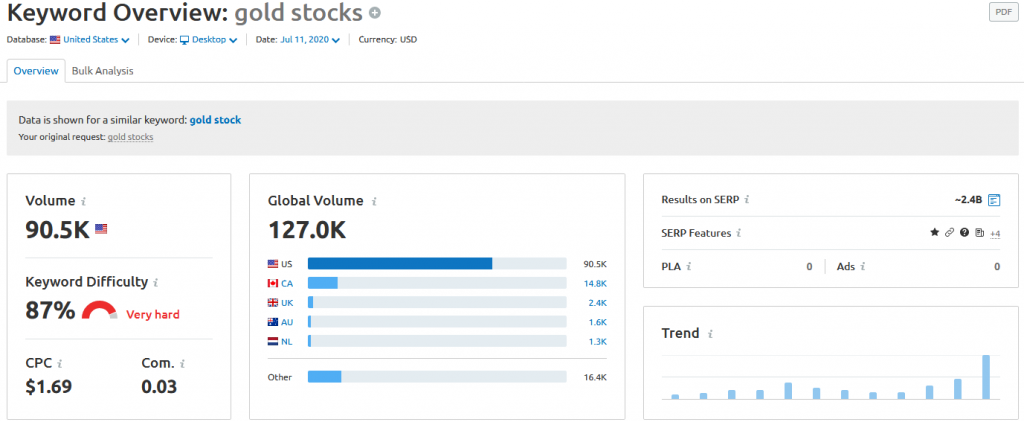 That's a significant increase in traffic. Clearly volume for gold stocks is going up. Gold royalty companies need to find ways to piggyback off of this traffic and inject themselves in the conversation.
Key takeaways:
Whoever is first to capture some of the traffic from "gold stocks" is poised to massively see a price jump in their stock price. I have zero doubt on that.
You don't have to rank for "gold stocks". All you have to do is make sure you're featured in the pages that do rank high.
Let me share an example with everyone so you understand what I am trying to say. Here are the top four positions for the keyphrase "gold stocks":

Let's try to dig deep and find out who wrote the Investopedia article.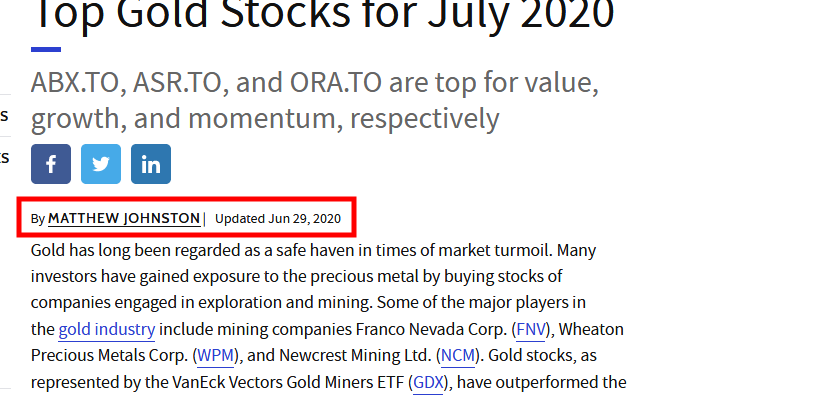 Now we're talking. Here's his contact information:

Twitter: http://twitter.com/Matty_D_J
LinkedIn: http://www.linkedin.com/in/mdjohnston1/
Your content teams better get on this because this one page is getting an enormous number of people visiting it:

Addressing user intent
I've been studying the gold market for a couple of years now and the misinformation on the web is staggering. It's extremely difficult to find well-run companies on your own.
This is why I love investing in silver/gold royalty companies. They take care of the research and only invest in worth-while mines.
Now how can a company like Sandstorm Gold try to run a content strategy and inform retail investors?
Well, the data is staring them right in the face. Let's dig in and start with content clusters: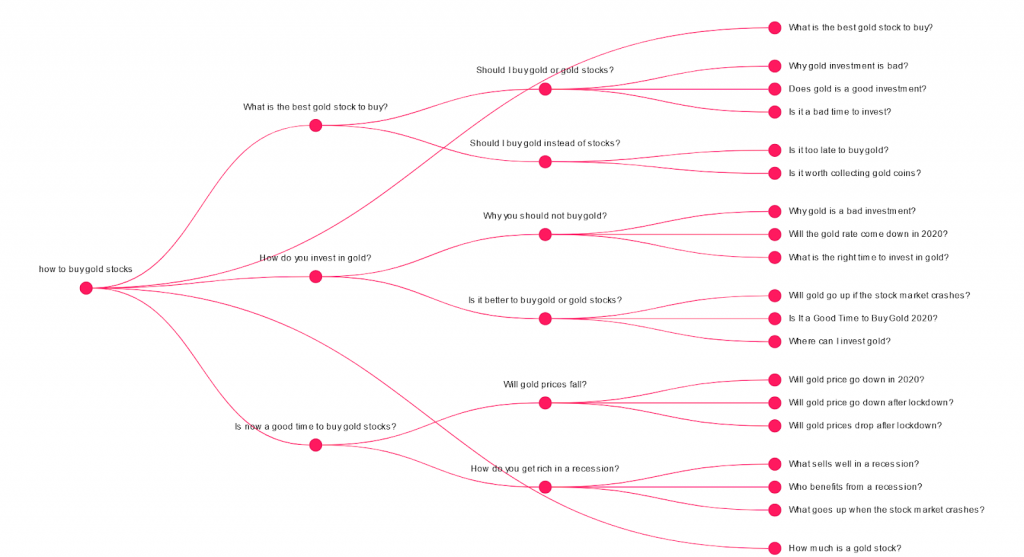 Download this content cluster here.
Let's briefly look at some of the traffic volumes for these queries:

Within five minutes, I found great questions which can be answered either on the blog or through a podcast. People are clearly hungry for knowledge. Why not be there when they look?
I only ask one thing and that's to make sure that your content team doesn't publish a wall of text or top-x article which will be forgotten in ten minutes.
For every content piece, go above and beyond to stand out by using:
Video to help people visualize your message
Audio
Relevant photos
Data and studies
If you're not willing to spend the budget for exceptional content, then I would stand on the sidelines and let others take the reign.
Paid ads strategy
We're only going to focus on Sandstorm Gold because we'll come up with strategies to help them stay relevant with their ads.
Our tools are not 100% accurate, but they give a good idea of what Sandstorm Gold is doing to grab a few clicks via paid ads on Google search.

The monthly amount of $298 is a little surprising to me. I would definitely expand on my paid ads strategy and get more aggressive. The reason for that is none of the competitors are advertising for primary keywords like:
Gold royalty companies
Precious metal companies
Gold ETFs – I would be very careful with this because it can easily be a money pit. We would run tests and ensure our goals are met.
Gold stocks – Another keyword to be careful with. It's very broad and can take a large part of your budget without a lot of gains other than brand awareness (might not be bad to run a brand awareness strategy with paid ads).
How to buy gold stocks – This keyword is the perfect opportunity to show up above the marketing funnel when people are researching ways to buy gold stocks
There are dozens and dozens of other keywords I would invest in.
In the first part of my gold streaming and royalty marketing post, I went over the user intent for gold stocks.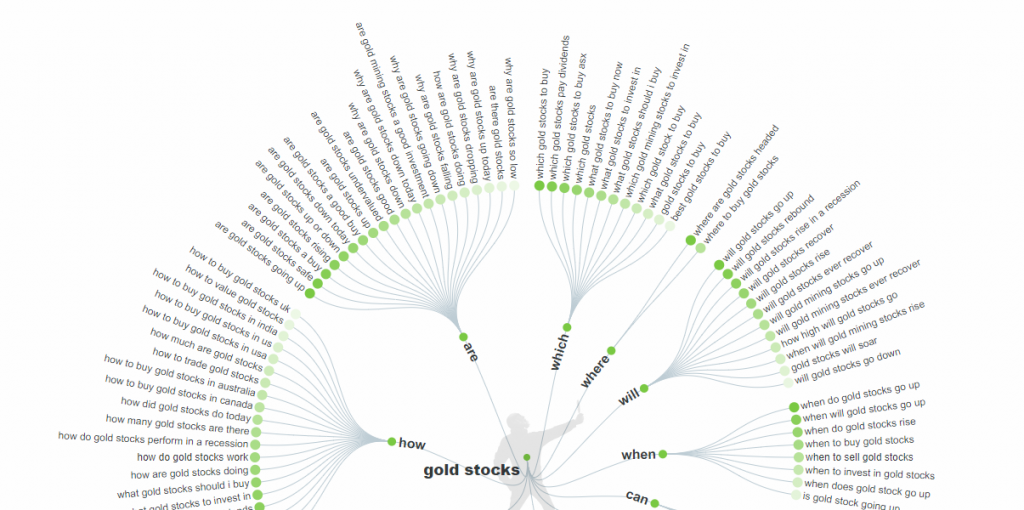 It would be wise to find out what the traffic data is for these keywords and come up with content strategies that match each question.
For example, "which gold stocks to buy" is searched 90 times globally with a cost per click price of $1.50.
What the marketing team needs to do is come up with content for this one keyword. It can be video, a podcast or even a written piece.
Once the visitor lands on this content piece, we will place a cookie on their computer and track them around their Facebook social account with the Sandstorm intro video:
If they watch a certain percentage of this video, we'll start sharing this video: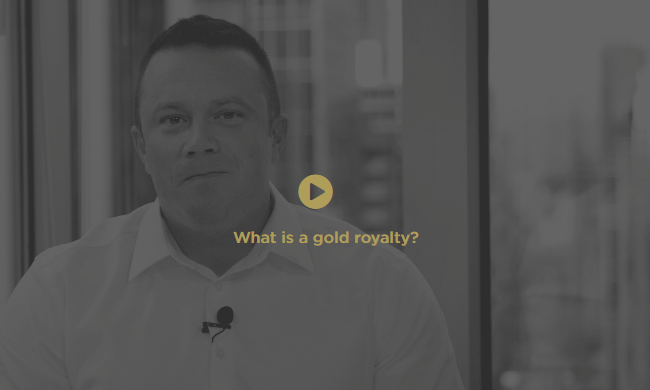 If this person shows interest and watches a certain percentage of our "what is a gold royalty" video, we will go ahead and create multiple ads and test engagement with this link:
https://www.sandstormgold.com/investor-centre/overview-investors/
My goal would be to get this visitor to ultimately download the investor presentation, asset handbook or quarterly reports.
This process can be repeated and automated for hundreds of keywords. This is the only way to scale large advertising campaigns and dominate competitors.
Twitter is a different beast. I would start with a small budget and test a few ideas before taking this platform seriously.
Email marketing
I've noticed none of the other royalty companies utilizes email marketing strategies. I am not sure why this is because all of them seem to be getting thousands of visitors each month. I am sure a lot of these people are interested in getting news with what they've invested into in their email inbox.
We're not working with an eCommerce website so there is no need to complicate this strategy.
Offer a clever and attractive value proposition to collect emails from visitors to the website.
I'll help the marketing team and provide a draft version of a pop-up they can test: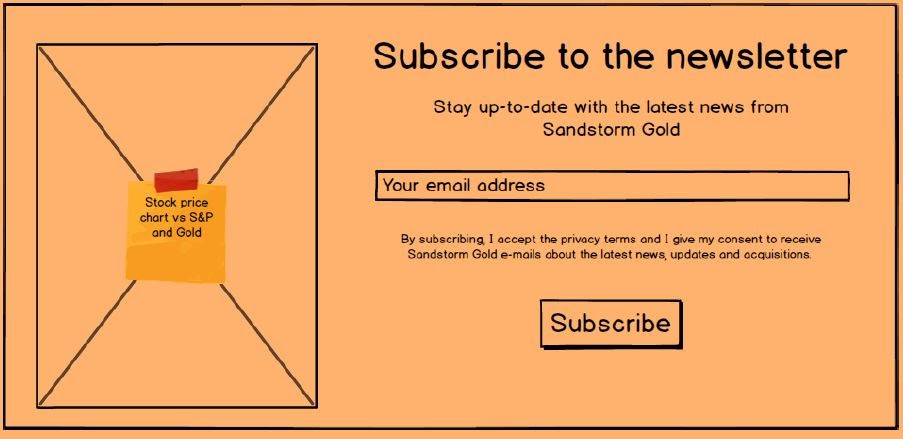 Download the PDF version of the wireframe here.
Final thoughts
The numbers are telling. Even though interest in gold has died down a little, search volume hasn't. We can take advantage of the growth in traffic with what I am proposing in this post.
I couldn't let my new findings not get published and because of the pandemic/lockdowns, my data from April wasn't really complete in my opinion.
I hope you've enjoyed the second part of my gold royalty marketing post.
Until next time, catch you all on my next post.