Gold royalty companies? I know. It's a strange topic to write and talk about. Well, I am interested in the topic so here we go.
You might be asking, "what is a gold royalty company?". Let's take the definition directly from my favourite company, Sandstorm Gold:
A gold royalty is a contract that gives the owner (a gold royalty company) the right to a percentage of gold production or revenue in exchange for an upfront payment. Gold royalty companies use these contracts as a way to finance mining companies in need of capital.

What is a gold royalty
I am fascinated by royalty companies because they're incentivized to pick the best mining companies. That's their performance metric, which is much better than picking random mining companies on your own. They do the work for you.
It's not easy getting the message to the retail investor. Most people gravitate towards shiny stocks like Facebook, Netflix or the SPY and rightfully so. Although, because of the pandemic that's about to change. Our local bullion and currency exchange dealers have minimum order quantities and you might have to wait weeks or months to get your order:

Even though I am not an expert with how royalty companies work, I do understand digital marketing. I am going to look at this from another angle and discuss how they can increase their digital visibility.
Google Trends
From what I can see the interest over time is fairly flat: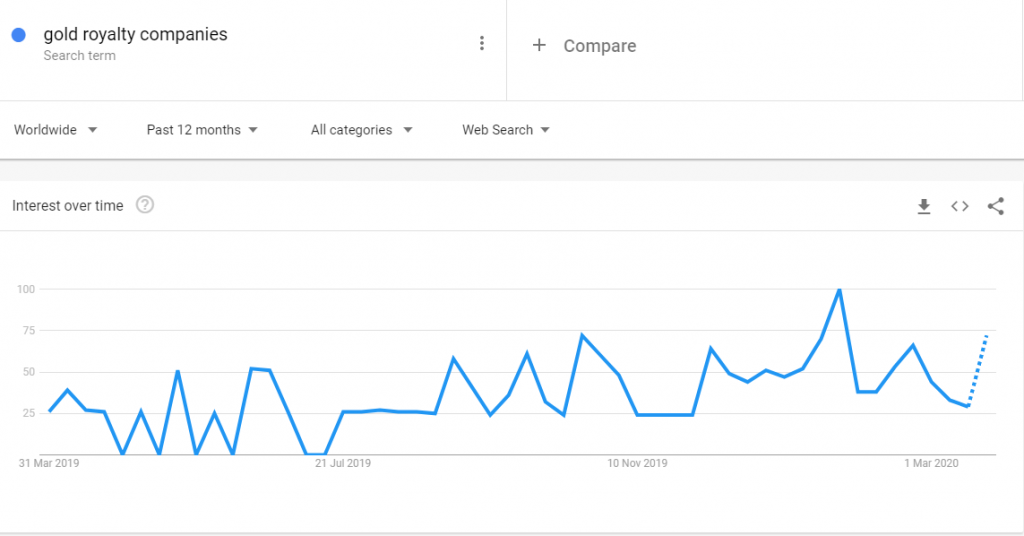 Compared to a keyword like gold stocks, gold royalty companies don't even come close: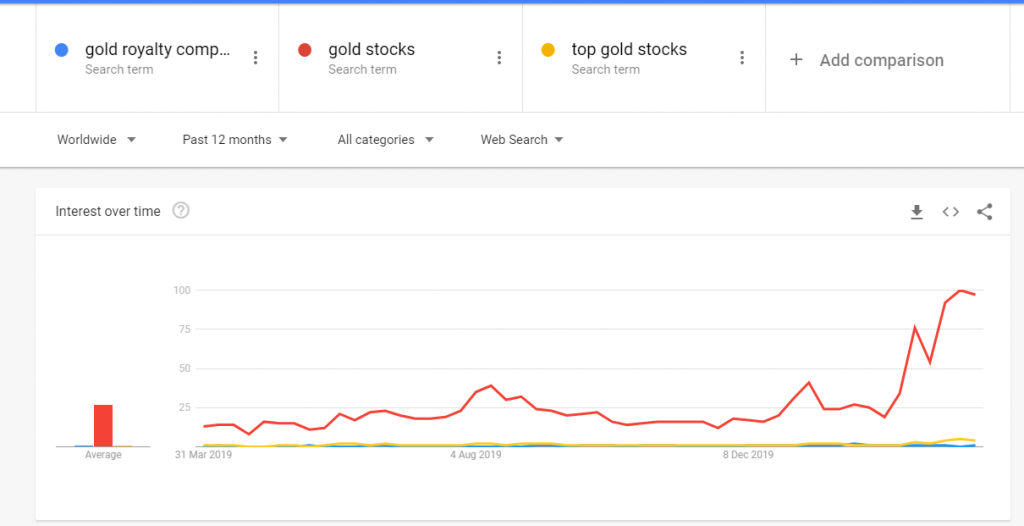 This tells me that not enough people are aware of the benefits of royalty companies. I immediately have a few educational content strategy campaigns in mind. We can go over that later.
Regional interest is dominated by the United States. Nothing new here:

Trend conclusion
More needs to be done to educate the public of gold royalty companies. It can be done. It just requires a lot of hard work and PR. Primarily, it has to be done with content on different outlets like:
Various YouTube channels
Social media – paid ads
Content strategy on a blog
Social media strategy
Content promotion on other websites
Keyword research
I am going to look for search traffic in the US, Canada, Australia, New Zealand and the United Kingdom. We're going to focus on a few primary category keywords because it would take more than 40 hours to understand the whole scope of what the general public is searching for and what their search intent is.
Here is the list of primary keywords I've collected search data for:
I highly recommend clicking on each primary keyword and looking at the search volume. You might be completely on the wrong path in terms of your marketing if you don't know what you're targeting.
Each document shows the keyword phrase, monthly searches and top of page bid(s). It's interesting to see Sandstorm Gold right at the top when someone searches for gold royalty companies. That means that Google is directly correlating the brand Sandstorm Gold with gold royalty companies.

How competitive are the keywords we're targeting?
Let's start with the key phrase, "gold royalty companies" since that's our primary keyword and who we're trying to help.
Gold royalty companies:

Key takeaways:
About 2000 global searches
The US and Canada are the top 2 countries
Looks like it's hard to rank for
The cost per click is fairly cheap
The trend is clearly looking like it's trending up
Gold companies:

Key takeaways:
Not too many searches at 460
Again, the US and Canada are the most interested population
Very hard to rank for
Fairly priced cost per click
No info on trend data
Precious metal companies:

Key takeaways:
Not a lot of searches
The US leads for this keyword
Another hard keyword hard to rank for
Well priced in terms of cost per click
The trend looks steady
Gold stocks:

Lots and lots of searches
The US and Canada lead the way for searches
Very hard to rank for on the first page
Cheaper to bid for in terms of cost per click
The trend is on the way up
Addressing user intent
Now that we know the keywords we're targeting, it's time to look at user intent. We can use this information to formulate our content strategy. Intent can be addressed on the blog or on pages on a website.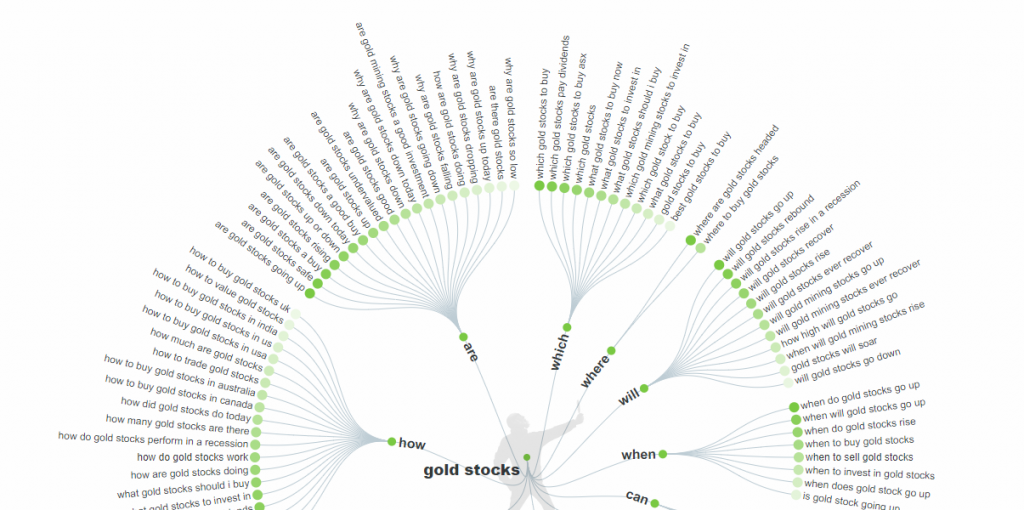 Here's the full list of questions, prepositions and comparisons for the keyphrase gold stocks. Obviously, you can't address everything with great content. No one has an unlimited budget. Well, maybe central banks do. Most clients work with a budget of $10k/month+. The largest client we've ever worked with had a budget of $50k/month. Plan your content and you can prioritize where you want to start.
I didn't forget the full list of questions, prepositions and comparisons for the keyphrase gold royalty companies. Take a look and see if you can gauge where you stand in terms of addressing intent.
What can you do with your keyword research?
Well, that depends on your business goals and who you're trying to target. If you're Sandstorm Gold or Franco-Nevada, then you're going to target gold royalty on your homepage. If you're Barrick Gold, I would target gold stocks.
It's sad to see that almost none of the companies are addressing user intent. Instead, you'll see websites like Forbes, Seeking Alpha or ETF Trends rank higher than companies that are actual gold royalty and mining companies. With a bit of SEO and a solid link building campaign, we can rank any of these websites for their primary keywords.
Ranking Franco-Nevada for gold royalty companies
Let's look at https://www.franco-nevada.com/ and see what we need to do to rank for the term, gold royalty company. I would pick Sandstorm Gold but they rank in the top position. We'll find out why later.
Here is the list of the top 5 listings in the US:
Franco-Nevada is not even on the third page of Google in the States. Come on, guys. This one should be in the bag.
We use advanced natural language systems with machine learning capabilities to find out why pages on the first page of Google rank well. We then compile a list of tasks to quickly boost rankings for the key phrases we're targeting. Here's what Franco-Nevada needs to do to rank for gold royalty companies in the United States:
Here's a list of common backlinks the top-ranked pages have. Try to get as many as possible to link back to https://www.franco-nevada.com/.
Here is a list of common keywords the top-ranked pages use frequently. We have to get the copywriter on this task right away. An easy win. I've even included the number of times a particular keyword should be used on the homepage. This is called true density.
Consider putting gold royalty company in an H1 tag
Make sure you put your primary keyword in the title tag
I don't know who their SEO is but the description tag is missing. I'll leave it there.
The suggested number of words in the body of the homepage should be between 1062-2539.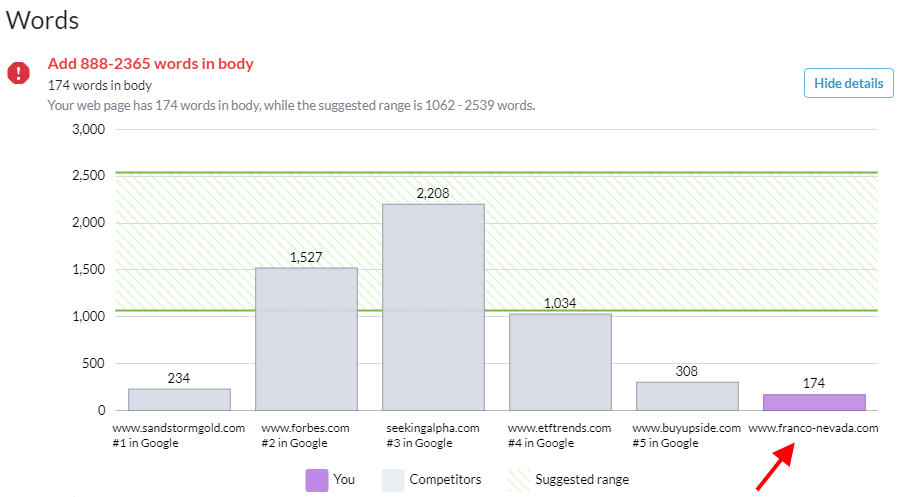 The homepage of Franco-Nevada is very thin with content compared to the comp-set.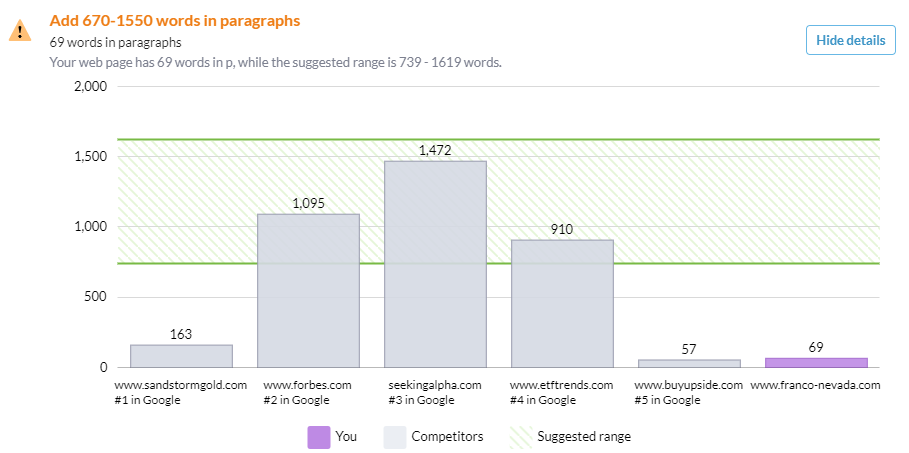 Franco-Nevada must consider partial keywords to show up more when people are searching for what they have to offer. Here are a few partial keywords they need to consider:
Stream
Royal
Largest
Stock
Investment
Top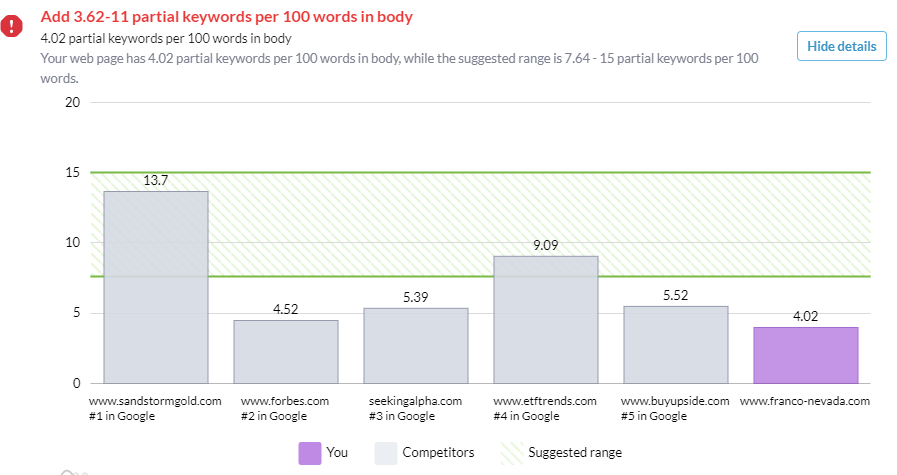 That's just for the homepage and one primary keyword. There are secondary keywords we'll need to target.
This process will be repeated on every single page on the website.
Keyword GAP analysis
Since we're trying to help out Franco-Nevada, let's try to see what keywords are driving traffic to their competitors.
My research shows that Franco-Nevada and Royal Gold are the weakest links: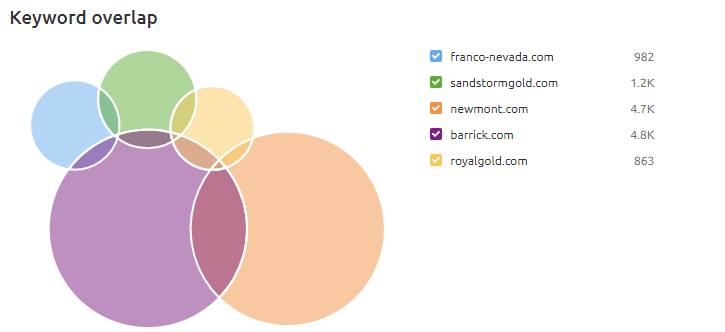 View the full keyword GAP analysis here. Franco-Nevada can use this list to gauge what they show up for versus the others on my list.
Backlink profile
When we start a digital marketing campaign we gauge the backlink profile for our client's website against their competitors. No amount of SEO is going to get a website to the first page if they're competing against a list of websites who have a great domain rating.
Let's look at what we're working with: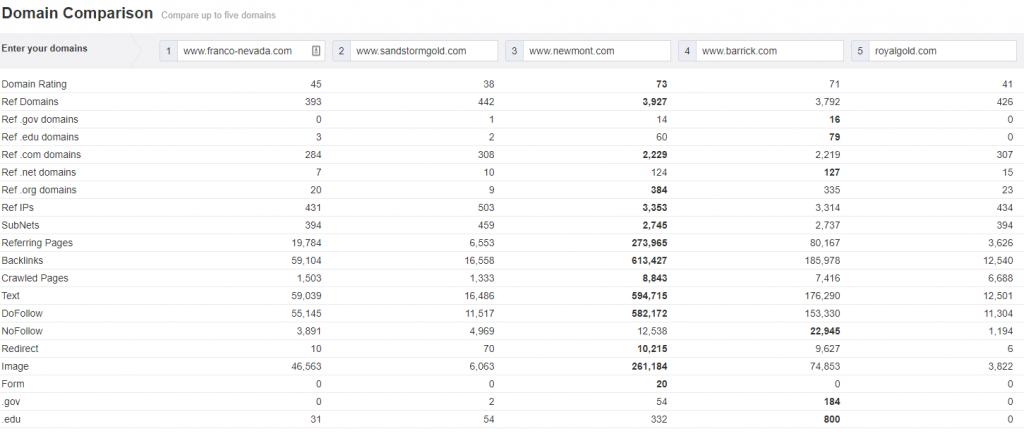 Barrick and Newmont are outliers here. They're bigger than the other three in my list. However, that doesn't mean we can't study their backlinks to see what we can snatch up.
Bonus: I noticed a few .gov links for Barrick and Newmont. It would be lovely to try and see what they are and see if we can replicate it for "our" (could be you) client.
Here is the backlink profile for each competitor in my list:
What we would do with clients is to study the list of links of all our competitors and pick cherries to try and acquire.
Paid ads strategy
I find it very interesting that the only company advertising on Google is Sandstorm Gold. Good for them. You would have to be completely out of your mind to not include a pay per click/remarketing campaign for your company. Sandstorm Gold has a winning strategy since they don't have many other websites competing for the same keywords.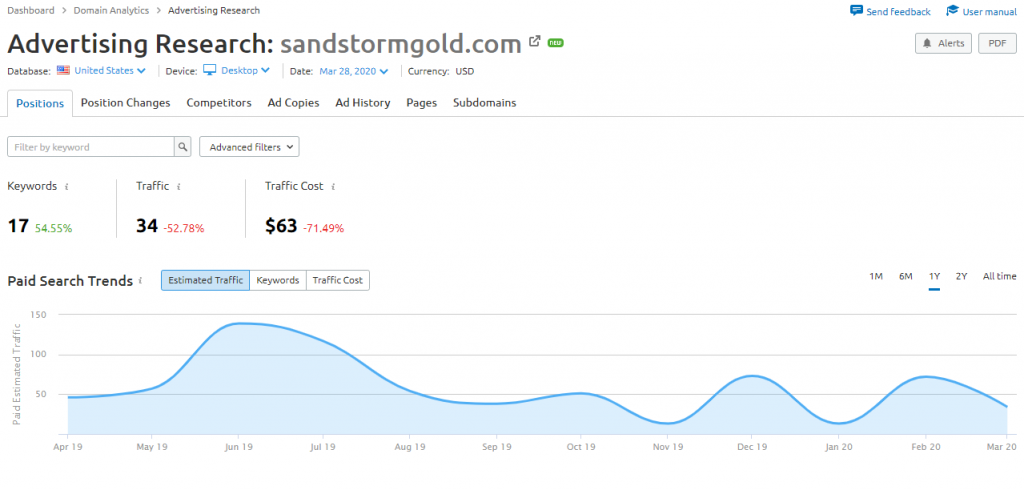 Take these numbers with a grain of salt because we can never know the exact number unless we have full access to the Google Ads account for Sandstorm Gold. These numbers are just estimates as far as I am concerned.
Here's the full list of keywords Sandstorm is bidding for.

I am not sure why they're not targeting "gold royalty companies". Seems like a no-brainer to me. There might be some regulations I have to read up on but I honestly don't think you're not allowed to bid for a service you offer.
There is a huge opportunity here. If we look at Google trends and start with a small budget, we can pick a few States and Provinces to start a pay per click campaign. Since the competition is low, the cost per click is also going to be a lot lower.
What's the strategy?
For a pay per click campaign I recommend starting off by targeting your primary keywords and studying the results. The list of primary keywords you can target can be found here.
Keep the ad groups tight and build more ads with more content. For example:
Start with a campaign: Gold Royalty/Streaming
Ad group(s): 1 ad group for broad keywords like precious metal royalty companies, 1 ad group for gold royalty companies and 1 ad group for the keyword cluster top/best gold royalty
Use phrase and broad match keyword combinations to learn more about user search behaviour
Run a remarketing campaign for people who have visited your website. Don't forget remarketing on YouTube. Sandstorm Gold has a few very good videos they can use
Of course, running an AdWords campaign is much more complicated than four steps. We have a dedicated Google Ads expert who handles all of that and meets our clients on a regular basis.
Increasing credibility and user experience
Our goal is never to just "rank". We want to increase conversion rates across the board. How do you do that? By talking to the humans who are trying to buy from you.
After looking at Sandstorm Gold, Newmont, Franco-Nevada and Barrick I found a clear winner. Sandstorm Gold.
The first item in the global navigation for Sandstorm is "Why Sandstorm". Below the fold on the why Sandstorm page is a video of the president, Nolan Watson.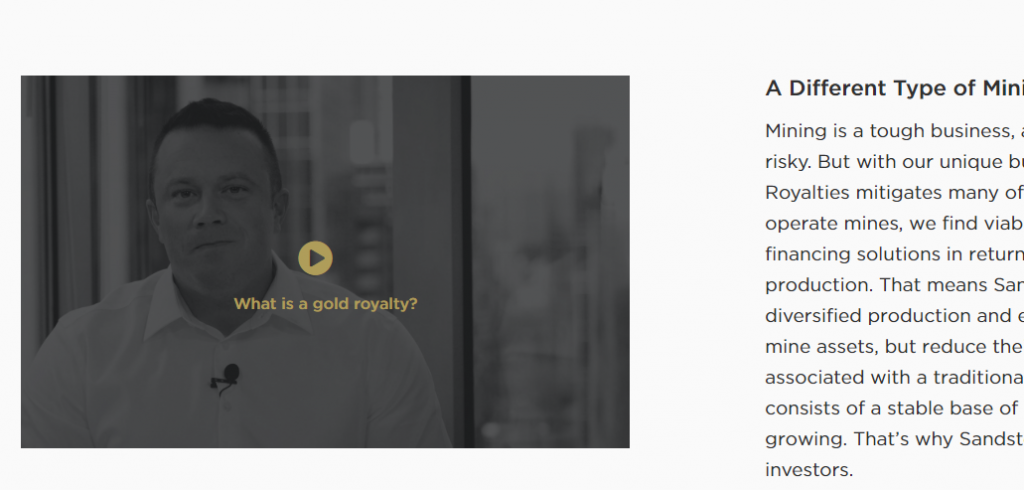 Sandstorm doesn't shy away from using videos to their advantage. They use it to educate anyone who lands on any given landing page (i.e. https://www.sandstormgold.com/how-a-gold-royalty-works/). And to top it off, they have a great explainer video on the homepage.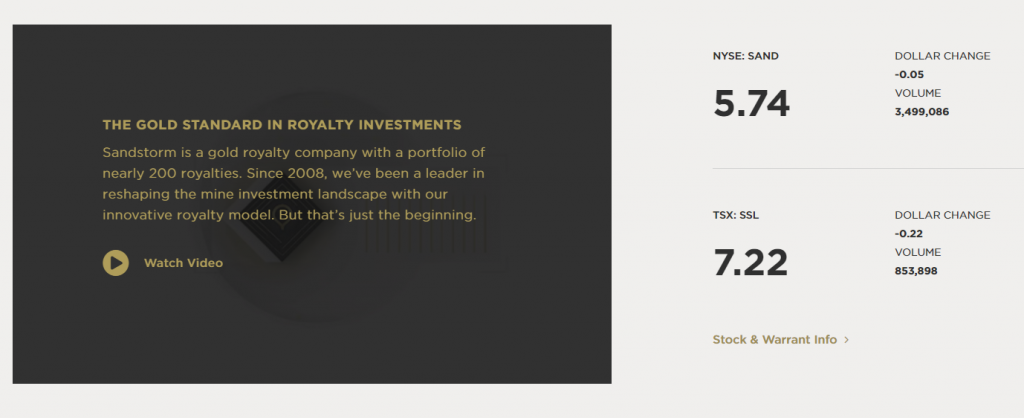 Newmont is doing an okay job. Their website is not built to convert visitors. It's a glorified brochure. They do have videos but you'll have to find them on their YouTube channel.
I am just going to go over the homepage and what Newmont can do to improve it:
Include a value proposition for when people land on the homepage. Or any page for that matter. Sandstorm is using the value proposition "A Bright Way to Invest in Gold". It can be better but a good start.
What? No intro video? Come on Newmont.
There is absolutely nothing on addressing user intent or questions. I've shared what users are asking here. Why wouldn't you address people directly on your website? Again, Sandstorm Gold is doing a killer job in that department by talking directly to investors like myself and answering the question "What is a gold royalty?".
User interface design was clearly not a priority. For a multi-billion dollar company, I am very surprised design is not part of their credibility list.
Barrick, Franco-Nevada and Royal Gold are all on the same boat. They all have weak design, don't address user intent, none have a media strategy and the on-page SEO is non-existent.
Setting up a podcast
Some of the most popular podcasts are business related. To get an instant shot of credibility start up a podcast and STAY consistent. I know. It's difficult. I am trying to do the same.
If you don't want to start a podcast (Not sure why you wouldn't. Who doesn't want more cred points?) , here are a few YouTube channels to do an interview on:
There are dozens of other channels and podcasts you can get on to get the word out. This is where trust is built. Get out there and you'll win new fans every time.
Automation
Our agency is great at automating marketing campaigns. Marketing automation is a process where you provide valuable content during the different phases of the buying journey. I know. It sounds confusing. Let me give you just one example with Facebook ads:
A visitor lands on your website. Let's try to help out Franco-Nevada and assume the page this visitor lands on is the stock info page.
We can take an educated guess that this person is interested in the stock price of Franco-Nevada. Perhaps they want to know a little more.
With the Facebook pixel, the visitor is entered into a list for a marketing campaign that focuses on people above the marketing funnel. These people are trying to learn but are not ready to buy.
We target him/her with an overview video of what Franco-Nevada is all about.
IF they watch 25 seconds of the video, we can share a new video of a project Franco-Nevada is working on.
IF they watch 25 seconds of the second video, we'll advertise a link for them to sign up and get news directly from our email campaigns.
Do you see how we worked this person down a funnel with content when they needed it? We were there when they were learning. We were there when they were intrigued and we were there when this particular person was ready to become a member to learn more.
I'll do you all one better. I've done the investor automation process. You can download the marketing automation process here.
What I've done is just an example. The automation process is different for each client.
Email marketing automation is also very powerful. Although, email automation is mostly used for ecommerce websites.
User research and analysis
Wouldn't you want to know what the general public thinks of investing, gold or precious metals? Have you tried asking them? I hope you have because this is 101 and a task we try to finish within the first month of working with a client.
If you take your business seriously, you must understand your target demographic better. This will help align your message with what your audience/investors value most. No one knows until they run surveys.
Running surveys isn't expensive anymore. Most public companies have millions or billions to play with. Spending a couple of thousand dollars on two surveys will yield so much for your company.
Here's where you can get started:
I mean business and to show that, I've run my own survey to learn more about what people look for or know about gold investing. Here are the questions I want to ask:
How do you invest your savings?

ETFs
Mutual funds through the bank
I pick individual stocks
I trade daily
My financial advisor takes care of everything
The bank invests my money
I don't invest my savings – stop survey with this question

How are you hedged against losses?

Cash
Precious metals
Bonds
Treasuries
None of the above

What do you think of gold/silver royalty companies?

It's the best way to invest in precious metal
I would rather pick mining companies on my own
I don't know anything about that but I will now research it
Not interested

What will you be doing once you see a good return on your investment?

Sell to buy a home
Sell to retire
Sell to finance my children's future
I will not sell until I need to
Invest more

What would stop you from investing in a gold stock?

Low returns
Ancient form of investment
High risk
Lack of growth
Other
Final thoughts
I am not an expert when it comes to investing. I am, however, knowledgeable about increasing digital visibility. What I've shared in this post is a way for an antiquated industry to fast forward to the 21st century. Safe haven investments like gold need to be taught in a whole new way. I am not sure the big names are doing that.
Companies like Sandstorm Gold or Newmont have a responsibility to educate the general public about what money is. Gold is not innovative but it is a great way to preserve wealth. It has been for centuries. Yes, you can't eat it or use it to go to space but you can use it to ensure prosperity when times are rough. How we educate and show the benefits of precious metals is paramount to the success of the industry.
Let me know if I've missed anything. I would be more than happy to discuss this post with anyone.