It's been a while, hasn't it? Life sometimes tends to sweep us away, and I'm no exception. I've let this blog slip through the cracks like anyone else.
But boy, have we been busy since my last post on January 18th! We've forged partnerships with three multinational manufacturers who are genuinely impressed with the channels we can use to promote their products.
Our dedication to developing exceptional websites, engaging media channels, and hiring industry experts is starting to pay off, and we couldn't be more thrilled.
But enough about updates – let's dive into today's post.
In this post, I'll share the various elements we're testing as a team for our product template on an eCommerce website we're investing a lot into.
We'll explore human and credibility factors, my internal linking strategy, content, meta tags, our current position, and provide a wireframe for you to examine.
Let's get started!
Human factors
Our significant advantage over competitors is our highly knowledgeable team of experts in their respective fields.
This isn't to say our competitors aren't as skilled as we are. Our unique edge lies in our experts' willingness to appear in front of the camera, promoting our brand.
Incorporating a human touch isn't limited to videos. It can also include:
Displaying images of staff interacting with products on the homepage, category, product, and contact pages.
Sharing media content featuring staff experts across all social media platforms.
Producing podcasts, commentaries, and product reviews on the blog.
Periodically publishing comprehensive how-to content to assist our audience.
Creating dedicated media for our most popular products.
Let me elaborate on what we've accomplished on various pages.
Our homepage features custom photography from our warehouse, showcasing our team members, product managers, and product photos. We also have a video emphasizing our commitment to supporting our customers.
On category pages, we include dedicated videos demonstrating how products in that category are used. We also highlight our impressive shipping times, warranty, and nationwide locations.
On product pages, we present pictures of the staff members customers will interact with during their purchase, photos and videos of the products, and a couple of maintenance tutorial videos.
Our aim is not to overwhelm the customer but to provide as much information as possible, guiding them through their buying journey while establishing ourselves as authorities in our field.
Credibility factors
We've tried to make our pages more human, but what about improving credibility?
Here are some questions we have to answer:
Do the people who work for us know their $hit?
Are staff willing to go on social media to promote the brand? If not, how do we get the right person in front of the camera?
How many reviews do we have, and can we get more? This is a weak spot at the moment.
Do we have the phone number plastered all over the website? We need to in our industry.
Will our experts call bull$hit on bad products? They better be.
There are many micro-moments on a website, which will improve its credibility. We're scientifically trying to figure that out for our industry and are close.
For example, we talk to experts outside of our own company. Some are willing to go on camera for us. We're also working with reputable manufacturers known for their products.
Internal linking
The internal linking structure of this website isn't complicated. I got a lot of inspiration from Hope Depot, Rona, and Best Buy.
Our homepage links out to umbrella categories (e.g., dishwashers)
On the dishwasher category, we'll link out to the different types of dishwashers (e.g., 18-inch, 24-inch, countertop, etc.)
If a person drills down to a category they like, we'll have specific filters set to index (e.g., Magic Chef countertop dishwashers)
On the product page, we can play with what would make sense

In our case, it's compatible widgets and parts
A weak spot of ours is building topical authority for our product categories. Yoyao is helping with this task. Once we have his report, we can own every topic related to what we sell. No one will be able to replicate our work.
Content strategy pivot
We manage multiple businesses and operate with a tight-knit team of fewer than fifteen members.
Over the past two years, our media team has successfully developed an additional channel by concentrating their efforts.
I would repurpose YouTube videos from our other channels to produce content by paraphrasing them for this website.
While we experienced growth in traffic, we faced one issue: this traffic didn't effectively convert into paying customers.
Now, with more time and new team members to support our eCommerce site, I'm confident we can excel in promoting and enhancing our topical authority, drawing from our experiences with our other channels.
Our plan of action includes:
Creating relevant, engaging content for each topic category, we aim to rank for
Establishing natural links to boost authority for these posts
Enlisting experts (individuals holding degrees in the field)
My ultimate goal is to dominate every product category by featuring industry experts in our videos. We'll leave no stone unturned.
In time, Google will recognize our brand as an industry leader. I have no doubt that we'll take over the market within 12-16 months.
Meta tag testing
I'm constantly exploring new methods to determine if our meta tags positively impact our search rankings.
Currently, we utilize this title tag template for our thousands of products:
MAKE+MODEL+KEYWORD – SIZE+PRIMARY KEYWORD+FOR SALE
I'd like to experiment with:
CATEGORY+MAKE+MODEL+KEYWORD – SIZE+PRIMARY KEYWORD+SALE
In this test, I'd like to remove "for" and include the product category at the beginning of the title tag to better guide Google. And don't worry, the title tag will still be under 60 characters.
Our meta description tags on product pages are in great shape, so I won't make any changes.
Here's the current template:
MAKE+MODEL+KEYWORD+FOR SALE. [PRICE]. SIZE+KEYWORD+DESCRIPTION. SAME DAY SHIPPING – NO HASSLE WARRANTY.
I've made sure to include crucial information in both the title and description tags. This way, even if someone doesn't visit the product page, they'll clearly understand its content.
Current status
I am not here to tell you we're doing amazing. I am here to tell you where we're struggling and what we're doing to improve.
As it stands, our product pages are not doing well.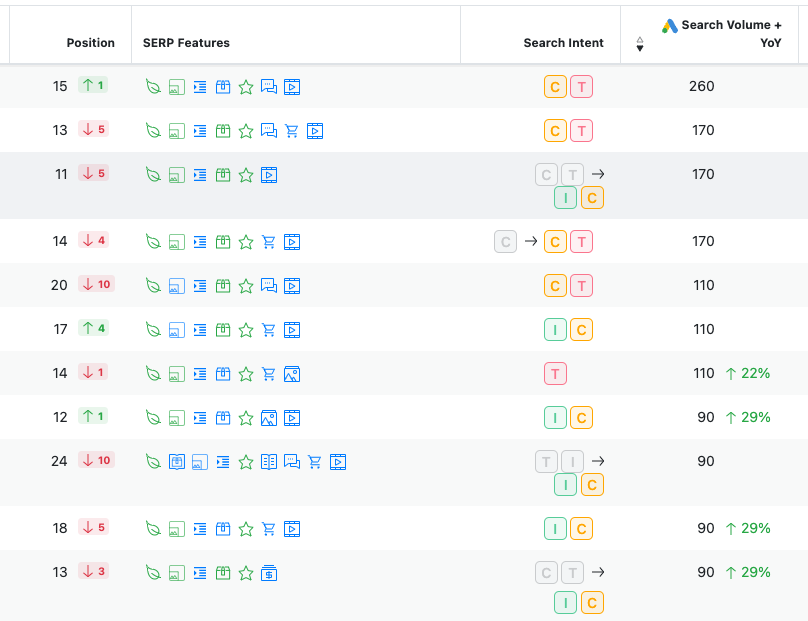 Our category keywords are doing ok and are on the first page nationally in the US. However, we're talking middle and bottom of SERPs.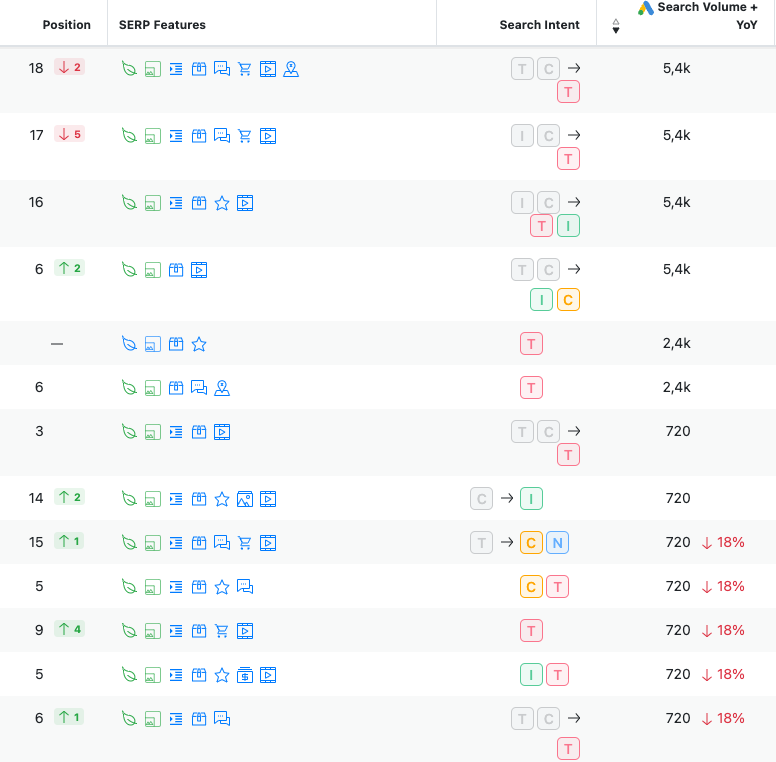 Obviously, I am tracking hundreds of keywords and sharing the top keywords I want to rank for.
This is the first project I have had issues with in a very long time. I have no doubt we'll figure it out.
The wireframe
Here's a taste of the wireframe for the product page.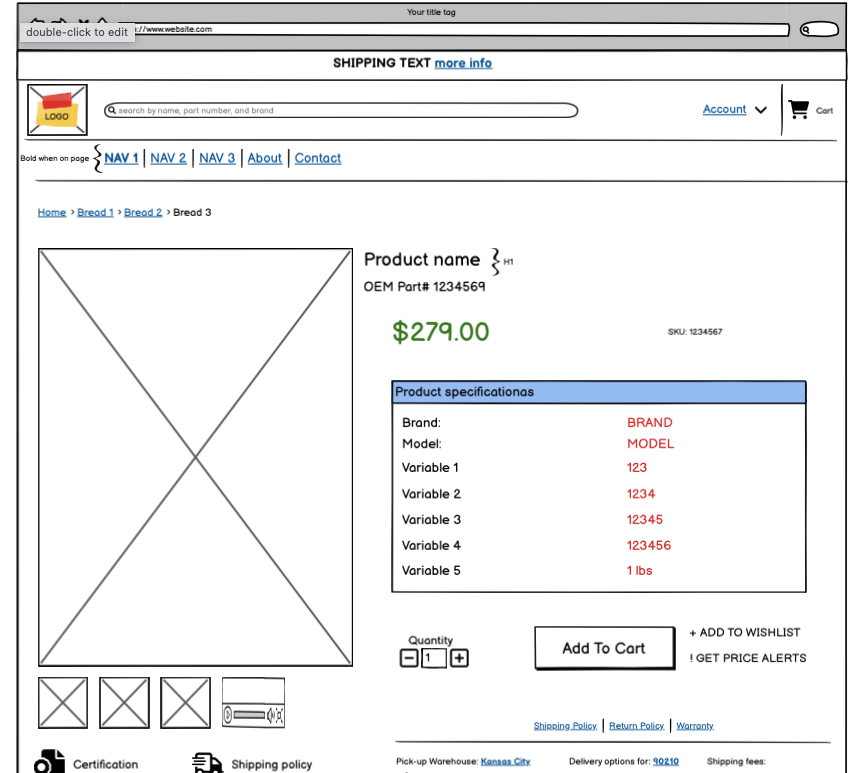 I am sure it will change by the time this post is up.
I've decided against sharing the whole wireframe because people take these things literally and copy them. You shouldn't do this.
Follow basic guidelines for your audience, and you'll be fine.
Since we don't specialize in CRO, I've hired an outside agency to help. If they do a good job, I'll share who they are.
Final thoughts
We're in a constant state of change. I've never committed so much energy and company manpower to a project.
I am not sure the competition knows what's coming.
We're making new partnerships often, signing up new experts almost daily, improving whatever we can on/off our website, and setting up sister companies to complement this web asset.
In time, it will be so big none of us will know what to do with the growth.
That's all I have this round. Until next time, catch you all on my next post.