I am going to do this a little differently compared to every other post Game of SERPs. I am going to show you all real-life examples of what has worked for our company and the many divisions I am a part of.
I got hired as the director of marketing at a small marketing agency in 2013. We also had other businesses with decent revenue numbers. I was 28 years old, young, full of energy and potential. I was brought in to increase revenue for all our companies, improve process and visibility on the web.
Let's get right to it. Our agency was bringing in less than $200K/year. All of our other businesses were bringing in about $500K/year. Only way is up!
Our office and employees
I was ambitious. I saw a lot of holes predominantly with employees who acted like victims. They were okay with the status quo. They came in at 9 AM, worked on client projects with a budget of $500/month and left at 5 PM.
Our office was in the industrial part of Surrey (within Metro Vancouver). It was cold in the winter, very hot in the summer and we shared our space with a lot of rats. These suckers were relentless. We couldn't do anything to get rid of them.
I remember getting space heaters because it got so cold in the winter. Oh, the good old days.
My mind was racing with what I wanted to do. I had to start somewhere but where?
The space we work in
I am trying to start from zero. When I say zero, it means that even our workspace is important to me.
I booked a Wednesday and asked everyone to come in prepared. They came in looking at a bunch of cleaning supplies, a mop and a bucket.
I asked them to clean every inch of the office. We got on our fours and cleaned every crevice of the space we work in.
I learned this from Japanese schools. They make the students clean their place of learning every day for 15 minutes.
Once the office was fully cleaned, I put it in our calendar to clean the office once a week. We all got involved.
It was actually really fun because I bought beers for everyone and we got to know each other a lot better.
This was my first move to get the team to trust me. I cared about their space and wanted them to work in a better environment.
You can probably tell that I am into an all-around approach when it comes to leadership. It's not just about work. I had to get them to see they could trust me by showing them that I was a good leader.
It worked.
Needless to say, we ended up selling our space within the first year of me joining the company and moving to Downtown Vancouver. Clients kept getting lost coming to our office. That had to end.
I'd say we have a cool space now.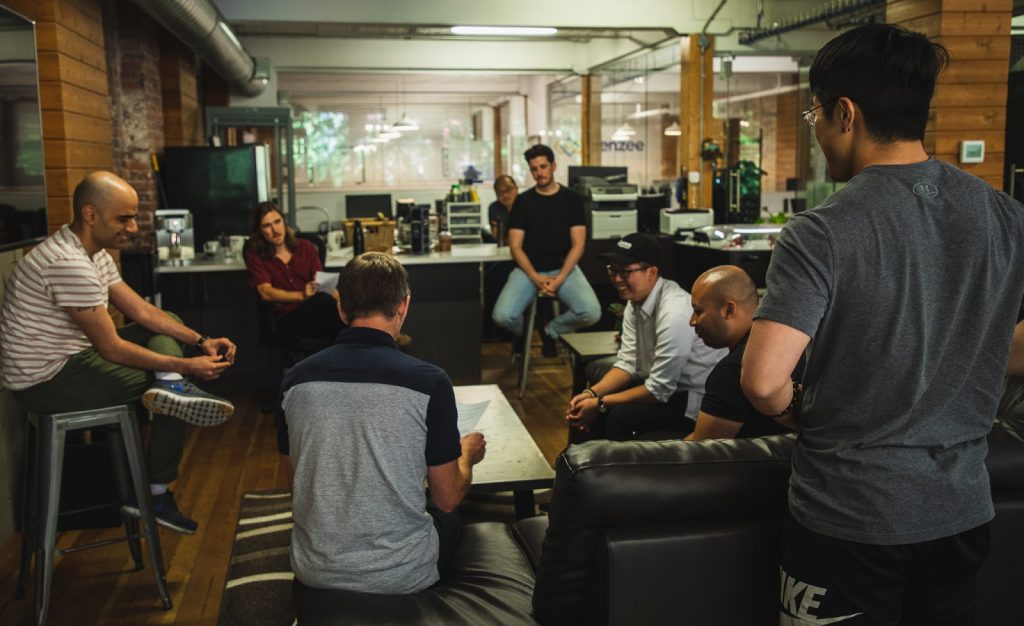 The employees
Every company has a few employees who are negative, play the victim card and don't like change. I tried talking to all of them individually to understand them better.
Some of them could not be changed and I wasn't about to hold hands. They had to go. We fired four staff members. This didn't happen right away. It took two years to decide who stays and who goes.
I then went on a hiring frenzy to get the best:
IT administrator – This person would manage every technical aspect of our servers, hosting and computer-related needs.
Copywriter – The agency didn't have a copywriter. Only large agencies had in-house copywriters at the time. This was a big move and paid off very well in the coming years.
UI/UX designer – I needed someone who could stand out with exceptional design skills.
SEO – I needed a new SEO to bring the agency out of 2002.
Software engineer – The marketing agency wasn't the big picture of our company. It was the software and database we would end up building in the next 5 years.
Paid ad expert – I didn't mess around with a rookie for this role. I hired a veteran with fifteen years of experience. Expensive but worth every penny.
Media director – We immediately spent $50K on media gear to expand content strategy. Our media director is now an essential part of our business.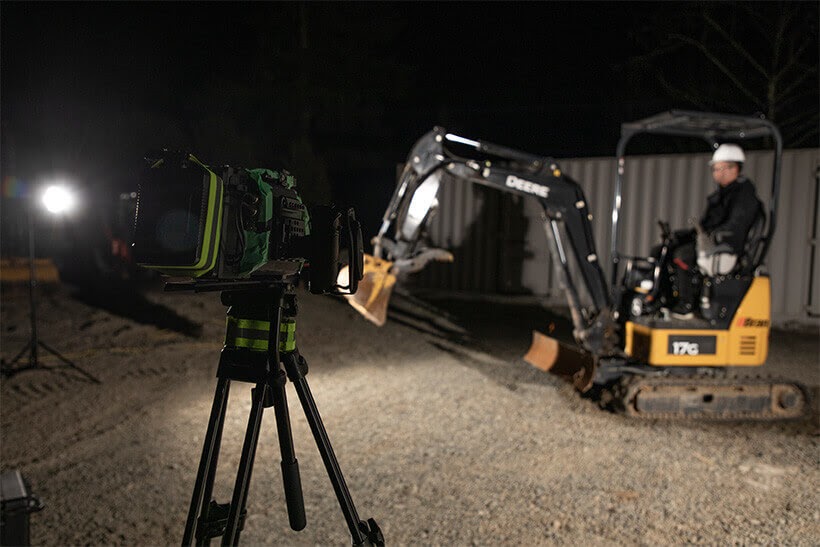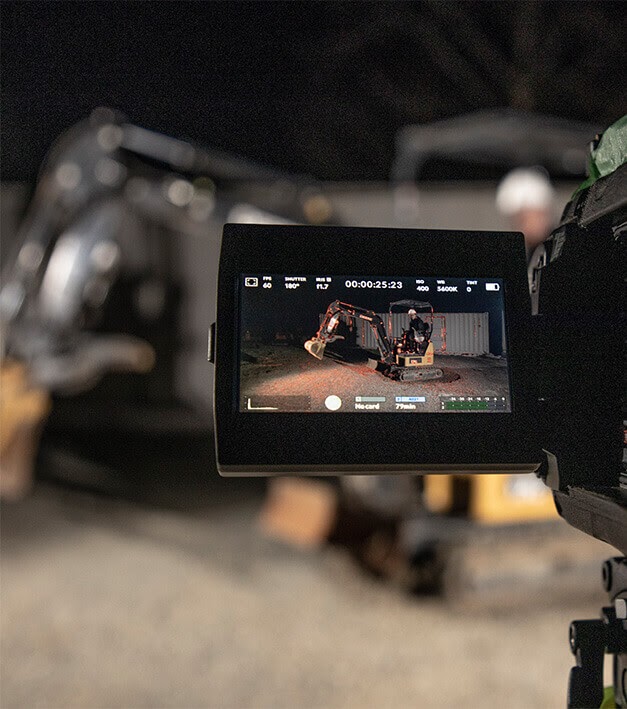 I was making big moves and saw the potential of what we were working on. We were hustlers in the beginning. We hacked our way through huge success as a company because of our new team.
Page by page, customer by customer, we improved every part of our business from the roots up.
Internal process
Nothing at our office was automated. The staff was getting paid with cheques, we were collecting credit card payments over the phone, none of our phone calls was being recorded and our office admin was constantly calling clients to send in payments via cheques in the mail.
My mind was blown. I immediately got us on Freshbooks and forced all clients to give us a credit card number, had every single incoming call tracked for all of our businesses and had everyone work on a new CRM to track everything.
I was settling in. The founder was happy so what did I do? I put him in the hot-seat with these questions:
Tell me about your background. What's the story behind the company?
What led to the idea behind the company?
The reason I asked these questions is to see his vision and my future. Once I understood that the marketing agency wasn't his focus, he won my heart. Clients won't make us wealthy. Our own businesses will. Once I knew that I had a home and a friend, not a boss.
Keep in mind that I never held a job longer than 12 months. I just couldn't find a home and kept hoping from company to company until I found where I should be.
Interviewing our customers
Our main business is renting heavy equipment. I had to learn everything I could about who we're targeting. It's the most revenue-generating asset of our business. This division alone funds our team and our future ventures. I had to do everything I could to increase revenue.
Here are the pain points from our interviews with customers:
Calls were not going through 100% of the time
Customers felt rushed when calls were picked up
Customers had a hard time paying their bills
Instructions on what to do before/after a rental wasn't so clear
Signing agreements was very hard to do since it was done in person
I had to dig deeper. I used a speech recognition system to analyze our calls and here's what I found: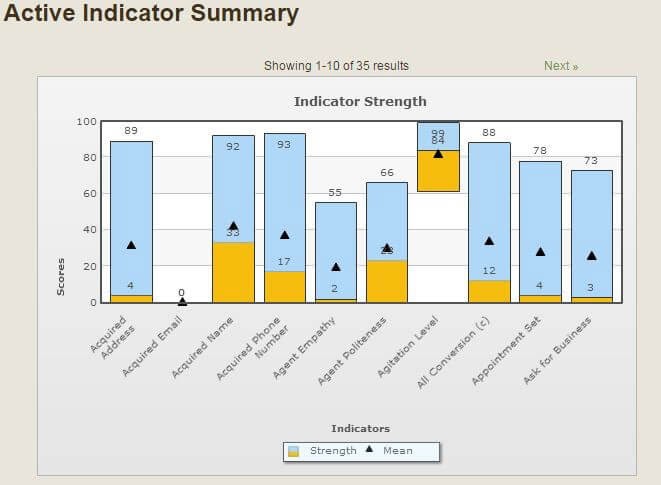 You can see that the agitation level of our calls was completely out of range. I immediately asked our founder to hire a new dispatcher and a call centre to help out when we couldn't answer calls. This helped customer satisfaction instantly.
Our new CRM converted all manual payments to online payments through our merchant account. Customers no longer had to call to give us their credit card numbers. We verified the funds before rentals went out and charged them automatically when the rental was over. We also never had to ask for a credit card for the same customer again. Everything was stored securely through our merchant account.
I then had the team come up with instructional videos to be sent out with every order with clear instructions on what to do before, during and after a rental is complete.
Here's an example:
Insert video here: https://youtu.be/iQEodf4BWms
Finally, you probably know by now that our CRM solved our contract signature issue. Our equipment is worth millions of dollars. We need to protect ourselves for many reasons. All agreements for every rental is sent out as soon as we verify funds. Once the agreement is signed, the rental is dispatched.
After talking to the staff, founder and customers, I had a good understanding of what I needed to do.
I also started charging all marketing clients at least $5000/month through our marketing division. All $500/month clients were given to qualified freelancers. The details for this division is for another blog post.
Study UI and improve
I had a good understanding of pain points across different areas of our business. I knew what internal staff wanted, what our customers needed and what I needed to do to improve the process of how we run our business.
What I needed to do next was to study the UI/UX of our website and capitalize on potential new leads.
Using Hotjar to learn all that I can
I love Hotjar. They've made it extremely easy for me to study a targeted group visiting any website we worked on.
We ran every single page of our website through Hotjar and looked at heatmaps, clicks and watched at least a hundred recordings of people going through our website.
Here are our results:
People were questioning why we were using "rentals" in every link in the navigation. I know. It didn't make any sense to me either.
No one used the contact page. All visitors had specific questions before renting expensive machinery. We had to make the phone number more prominent.
People had to drill down from the navigation for the machine they were looking for. We decided to offer a search option in the header.
In our surveys, project managers didn't know what industries and services we offered. We solved that with two brand new sections clearly positioning our company with what we do well.
Completely revamp our category and product pages with valuable information to our visitors.
The old SEO had every page stuffed with irrelevant keywords just to rank for what she "thought" the company needed. I had all of it removed. Guess what? Our rankings didn't drop. In fact, our traffic grew substantially over time.
Human factors and credibility
Credibility is all we have in business. Without it, kiss your revenue goodbye.
I had to do something about our bland website which wasn't built for humans. Our media team came really handy at this point.
We recorded six testimonials and a quick commercial. All of our videos are presented right on the homepage.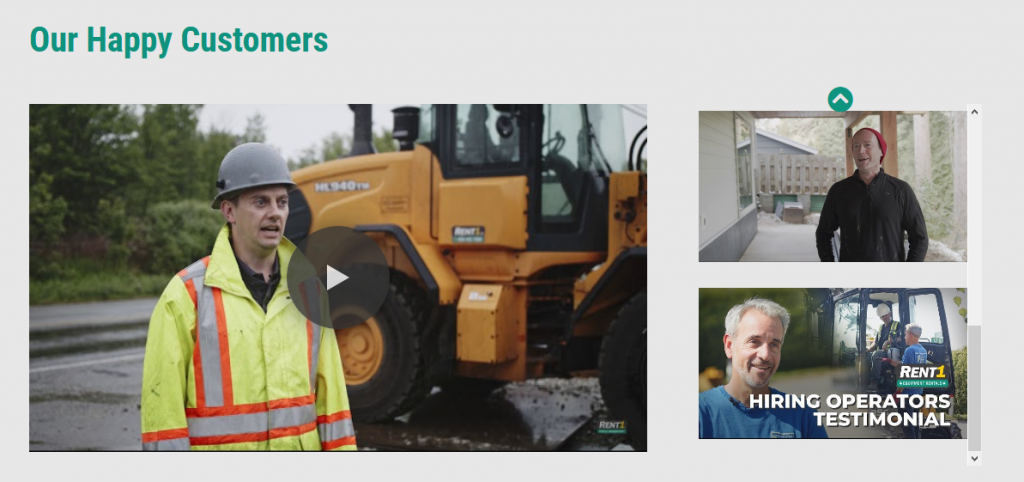 The caliber of customers we were starting to get was leaps and bounds better than the past. We're talking city officials, large farmlands and international development companies.
All of the newly generated business was because we took our media strategy seriously.
Running paid ads
Running an ad campaign for a new project is always fun. We got together as a team and decided on the language we would use to create compelling ads and kept the congruency on the landing page visitors landed on.
Here are value propositions for most of our ads:
We guarantee our rates. No one beats us. Seriously!
We have the newest fleet in the industry. We sell our equipment after a certain amount of time. We do this to ensure our equipment is always updated with downtime being kept to a minimum.
We offered online bookings and next day delivery. No one was doing this when we offered these benefits.
Here's an example:
Considering a single rental could be in the tens of thousands, I would say our budget is being spent wisely: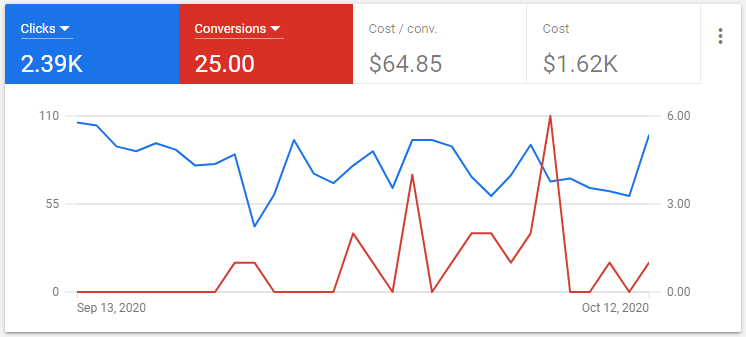 Using our CRM and automating marketing campaigns
I've written extensive posts on different industries and how they can automate their marketing campaigns on my personal blog.
I am going to go over some of our marketing campaigns, which are fully automated.
We use PipelineDeals because it connects to CallRail. Here's a quick breakdown of how I've helped dispatch absolutely destroy competitors:
When a call is made, create a deal on PipelineDeals (done automatically PipelineDeals).
Create a reminder to reach out to lead(s) if they don't turn into a customer.
If leads come from out of province/country, put the lead in a segmented list so that we can see where we can partner up with other rental yards or open up our own yard.
Reach out to people who have rented from us two weeks after the rental completion and find out what their experience was like.
If rental is greater than a week, create a reminder to meet/give discounts/hockey tickets.
All one month rentals should get a gift sent to them.
Large deals will require the whole team to do a great job.
Marketing automation
If I can automate anything at our agency, I will spend the extra time and budget to do so.
For example, all successful rentals get an ad thanking them for their business with a link to leave us a review on Google.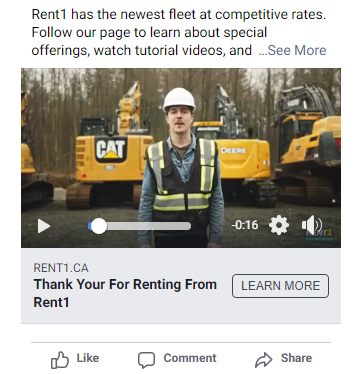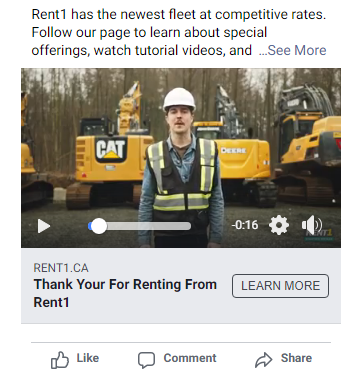 Another brilliant example is when leads don't turn into customers, we share our testimonials videos.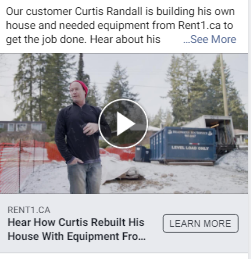 If 50%+ of the testimonials videos get watched, we start advertising our rates.
All our systems are fully connected and automated with targeted messages with user intent in mind. We've come a long way from collecting credit cards on the phone and asking customers to come in for signatures.
Using print and shaking hands
We're in an industry where some of the people we speak to still use flip-phones. A lot of them don't necessarily take the Internet seriously and still like a human approach.
Our team is definitely technologically versed but that doesn't mean we can't have empathy with the people who either help us or rent from us.
We had another issue. Large multinational corporations were getting all the large jobs. We're talking hundreds of thousands in rentals.
We had to do something. I got together with the team and came up with this plan:
Go to job-sites and ask project managers what their needs were. Leave it there, give them hockey tickets (very Canadian) and thank them for their time.
Put a brochure together on high quality paper advertising the benefits to renting from our company.
Have our business developer visit job sites with coffee mugs, hats, t-shirts and our brochure.
It worked. Getting our hands dirty and visiting job sites was one of the best moves we made as a company. Our team got access to the best clients looking to rent multiple machines for a long period of time.
It took our copywriter, designer and myself a month to come up with a brochure everyone loved.
Here's a taste: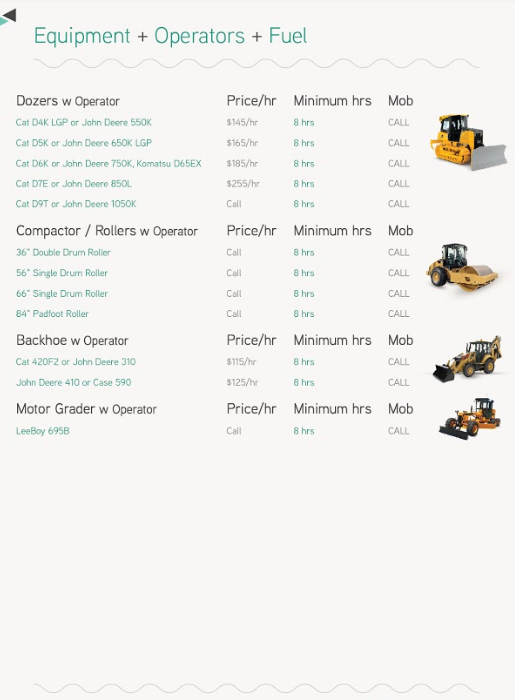 Building authority to our domain
I've built links to dozens of websites. I've done it all and put on every hat color you can imagine.
For our primary web assets, I never messed around. We make most of our revenue digitally and I wasn't about to jeopardize that with PBN links.
During the first three years of my employment I set up my own link-building team. We were able to get backlinks from some of the top construction websites on the Internet.
It was an incredible experience but it had to stop. I was spending countless hours coming up with new ways to build links.
I did a cost analysis and found out this part of our agency was costing us dearly. I needed five employees just to sustain the quality of the links we were getting. I came to the conclusion to hire out for our link building needs.
We hired an outside agency. For the links we're looking for, they charged anywhere between $200-$600/link. It might seem a lot but it's not. With our link building team we were spending more than double that for links. We were promised similar quality.
I should also mention that we only get relevant, worthwhile links. These websites must be active, niche-specific, have high authority, come from an English speaking country and have good age.
My mistakes with backlinks
Initially, I hired a link-building agency who was well-known. I am not going to mention names but they're probably in the top 5 providers. They do everything for you from finding the links, choosing your anchors and content.
Transparency is very important to me. I asked to see the links before we got placement. They refused because I might go and build the links myself. That was my first mistake.
Thinking that this agency specifically builds backlinks, they probably understand the requirements of what's needed so that we don't get grey or blackhat links. This was my second mistake. They tried to get away with questionable links I can spot from a mile away.
Not only did our traffic not grow but it also dropped week after week. Luckily, I was testing these agencies with our test projects.
Improving link acquisition quality
After seeing what was being done for our link building campaigns, I fired the agency and moved on to an agency with more transparency. I had to see the links before we paid for them.
Our new agency (which we're still working with) is more expensive and worth every penny. They follow our guidelines, have access to thousands of websites and we get a dedicated rep to handle our accounts (we have 10 active accounts with them).
For your reference, here are my guidelines:
Make sure the entire website is relevant to our website.
We don't want any instances of "write for us", "contribute" or "guest post" in the global/footer navigation.
Make sure the blog gets at least 1000 visits per month.
The backlink to the website we're getting links from must have a natural backlink profile.
Make sure there aren't significant traffic drops in the last two years.
Absolutely no websites who will label our links as sponsored. Some of you might not like this but I don't care. I haven't paid for a "sponsored" post in ten years. I am not about to start now.
Make sure there are no weird upticks with backlinks.
Go over content quality and make sure most posts are not generic.
Do the links on their articles make sense?
Is there a real person on the about page?
If we get our way, our growth is near guaranteed. Here's a client destroying larger companies in his area:

This chart is how most of our projects (or clients for that matter) look after 2-3 years of hard work. Keep in mind that this happens with a robust content strategy, link building campaign and constant technical SEO audits every quarter.
Creating multiple brands to dominate search
By 2018, I knew I had the secret sauce to getting any website ranked. I also found the perfect solution to researching whatever demographic I wanted to sell to.
We didn't stop there. I had our team create four more websites focusing on different brands people were interested in renting.
We now rank for every single primary keyword with multiple web assets. That means we get the same lead multiple times when people are shopping around.
We also get leads from all over North America. I've met incredible individuals with large companies just because we show up in their state or province.
Our future
Our future is very bright. We didn't stop with rentals.
Our umbrella company is now investing in multiple branches of the heavy equipment industry.
One of our four new divisions is going to focus on heavy duty equipment parts. We're working with manufacturers to unify data across North America.
Visitors to our new website will be able to:
Know where a part is, how much it costs, calculate shipping and compare competitor pricing in one location.
Order multiple items from multiple manufacturers under one transaction.
Set up a subscription based order since heavy equipment goes through parts fast.
Manufacturers will have real data on what's selling on our website, why and have access to our team for in-depth analysis of user behavior.
We partnered up with a shipping company who delivers all over North America and gave us special access to their API for better rates.
Our database will have every single machine and model with all their parts. We will also display aftermarket parts.
The hardest part isn't the work. It's getting the data and the right people to give us what we need to organize the data for the end-user.
Final thoughts
I am not your typical marketer. I don't wear a suit to work. I sometimes have a glass of whiskey on my desk at 2 pm. I like getting my hands dirty. If that means getting on the road and talking to people to get it done, then I am there.
I wrote an article on how public royalty and streaming companies can increase their stock prices and improve public knowledge. I did this when everyone was obsessed with Tesla. To my surprise, I was being watched and got a meeting with the president of a large financial organization in the middle of a pandemic.
There is no one set rule to how I work. I don't follow anyones advice. I am the contrarian who has been succeeding by doing what most skip. I'll test out our thesis until we see what works. It's really that simple.
Our future is bright. We got an offer to be bought out by a large Chinese conglomerate. We're not about that. We've succeeded because we're free. None of us agreed to the money. We'll continue funding ourselves until we can't. The people who partner with us won't have a lot of say in the path we take. If they want to be a part of our success, they can invest in us and have equity in what we do. Nothing more and nothing less.
I am now a partner and no longer an employee. Being a gorilla paid off. I promise you this; I will never get comfortable and innovate our industry until I physically can't.