For my first post, I am going to focus on marketing a skincare clinic in Toronto. I am going to pick https://lumiskins.ca/, which is the first choice on the second page of Google for the keyphrase, "skincare clinics in Toronto". Toronto is a big city and competition is stiff. We won't let that scare us. To get started, here is what comes up in Google maps: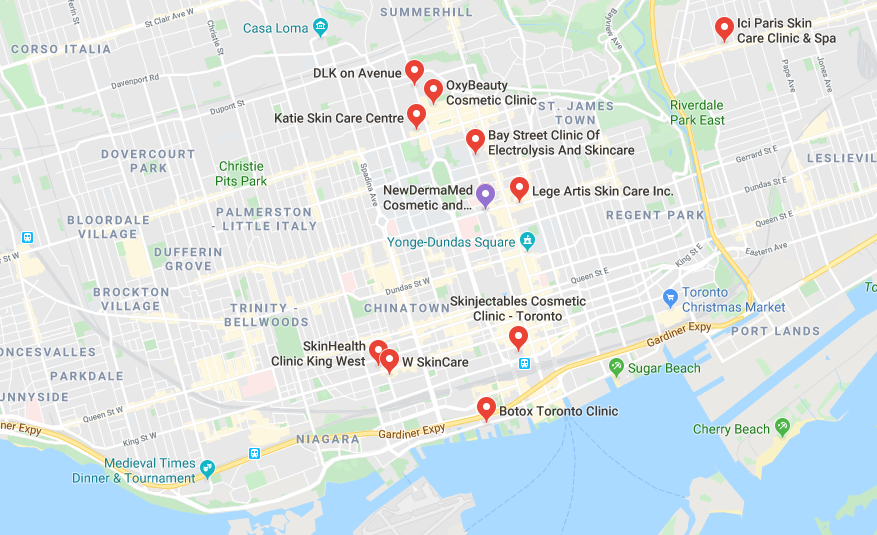 I've worked in this industry and have written an extensive case study on how we're able to increase the revenue for a local clinic in North Vancouver successfully. Unfortunately, the doctor I was working with decided to retire and sell his clinic. The person who bought the clinic changed the website and domain. I sure hope they transferred ownership in Search Console.
Let's get into it.
Keyword research
It looks like Lumiskins offers many services, so for the sake of time, I am going to take the top revenue-generating services and focus on how we can improve their digital visibility.
Our primary keywords:
If you click on each primary keyword, you'll see an in-depth analysis with user-intent. Be sure to click on the "Questions" tab on the bottom left. A lot of these questions can be addressed on the service pages or blog posts.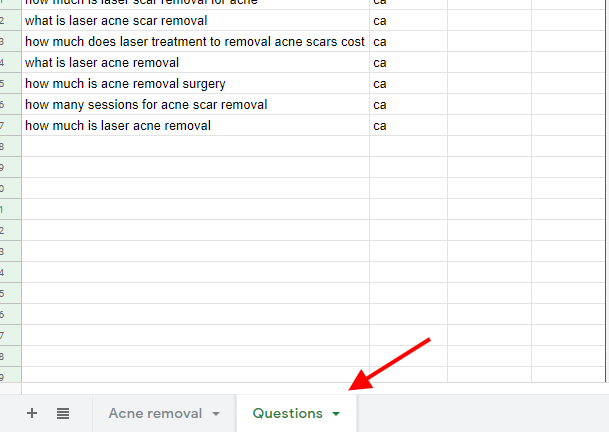 We're not going to rely on tools and Google AdWords for all of our data. Let's look at what shows up by simply searching on Google in the "Searches related to…" section near the bottom of the results page.

In the case of laser hair removal, we can see that the word "best" and cities are entities we need to address in our content.

In the case of botox, it's interesting to see Reddit show up. The smarter clinic or marketing agency will ensure their clinic is in the top subreddit. We can also see the words "near me", "reviews" and "before and after". A few keyphrases to consider on our Botox page.

Juvederm is the most popular dermal filler. It's easy to see why it shows up in the related searches section. We can also see "cost", "under eye", "before and after", "chin" and "lip" are the keyphrases we'll have to consider on our dermal filler page.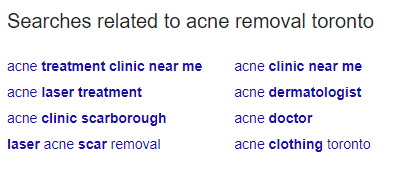 For acne treatments, we need to consider "treatment", "near me", "scar", "laser" and "dermatologist". I can see few opportunities to steal a few patients from specialists, which we'll talk about later.

For skin tightening, we'll need to target, "best", "before and after", "face", "stomach" and "laser".

For the keyphrase mole removal, we want to target, "cost", "laser" and "plastic surgeon". We'll include plastic surgery in the content and explain why you do or don't need to go to a surgeon. It's also interesting to note that we see Reddit again. Another easy way to not only build links but also inject yourself in the content where people are looking for mole removal and are interacting within Toronto.
Where does Lumiskins rank on Google?
I took the primary keywords and a few of the supporting keywords with 50 or more searches in Toronto and checked to see if https://lumiskins.ca/ ranks anywhere on the first page.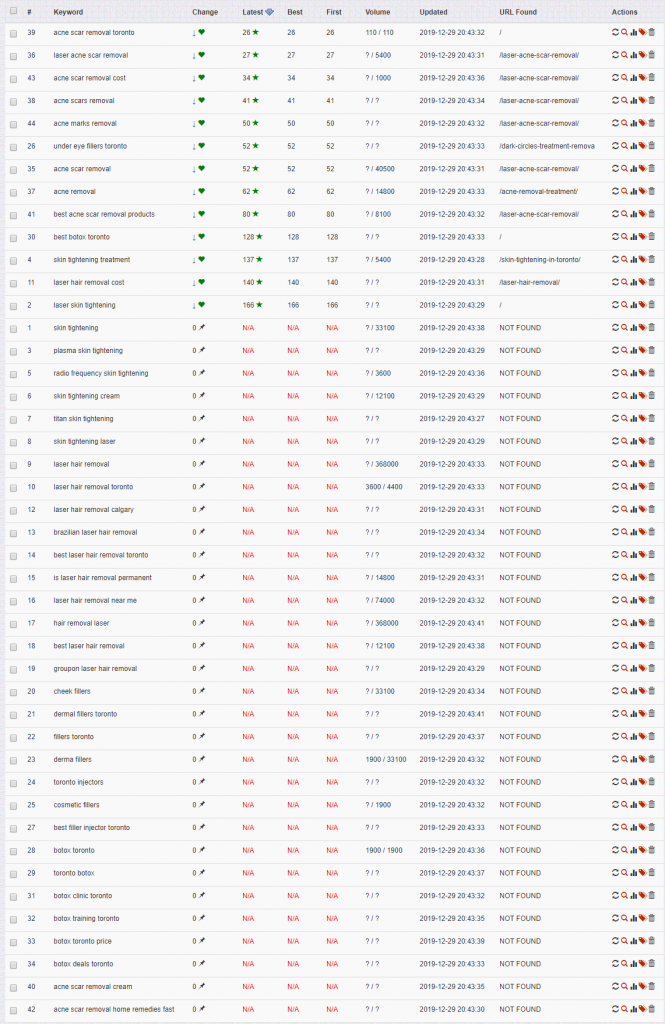 It's not looking good. The website https://lumiskins.ca/ does not show up for any of their primary services anywhere significant within the search results page. This translates into no organic traffic and loss of business.
Let's look at who ranks for the keywords we're trying to target
Acne removal:
Botox Toronto:
Dermal fillers Toronto:
Laser hair removal:
Skin tightening Toronto
Mole removal:
Our primary competitors are pretty evident from that list. Here are the websites I would try to outflank:
Where do we stack up against the top competitors (excluding Yelp)
I can see that Toronto Dermatology and TC Clinic are the main two websites we'll need to beat in terms of citations across the web. By citations, I am referring to getting a link from other websites, blogs, and forums. The more you have, the higher your authority.
When auditing a website or gauging the market, I (like many other digital marketers) like to look at the backlink profile of a website to ensure there is nothing wrong.
Right off the bat, I see a red flag with the anchor text profile: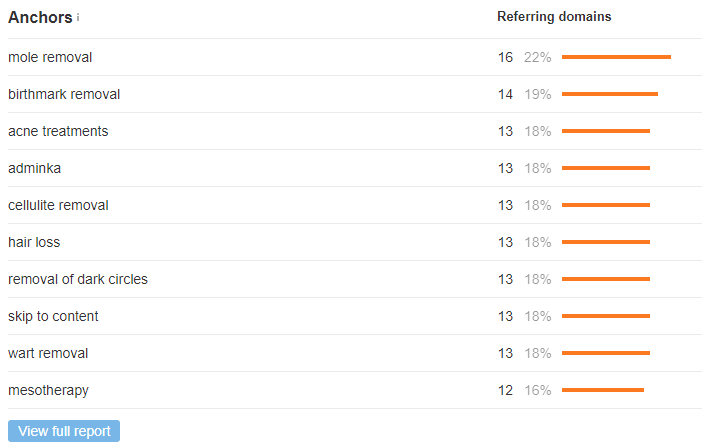 It looks like whoever is working on the website is going after exact-match keywords, which is very spammy. I would be surprised if they haven't been hit with a penalty already.
Don't take my word for it. Here is what Google is saying about too many keyword-rich links: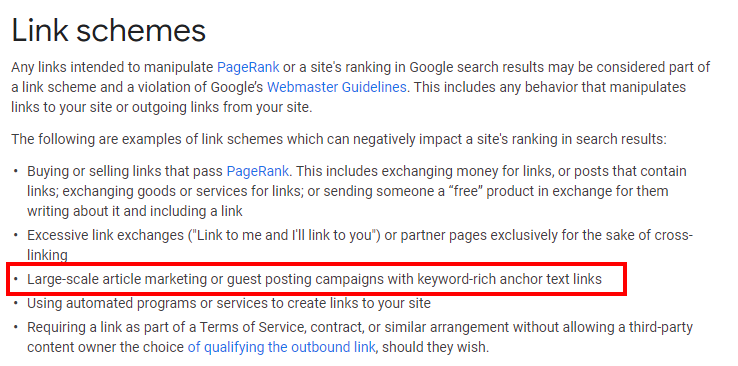 Referring domains
Here's a list of the referring domains for https://lumiskins.ca/. None of the links on Lumiskins are relevant. It's mostly directories and a few injected links on big sites like Medium and Patreon.
To compete in Toronto, we'll need at least 10-15 links for each primary keyword we're trying to target. Here are the details: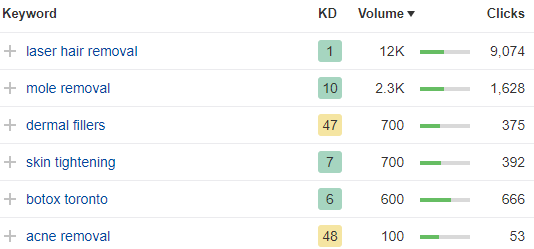 The KD column stands for "Keyword Difficulty". Keyword Difficulty estimates how hard it will be to rank in the top 10 organic search results for a given keyword in a given location. It's calculated by taking a weighted average of the number of linking domains to the current top-ranking pages. The result is then plotted on a logarithmic scale from 0 to 100 (low difficulty to high).
There seems to be a data anomaly with "laser hair removal". It gets a KD score of 1, which in my opinion is wrong and is one of the harder keywords to rank for. Let's assume it's at least 20.
Backlink strategy
The first step I would take is to see where the competition is getting their links. Maybe there are some quick wins we can capitalize on.
For your pleasure, here's the backlink profile of the top two websites we're competing against:
The next step would be to find local websites and blogs we can invite for a free session. In return, we would ask for a post on their websites. They would have to be vetted, of course. We're looking for blogs with a domain authority of at least 30.
Finally, we'll look to spend some money on link building services that specialize in acquiring links on relevant blogs across North American, Europe and Australia. These links range from $100-$500 USD/link. It can get expensive but is well worth the investment to rank high on Google for a very long time. On average, we spend anywhere between $10k-$30k/year on our websites. Our clients who take this seriously will easily spend the money and will not ask questions. You just have to be careful because as you can see on https://lumiskins.ca/, they've got spammy links. I hope they didn't pay a premium to get penalized.
If we get ten links a month, we'll see an improvement in rankings within eight months. That's if we clean up the keyword-rich anchors first.
Technical SEO bottlenecks
I am not going to do a full audit on https://lumiskins.ca/, but I will share a few tasks, which need to be addressed right away.
Website speed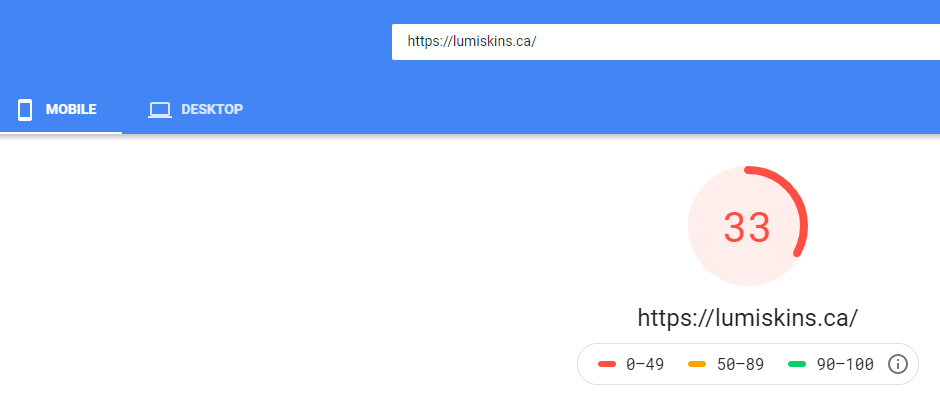 A score of 33 was a fail when I went to school. The goal is to hit at least 80. You can check your score on https://developers.google.com/speed/pagespeed/insights and send the details to your developer to figure out. Be careful because sometimes developers will end up messing with the code to the point where crawlers can't read the text on your website. What I do is run a crawl on Google Search Console and read the code. If the content is in the code, you're good.

A score of 81 is okay, but you really want to go for 90 for desktop devices. Again, send the link https://developers.google.com/speed/pagespeed/insights to your developer to go over. Google provides all the details they need to increase page speed.
Meta tags
Meta tags have been written about hundreds of times on the web. It makes me sick to even talk about it in this post. However, writing compelling meta tags is essential to capturing more clicks on search. It's just as important as your website headline. It angers me to see shortcuts taken just to stuff meta tags for the sake of having your keywords stuffed in between irrelevant words.
Here's an example:
Title tag: Wrinkles Treatment & Removal in Toronto – Lumi Skins Dermatologist Clinic
Description tag: At Lumiskins Dermatological Clinic, we provide safe wrinkle treatment and removal methods in Toronto to restore your appealing look.
As a digital marketer, I have second-hand embarrassment after reading this garbage. If the person writing the meta tags, took the time to read over what people actually want, they can come up with something a little better than what you see.
Here's a hint:

I see a lot of opportunities here. Here's what I would use without having access to the staff at Lumiskins:
Title tag: The best treatment for wrinkles on your face – Lumiskins
Description tag: Reduce the look of wrinkles with dermal fillers, Botox, PRP & laser therapy. Improve your self-confidence & be your best. Call for an appointment.
There you have it. I've addressed our primary keywords and user intent in the meta tag for wrinkle treatment. You need to take the same steps on the page people land on as well.
Website structure
Unlike Toronto Dermatology Centre, Lumiskins has decided to take the approach of going after conditions or treatments instead of services like IPL or Botox injections.
It might be a lot of work, but I would focus my website structure around services like Botox and dermal fillers and address treatments within those pages. Or I would create a separate section on the website just for conditions we treat and how we do it. The reason I would do this is because treatments like wrinkle removal is way too broad and is not focussed enough. Maybe if the website authority was high, we could get away with broad topics. Not in this case.
Proposed sitemap
Homepage

Services – Put all services offered under this category
Treatments – Put all treatments under this category
About
Journal – I don't know what this page is supposed to be. Is it a blog?
Pricing
Book now
To do a full SEO audit, I would need access to Google Search Console, Google Analytics and server logs. What I've shared is just a few improvements I noticed right away.
An in-depth analysis of the keyphrase, "Dermatology Clinic"
If you can get the perfect combination of an SEO expert and a great copywriter, you will get everything you need for every single page.
We're going to focus on "dermatology clinic" since we see it in the title tag of the homepage and in the main heading.
I use a tool called Surfer SEO and Cognitive SEO to come up with our content strategy for each page. Once I know the keywords we're targeting, I pass the information to our copywriter. Once the copywriter comes up with the content, our user interface expert comes up with a wireframe like this: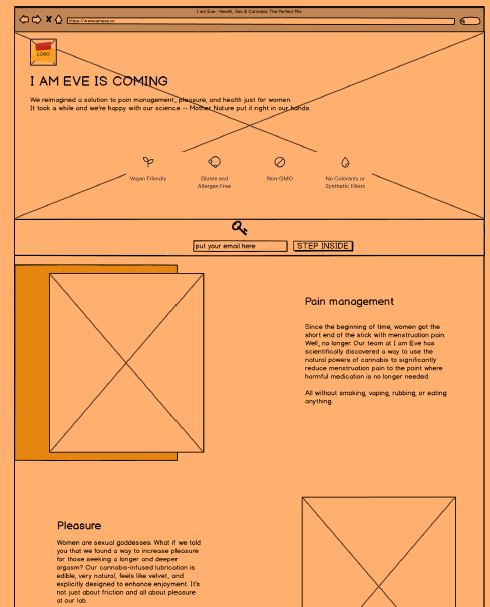 With Surfer SEO, I get a list of keywords to try and use plus 300+ links I can try and acquire. The top pages in Canada have these links. It would be wise to investigate and attempt to snatch up a few good links this way.
Here's the list of links to get for the keyphrase, "dermatology clinic".
Here's a list of important terms to consider if you're trying to rank for "dermatology clinic".
With Cognitive SEO, the homepage for https://lumiskins.ca/ gets a score of 21 out of 100. It's similar to Surfer SEO. I use both to get a better idea of what I am working with.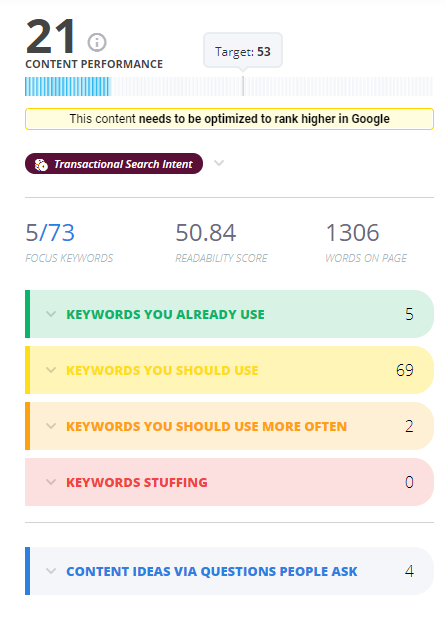 Here's the list of keywords Cognitive SEO is recommending on our homepage for the keyword, "dermatology clinic".
This is all just for one page. We need to do this for every single service/condition page on https://lumiskins.ca/.
Yelp paid strategy
Yelp dominates hundreds of thousands of keywords at the top of Google search results page. Every time you search for anything with "best" and "top" they seem to come up in the top five results.
I know you hate paying them, but if they dominate the first page for your primary keywords, it is wise to start paying them for leads.
Create a business account, get your free $300 and start running ads. Just be aware of their rankings because Google can easily take away their position in an instant. When they do, stop paying them and focus more on building your content strategy.
Reddit
The Reddit community is brutal and honest. It's not for the faint of heart. If you're going to be on Reddit, make sure you contribute and never attempt to sell your brand.
It looks like people in Toronto search for "best botox Toronto reddit" when I search for the keywords "Botox Toronto".
Here are the top five subreddits:
I read some of the replies, and they're brilliant. A smart agency or marketing expert can easily take advantage of these threads. You just have to make sure your answer or replies are well-thought-out and organic. If you promote yourself, people will absolutely destroy you.
Improving credibility
If you don't want to get involved with improving your credibility, then close your doors and work for someone else. What does credibility to mean:
It means trying to get more reviews on Google and Yelp
It means paying someone to record a video of your clinic (promotional)
It involves recording at least three testimonial videos
It means you get involved with your social media accounts
It means that the main players at the clinic blog at least once a month (well-researched topics, of course)
It means being proactive and asking your customers for constructive feedback through surveys
I see none of that on https://lumiskins.ca/. In fact, I don't even know who runs the place. I just see a Drift chat-box on the bottom right of my window with Jane asking me how she can help.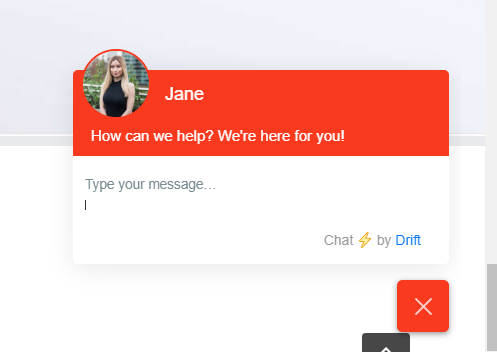 Recommendations
The first step I would take is link the social icons in the footer to the proper account.
I would then come up with a social media content calendar. This means using a service like https://buffer.com/ to schedule your content on a weekly basis. I recommend posting at least twice a week. This could be:
Pictures of the clinic
Pictures of events taking place at the clinic
Pictures of staff working
Pictures of products being offered
Pictures of customers feeling amazing
Videos of the doctor working and explaining his/her actions
Promotional videos + content
Getting reviews
Getting reviews isn't easy and can sound scary if you're not confident with your work or staff. I'll make it easy for you. Here are the steps to ensuring five-star reviews across the board:
Make sure you have a proper CRM system
Use a system like https://birdeye.com/small-business/
If you want to do it manually with your CRM, send an email to each customer when they leave your clinic and ask them to fill out a survey, which you can set up for free on https://www.hotjar.com/. Here's an example of a survey on Survey Monkey
If the survey answers are positive, create a canned email message to ask for a review on Google
Automating this process is critical if you're busy. You don't want to do this manually when you help 10+ customers/day.
For one client, we did this manually with calls and follow-up emails. We were able to get more positive reviews on Google than anyone else in their city. I am proud to say that they own the first page of Google for all of their primary and secondary keywords. Not because of the reviews, but because they took their digital presence seriously and gave us the greenlight to go above and beyond anyone else in their industry.
Paid marketing
One aspect we've been very successful at is paid advertising. The reason we do very well is because we don't just target our primary keywords on Google AdWords. That will cost a lot of money, and it's not very well-thought out.
For example, I like to be there every step of the way when someone is looking, interested, and is ready to purchase. The process for this isn't rocket science. It's just a well-planned strategic paid strategy, which is automated on Facebook and Google.
Here's an example of how we target for a service or product (courtesy of Ryan Stewart):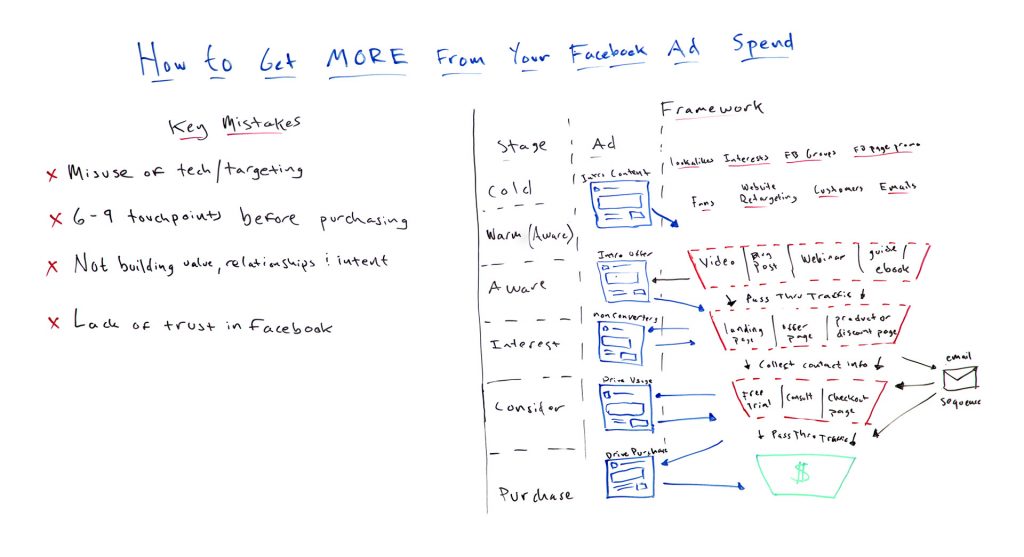 Here's my own automation flow for a client: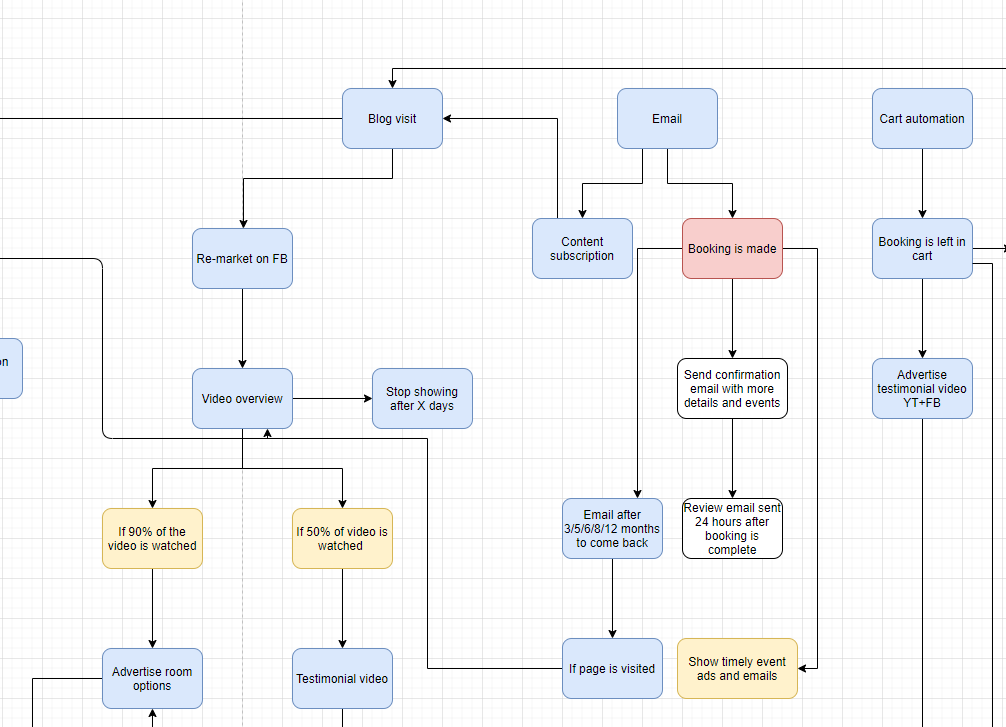 I know. It looks tedious and confusing but stay with me. Let me try to simplify it for you in steps:
A customer lands on your blog and reads a post about getting Botox for his/her wrinkles
A cookie is placed on their computer so they're tracked across the web
When they go on Facebook, we show them an overview video of how awesome your clinic is
If they watch 20% of that video, we show them a testimonial video
If they watch 30% of the testimonial video, we'll now share an ad and direct them to the botox page. They can book an appointment directly on that page
They are now customers and have booked, so they get put onto another list to remarket to. With Botox, the effect go away in 2-3 months. We can start a whole new campaign to get them to come back. I know this because I've worked in the industry. For Juvederm, it's eight months
In 2 months, we offer the same customer a discount to come back and continue looking great
All of this is automated. The hard part is just setting it up and getting the content/media together. Once it's set up, your whole marketing strategy is almost entirely automated.
Timeline and conclusion
If someone pays you $700+ for dermal fillers, you can afford the right person/agency to market your clinic. Unfortunately, most businesses like https://lumiskins.ca/ take the cheap route and hurt their credibility by not taking their digital presence seriously.
With a serious client, you can get all of this done within 6-8 months.
All the best marketing can't get you to the top. If you don't impress the people who pay you, then I am afraid you won't last. We've stopped working with clients because of this one reason sometimes.
I hope I've covered everything I need to cover for Lumiskins. If they follow my guidelines, they'll do very well. That's if they want to invest in their business and are serious about succeeding online/offline.
If I've missed anything, let me know. I'll add it to my post for everyone.